---
The quality of our bus service and facilities are paramount to the success of our system. We have several infrastructure and fleet projects underway to improve bus speed and reliability, and our customers' experience on our bus network.
Many of these projects support the vision and requirements of our three main transit expansion plans: Transport 2050, the 10-Year Investment Plan, and Area Transit Plans.
| | | |
| --- | --- | --- |
| | | |
| Completed | Under construction | Design phase |
---
Transit Centre and Bus Exchange Projects
Marpole Transit Centre

Images are an early representation and may not represent the exact final look of the centre.

The Marpole Transit Centre is being built to accommodate the growing demand for public transportation in Metro Vancouver. When completed, this facility, located around Laurel and Cambie Steet in Vancouver, will be the future home to approximately 300 forty-foot buses, most of which will be 100% electric, zero-emissions vehicles.

Project Overview

The new transit centre will be located at 502 West Kent Avenue South in Vancouver and will include:

Three-level bus garage building for bus staging and storage at ground level, bus charging infrastructure and an electrical substation on the second level, and administrative facilities as well as employee and visitor parking on the third level;

Two-level maintenance building including bus maintenance and repair bays, body shops, parts storage, and support areas for mechanics and maintenance staff;

Bus fueling facility and a bus wash and detailing facility

Besides being part of TransLink's low carbon fleet strategy, the new centre will provide a more reliable bus service for customers across Metro Vancouver. The Center was included in the Mayors' Council's Ten-Year Vision and funded through the Phase Two Investment Plan, The Marpole Transit Centre is key to reaching TransLink's goal of a 100% net-zero GHG emissions by 2050.

For more information, please see the Marpole Transit Centre - DP Board Presentation

Construction Information

Site demolition work is scheduled to begin in summer 2023 and will include some loud work to break and remove the existing concrete foundations, followed by geotechnical ground improvement works. Neighbours can expect to see construction trailers and fencing around the site in mid-to-late-April.

Together with the contractor, TransLink is making every effort to minimize the impact of this project on our neighbours. When possible, work will take place during the day without impacting roads.

The estimated opening of the Marpole Transit Centre is in 2027.
Phibbs Exchange

Phibbs Exchange is one of the most important bus exchanges in the region, serving 13 bus routes with nearly 14,000 boardings and alightings daily. Because of its position in the regional road network, the exchange is where many routes on the North Shore meet in a carefully managed pulse, allowing efficient transfers in all directions.

Project Overview

The upgrades will improve the comfort and safety of transit passengers, better integrate the exchange with the neighbourhood, and provide more capacity for growing customer demand and future service expansion.

Upgrade Highlights:

Improved comfort and safety for transit passengers through better lighting, more weather protection, and enhanced accessibility with better connections for pedestrians and cyclists;

A boomerang-shaped passenger platform along the perimeter to serve major bus routes, a necessary upgrade to support future bus service improvements;

New and vibrant landscaping; and

Improved passenger amenities to create a welcoming environment for the growing Lynn Creek Town Centre community, connecting transit services on the North Shore and throughout the region.

The Phibbs Exchange upgrades are made possible by all levels of government working together and with provincial and federal contributions through the Investing in Infrastructure Canada Program (ICIP).

Construction Information

Effective Monday July 24, 2023, to accommodate the construction of the new Phibbs Exchange, we will be closing all bays in the bus exchange and relocating bus stops to temporary locations at the nearby street network until mid-2024.

Bus Impacts:

All buses currently serving Phibbs Exchange will continue to operate during the upgrade.

Bus service and associated bays will be temporarily relocated to streets near the existing exchange, specifically on Main, Orwell, and Oxford Streets (see map below).

Upon completion of the new Phibbs Exchange in Mid-2024, buses will then relocate to the permanent new exchange.

During the construction:

Customers should plan to give themselves some extra time between transfers.

Customers are encouraged to sign up for transit alerts at translink.ca/alerts for the latest information on their bus route.

Signage will be in place directing customers to the temporary bus bays.

July, 2023 bus bay reallocation:

All bay assignments are shown below and on the following map:

Bay
Stop #
Route
Directions
1
60253
Unloading only
WB Main St
2
60254
R2 Marine Drive to Park Royal RapidBus
WB Main St
3
60255
209 Upper Lynn Valley
210 Upper Lynn Valley
Main St
4
60256
232 Grouse Mountain
NB Orwell St
5
60257
211 Seymour
212 Deep Cove
NB Orwell St
6
60258
209, 210, 211, 214 Burrard Station
NB Orwell St
7
60259
28 Joyce Station
130 Metrotown Station
222 Metrotown Station
NB Orwell St
8
60508
HandyDART
Oxford St
9
60279
214 Blueridge
Oxford St
10
60278
215 Indian River
227 Lynn Valley
Oxford St
11
60260
Unloading only
SB Orwell St
12
60264
245 Capilano University
SB Orwell St

Passenger Information:

TransLink has worked with MoTI and the District of North Vancouver to provide temporary pick-up and drop-off spaces located near the transit exchange. There is a passenger unloading location on Mountain Highway at the end of Oxford St.

There are also side streets and laneways in the area where passengers can be dropped off, which are a short walking distance from Phibbs Exchange. Upon the completion of this project, the District of North Vancouver will be installing several permanent drop-off spaces on Oxford Street to provide convenient passenger pick-up and drop-off options.

Pedestrian and Cyclist Information:

The sidewalk on the north side of Main Street will be closed starting September 5, 2023, to allow for the construction of the new sidewalk, cycle path, and bus exchange area. Pedestrians and cyclists will need to use the multi-use path on the south side of Main Street until these works are complete.

We thank our passengers, neighbours, and drivers for their understanding and patience during construction, as we work to upgrade the exchange.
---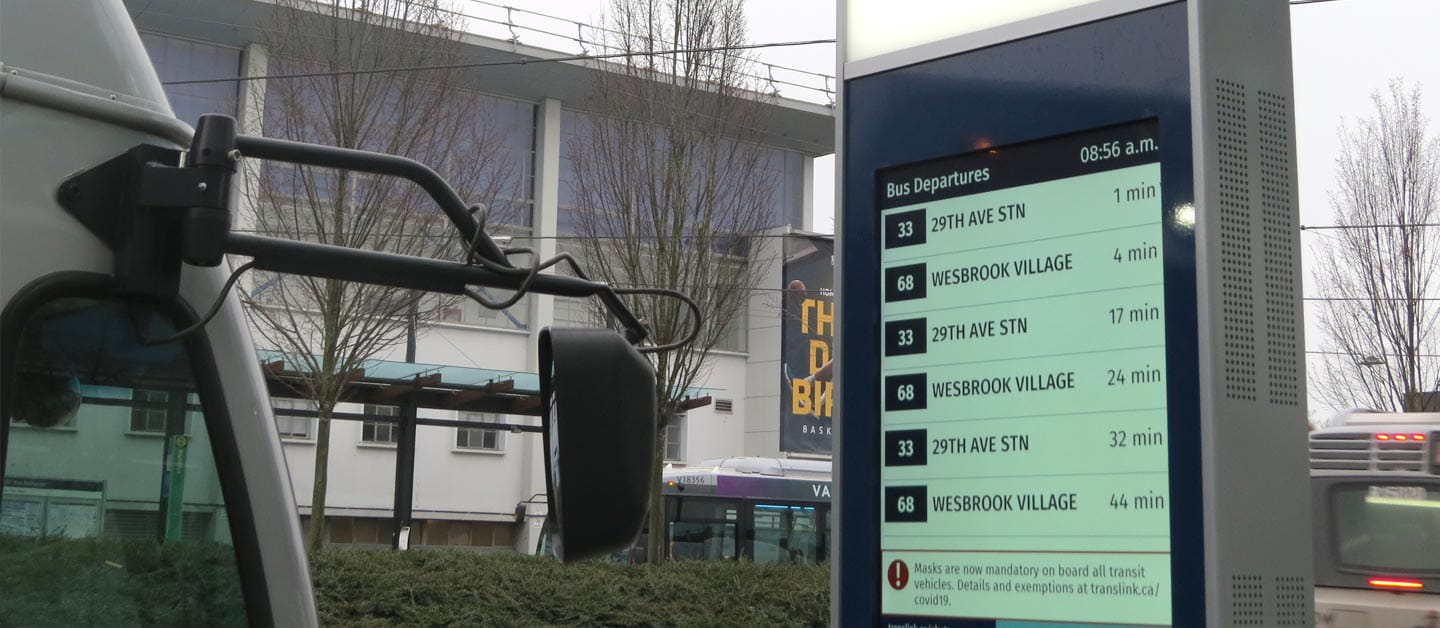 UBC Digital Screen Pilot
In December 2021, TransLink unveiled three new models of real-time information signs at bus stops within UBC Exchange to improve the quality and accessibility of real-time transit information and provide an even better transit experience for customers.
Customers in the exchange will notice two types of new signs at some of the stops, each with a digital screen showing stop-related information, as well as a centralized digital information board—TransLink's first!
Some stops have poles which are designed to be seen from far away, while others have plinths, which are essentially a wider type of stand that are more easily experienced up close. The digital information board is centrally located to provide an easy one-stop-spot to plan your trip.
All of these screens feature:
Next Bus arrival information

Alerts for individual bus routes, as well as systemwide alerts; and

Other relevant and timely transit information such as transit etiquette reminders and upcoming service change information.
More than just what's on screen, this pilot is also about the overall functionalities of the different models. This means:
Improved visibility and legibility, both day and night, for static and variable information including full colour backlit LCD screens with larger, clearer text, and backlit bus stop and route numbers;

An ability to provide a range of transit information and the flexibility to change information as needed; and

Enhanced accessibility of information in two formats including text-to-speech audio and a Braille panel with bus stop information.
By integrating these features into three unique sign models, we're able to evaluate how different types of technology can improve information sharing when used together in a purpose-built system. Over the next year, we will be assessing this new way of sharing information with our customers and how different technologies can help us to keep our customers informed throughout their journeys.
We want to hear from you! If you have feedback on this pilot, please reach out to our Customer Information team at 604.953.3333.
Real-time Information Display Retirement

As of Jan. 1, 2021, TransLink's service provider will no longer support its 2G network, which has enabled internet connectivity to LED real-time information displays at some bus stops across the region. That is why 27 LED information displays at bus stops along Main Street will be retired and removed starting Dec. 31, 2020.

These displays were installed in 2009 as part of a pilot project with Transport Canada and the City of Vancouver. This pilot project has provided valuable insight that has helped inform planning work for real-time bus information technology across the region.

Displays at Main Street–Science World Station, and additional displays at Carvolth Exchange and South Surrey Park and Ride will be replaced with newer models to continue serving these transit hubs.

For real-time transit information, we encourage customers to:
---
Annual Pavement Rehabilitation Program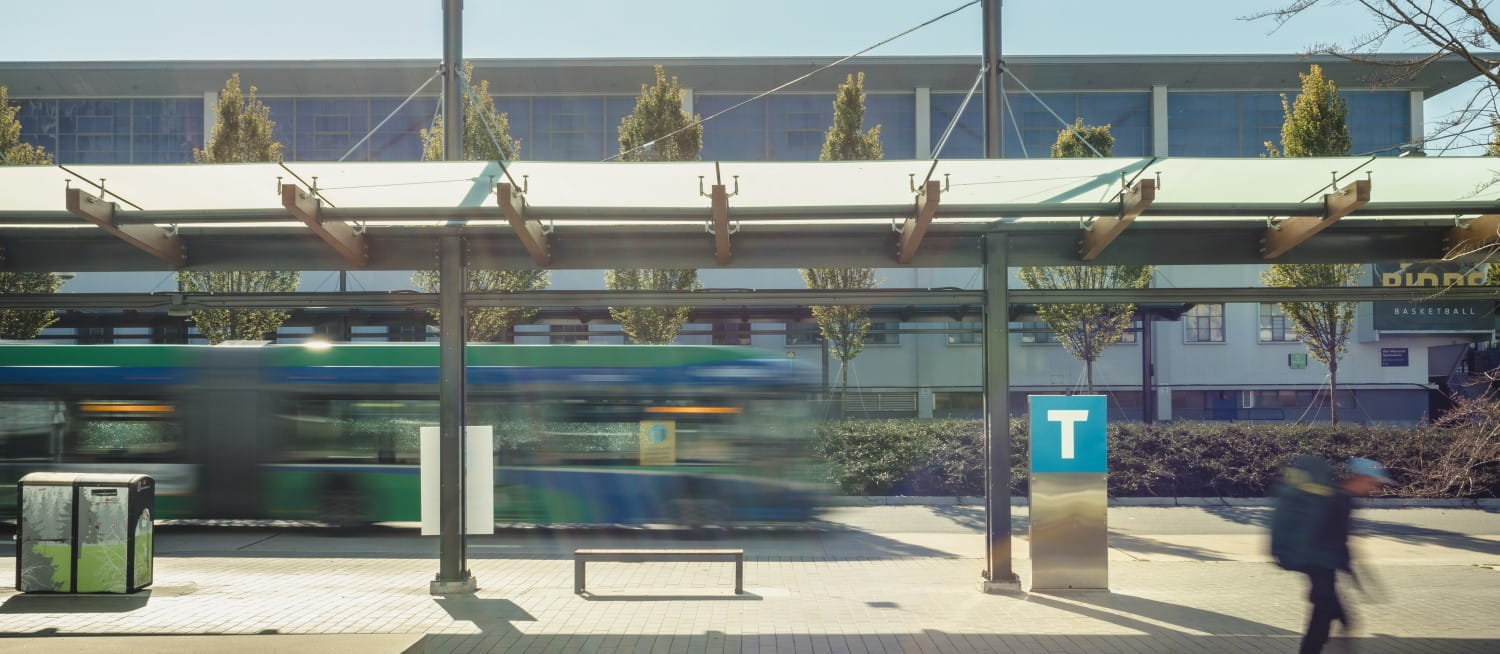 TransLink's Annual Pavement Rehabilitation Program takes place during the summer months and is focused on resurfacing asphalt walking, driving, and parking areas at Coast Mountain Bus Company transit centres and bus loops. This critical work supports the continued safety of our bus facilities for customers and employees today and for years to come.
Active Projects

Maple Meadows Park and Ride Bus Loop
Past Projects

We've recently completed pavement rehabilitation projects at the following bus loops:

2023

Scott Road Bus Loop

Boundary Loop

Kootenay Loop

2022

Surrey Central Bus Loop

South Surrey Park and Ride Bus Loop

2020 to 2021

Richmond Transit Centre

Blanca Bus Loop

Granville & 63th Bus Loop

Victoria & 54th Bus Loop

Production Way–University Exchange

Bridgeport Bus Exchange

Braid Bus Exchange

Thank you for your patience during construction!
---
Braille and Tactile Walking Surface Indicators
TransLink is installing braille signage on every bus stop pole across the system by the end of 2022. To make it easier to find bus stops, TransLink will also install tactile walking surface indicators (TWSI) at every bus stop on TransLink-owned property.
The braille bus stop signs will contain:
Information written in both Unified English Braille and raised tactile letters

Bus stop ID numbers

Bus routes serving that bus stop

Bay or bus stop indicators

Customer Information phone number
In addition to the braille signage, tactile walking surface indicators will be installed at every bus stop on property that TransLink owns. These raised surface indicators will be mounted on the ground to help customers who are blind or partially sighted know they are near a bus stop while helping direct them to the front door of the bus.
These improvements will help customers who are blind or partially sighted to better navigate the transit system by letting them know which stop they are at and which buses they are waiting for. TransLink will be the first transit system in Canada to install braille signage across its entire bus system once installation is complete.
---
Accessible Navigation Project
TransLink finished piloting a new technology that focused on making it easier for customers with sight loss to navigate the transit system. Using the NaviLens smartphone app, customers were able to receive audio and haptic cues to help find their bus stop and receive other updates in three locations in New Westminster and Vancouver. The six-month pilot launched on Tuesday, February 21, 2023, and concluded on Monday, August 21, 2023.
---
Background

As part of our commitment to making transit more accessible, we partnered with NaviLens to bring their accessibility technology to Canada for the very first time. We asked customers with sight loss to try the pilot system and give us feedback based on their experience.

The system was enabled by the installation of 16 coded decals in the pilot area, which could be read using the NaviLens app to up to 14 metres away, depending on the angle of detection. Once the app read these proprietary QR codes, customers received navigational audio and haptic cues to identify their bus stop and the exact point of pick up.

Customers were also able to receive real-time bus arrival times and service alerts. The app also offered the functionality to identify relevant facilities in the location, such as elevators. Customers were able to set their notification preferences in the app by selecting one of 34 languages to receive their audio cues in.
Implementation

The technology was implemented at 16 designated bus stops in New Westminster and Vancouver. Customers with sight loss were asked to download and use the NaviLens app (either on Android or iOS) at the stops.

For the purposes of the Accessible Navigation Project, people with sight loss within TransLink's service area were the primary target for outreach. A group of participants tested the technology and provided feedback during moderated demonstration sessions. A public online survey was available for others to provide feedback on their experience using the technology.
What Happens Next

We are currently evaluating the outcomes of the project and considering feedback received from participants who tested the technology. The results of the Accessible Navigation Project will be reported on through a board report posted on the Board of Directors page.
---