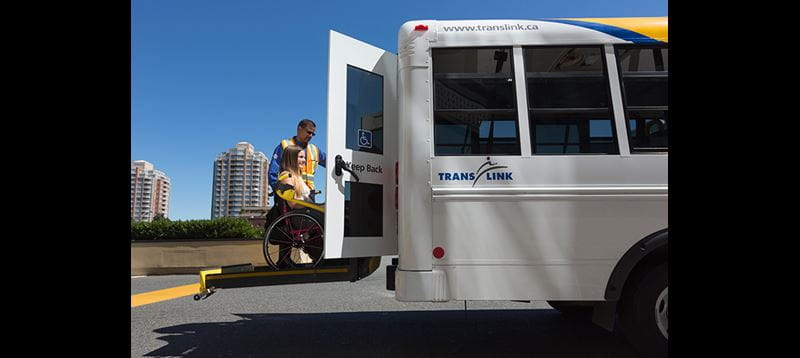 HandyDART is a door-to-door, shared ride service for passengers with physical or cognitive disabilities who are unable to use conventional public transit without assistance.
---
For general inquiries call us at 604.575.6600 (local) or 1.844.475.6600 (toll-free). When prompted, press five — this will connect you to general questions and customer inquiries.
The Customer Call Centre is open Monday to Friday 8 a.m. to 5 p.m.
---
Registering for HandyDART
To apply to our HandyDART program, please complete one of our application forms.
HandyDART Eligibility
If you have a physical, sensory, or cognitive disability and need assistance using conventional public transit, you may be eligible to use HandyDART . Applicants must be 12 years or older.
Submitting Your Form
Before filling out the form, please review the form and eligibility requirements.

Make sure you have all your personal information available including your date of birth, home address, doctor's name, and phone number.

This form must be printed and signed by both the applicant and a medical authority.

If you're unable to print the application form, we can mail you one— please contact Access Transit Customer Care by calling 604.953.3680.
Processing Your Application
We will process your HandyDART application within 10 days of confirming receipt.

Allow 4 to 6 weeks processing time for a HandyCard to use on our conventional transit system.
Application Forms

If you're a resident of Metro Vancouver, please complete the following form:

HandyDART and HandyCard Application Form

HandyDART and HandyCard Application Form

If you're planning to visit Metro Vancouver and wish to use the paratransit system while you're here, please complete the following form:
---
All HandyDART trips count as a 1-Zone adult fare. Accepted payment methods include:
cash

Adult FareSaver Tickets

Adult Monthly Passes
Sometimes, HandyDART will use taxis to supplement service. If a taxi is ordered, please pay the taxi driver using regular HandyDART fare.
---
HandyDART Fares
| Fare Type | Fare |
| --- | --- |
| Cash | $3 |
| FareSaver Tickets (Book of 10) | $24 |
| Monthly Pass | $98 |
Please note that drivers don't carry change. Have the exact cash amount ready when you board.
Where to Buy Passes and Tickets

FareCards:

Purchase your monthly FareCard by phone, mail or in person through the HandyDART/ First Transit office

By phone: at 604.575.6600, option 7 between 8 a.m. to 4 p.m. on weekdays (credit card only)

By mail: make cheques and/or money orders payable to "First Canada ULC".

FareSavers

You may purchase your FareSaver Tickets from your HandyDART drivers (weekdays only), by phone, or in person. Please call 604.575.6600, option 7 for more details.
---
Booking and Preparing for Your Ride
HandyDART offers two types of service:
subscription trips: repeating trips that are taken to and from the same locations at the same times (on a daily or weekly basis)

casual trips: trips taken on a one-time basis
To book or cancel a trip on HandyDART, call 604.575.6600 (local) or 1.844.475.6600 (toll-free). Please specify whether it will be a subscription trip or a casual trip.
You can book your trip up to seven days in advance, and up until 4 p.m. the day before your trip. Keep in mind that our HandyDART shuttles experience rush hour demand just like any other mode of transportation — the earlier you can book a rush hour trip, the better.
Taxi Supplement and TaxiSaver
If a HandyDART is unavailable for your requested trip, our service provider will supplement your trip with a taxi.
To find out more about the program, please contact the Access Transit Customer Care office at 604.953.3680.
Customers who are Deaf or Hard of Hearing
For customers who are deaf or hard of hearing and unable to use a TeleTypeWriter, to discuss alternative booking options please contact us.
E-mail: handydartfeedback@translink.ca or mail:

Coast Mountain Bus Company, Access Transit Department, 400-287 Nelson's Court, New Westminster, BC, V3L 0E7
---
Preparing for Your Trip
Day Before Your Trip
You will receive an automated phone call to remind you of your trip.
Day of Your Trip
We will call you shortly before your ride arrives. To avoid delays, please be ready 15 minutes before your scheduled pickup time.
If your driver hasn't arrived 15 minutes after your scheduled time, call HandyDART at 604.575.6600 (local) or 1.844.475.6600 (toll-free) and press the number three for "Where's My Ride" information.
Cancelling Your Trip
We understand that you may need to cancel your trips and require a minimum of two hours' notice. To give other riders an opportunity to make a trip, please let us know you won't need your scheduled ride as soon as possible by calling 604.575.6600 (local) or 1.844.475.6600 (toll-free).
---
For your safety, your HandyDART Operator will escort you from the door at the start of your trip to the door at your final destination. Please note, your HandyDART Operator cannot take you past the front door of a building. If you need extra assistance beyond the accessible outside door, we encourage you to travel with an attendant.
---
Mobility Aid Restrictions

Your mobility aid must be clean, in good working order, and adhere to the following dimension* and weight restrictions:

Length: 122 cm (48 in.)

Width: 94 cm (37 in.)

Weight: 250 kg (550 lbs.)**

* These dimensions include all add-ons such as bumpers, wheelbars, and baskets. Additionally, keep in mind that some four-wheel scooters will not be allowed on even if they comply with dimensions because of their wider turning radius. ** Please note that this combined weight includes the transit rider and mobility aid.


If the customer can safely ride up the lift independently, the combined weight of the customer and the mobility device must not exceed 360 kg (800 lbs).

Anyone with a mobility device exceeding these measurements may be refused transportation. If you have any concerns about your mobility device meeting these standards, please check with HandyDART Customer Service at 604.575.6600, option 5, prior to booking your trip.

Additionally, we cannot accommodate lightweight transport wheelchairs as they cannot be properly and safely secured on HandyDART.

Transfer Chairs

Transfer chairs are designed for transferring people short distances over smooth surfaces, and mainly indoors. The main difference between a standard wheelchair and transfer chairs is that standard wheelchairs are designed with large wheels so that the user can self-propel, while transfer chairs have small wheels and are designed to be pushed from behind by someone else.

These chairs are not accepted for transporting customers on HandyDART vehicles or to and from the vehicles as they do not meet safety approvals.
Animal Restrictions

Guide and Service dogs certified by the British Columbia Guide and Service Dog Act are allowed on HandyDART vehicles at all times. They must be under the control of the handler. You may need to produce your Guide or Service Dog Certificate.

Please keep in mind that pets are never allowed on HandyDART vehicles.
Bag Restrictions

Please only bring belongings with you that you can comfortably carry yourself (two bags maximum). HandyDART drivers are not expected to carry parcels. If you're unable to carry your bags or parcels by yourself, we encourage you to travel with an attendant.
Inclement Weather Restrictions

In situations where weather poses a safety concern (e.g., heavy snowfall), HandyDART may reduce the level of service delivery to Essential Service Only — providing transportation only for those attending renal dialysis appointments or cancer treatment.

All other booked rides in the area affected by the severe weather conditions will be automatically cancelled when Essential Service Only levels are invoked.

When HandyDART determines that a service area will be Essential Service Only on a day where you have a scheduled ride, you will receive an automated phone call letting you know your ride has been cancelled.

In the event of anticipated severe weather conditions, you can determine if HandyDART is operating at Essential Service Only levels by calling 604.575.6600 or by visiting TransLink Alerts.
---
HandyDART YVR Airport Pick-up/Drop-off
HandyDART offers door-to-door service to and from the Vancouver International Airport (YVR). Plan your trip by reviewing our HandyDART Pick-up/Drop-off Map.
Visit the HandyDART FAQ page for more details about this service.
---