---
Transferring Between Buses, SkyTrain, SeaBus, and HandyDART with Compass
If you have a Compass Card or Compass Ticket, you can transfer across all modes of transit (bus, SeaBus, SkyTrain, and HandyDART) on a single fare for up to 90 minutes, or up to 120 minutes for West Coast Express services.

Your travel time begins when you first tap your Compass Card, Compass Ticket, or contactless payment to enter a fare-paid zone.

If you travel using a Compass Card or Tap to Pay, your card will automatically deduct the appropriate amount for your trip.

For Compass Tickets, purchase a ticket for the correct number of zones, or upgrade your ticket at a Compass Vending Machine if your travel needs change.
As of Sept. 1, 2021, children aged 12 and under can ride transit for free. When transferring, children travelling without an accompanying fare paying customer will need to travel with a Compass Card or Ticket. Learn more on the Fare Pricing and Zones page.
---
Transferring on Bus or HandyDART
When travelling by bus or HandyDART, keep in mind that fares paid with cash are not transferable onto SkyTrain, West Coast Express, or SeaBus. To transfer between buses or HandyDART on a cash fare, show the operator your cash fare transfer.

All buses and HandyDART are a 1-Zone fare. For all other fare zones, visit the Pricing and Fare Zones page.
---
AddFares (Upgrades)

Stored Value
If you're travelling with Stored Value on a Compass Card, you never have to worry about upgrading your fare—Compass will calculate the appropriate fare when you tap out. Just make sure you have enough Stored Value on your card in advance to complete your trip, otherwise your card will go into negative balance and you'll need to top it up before entering the system again.

Monthly Pass
If traveling on a one- or two-zone Monthly Pass, we recommend adding Stored Value to your card before your trip, so you can transfer seamlessly into extra zones. When Monthly Pass holders travel into extra zones, the system automatically debits the AddFare amount from your Stored Value balance. AddFares to a Monthly Pass are charged at the cash rate (see table below), and can't be done at a Compass Vending Machine.

Compass Ticket
If you've purchased a one- or two-zone Compass Ticket and need to travel into extra zones, you must upgrade your ticket with an add fare at a Compass Vending Machine (CVM) before you cross the boundary into another zone. Just follow the prompts on the CVM to upgrade your Compass Ticket.
AddFare Prices

| Upgrade | Adult Fare | Concession Fare |
| --- | --- | --- |
| 1 Zone to 2 Zone | $1.30 | $1.00 |
| 1 Zone to 3 Zone | $2.85 | $2.05 |
| 2 Zone to 3 Zone | $1.55 | $1.05 |
---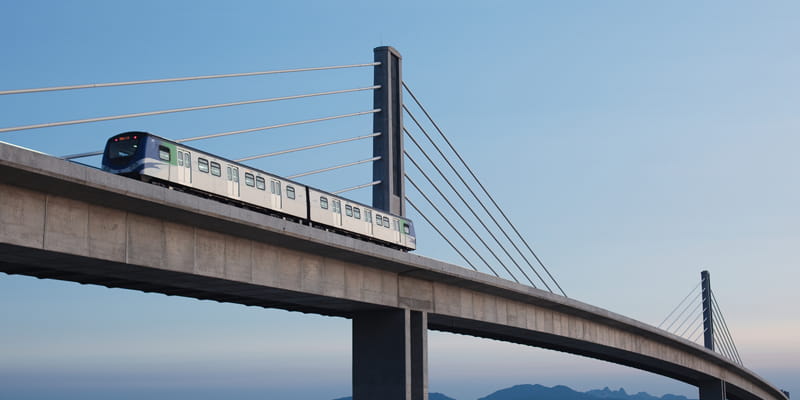 An additional $5 charge is added to some trips that start at the YVR Airport, Sea Island Centre, and Templeton Canada Line stations.
This charge, called AddFare, is used to support the cost of running SkyTrain's Canada Line. A few important things to note about this AddFare:
There is no AddFare for journeys to the airport.

AddFare is automatically deducted from the Stored Value on a Compass Card. Monthly Pass holders and DayPasses are exempt.

Travel between the three stations on Sea Island is free (charges are refunded when you tap out at one of these three stations).

We collects all fares, including AddFare. Vancouver Airport Authority does not receive any AddFare revenue.

Burkeville residents and YVR employees are exempt, with a resident program card. See Who is Exempt From AddFare for more details.
Trips that Incur an AddFare Charge

AddFare is charged on eastbound trips that start at YVR Airport, Sea Island Centre, or Templeton, and end at any station from Bridgeport onwards.

AddFare is added to the following fare types (including concession fares):

Single-use tickets and DayPasses purchased from YVR Airport, Sea Island Centre, and Templeton stations

Compass Card Stored Value trips

Tap to Pay (e.g., contactless cards, Apple Pay, Google Pay, or Samsung Pay)
Who is Exempt From AddFare Charge

Some exemptions — for certain fare types, journeys, and residents — apply. AddFare does not apply to the following:

Monthly Pass holders

Compass Tickets and DayPasses not purchased from YVR Airport, Sea Island Centre, and Templeton stations

Burkeville resident program card holders: Burkeville residents with proof of residency can apply for a resident's Compass Card at the Compass Customer Service Centre at Stadium–Chinatown Station. The card is valid for five years.
---