Regional Cycling Strategy
---
TransLink's long-term transportation strategy sets goals for the kind of transportation future we want – a system that's safe, fosters economic growth, and lowers greenhouse gas emissions.
The Regional Cycling Strategy provides guidance on how cycling can help realize the region's goals. The Strategy sets out a shared course of action for TransLink, municipalities, and other partners.
Together, we can help make our common vision of "Cycling for Everyone" a reality.
Prior to releasing the Strategy, TransLink completed a number of background studies and held a series of workshops with over 100 stakeholders. The input received formed the basis for the development of the Strategy.
Access the full Strategy here: Cycling for Everyone - A Regional Cycling Strategy for Metro Vancouver.
---
Advancing Cycling in Metro Vancouver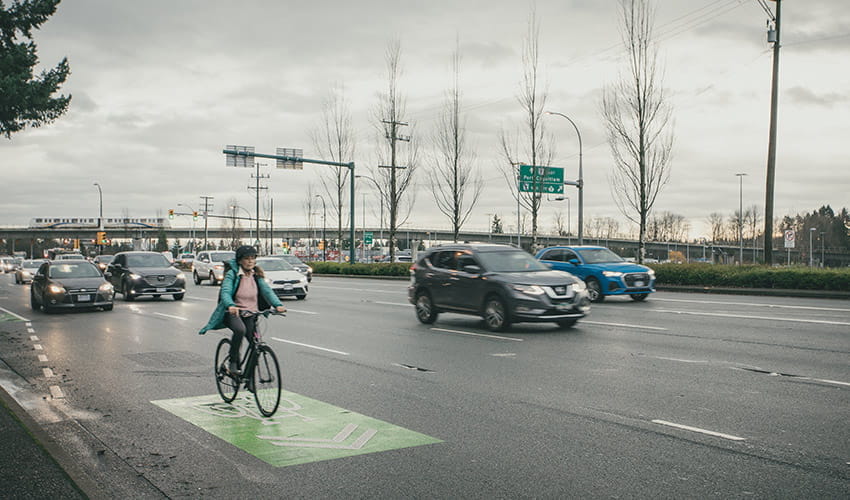 State of Cycling in Metro Vancouver

TransLink and HUB Cycling have partnered to deliver the Benchmarking the State of Cycling in Metro Vancouver 2019 report and dashboard to track the progress of increasing cycling and improving cycling safety.

Key takeaways from the 2019 report include:

The length of bikeways nearly tripled from 1,700 km in 2009 to 4,600 km in 2019.

46% of the regional cycling network is assessed as "Comfortable for Most People", and about 65% of residents live within 400 metres of such a bikeway.

Females made up 35% of cyclists in 2016, up from just 27% in 1996

The share of people cycling to work increased from 1.7% in 2006 to 2.3% in 2016, which was achieved by growing the number of bicycle commuters by nearly 65%

The collision rate involving cyclists was relatively stable between 2008 and 2017 at 21 and 23 collisions per million trips, respectively.
Investing in Cycling

As the region's transportation authority, we've been making significant investments to continue the expansion of safe and reliable transportation services – now and in the future.

The 10-Year Vision identified that the key to unlocking cycling's potential is to invest in traffic-protected bikeways to support cycling for people of all ages and abilities. We're also making cycling easier for customers by expanding our offering of Bike Parkades, making more space for bikes on SkyTrain, and updating policies to allow buses to transport e-bikes. The Phase One and Two Investment Plans have enabled funding to support this important work in partnership with local governments, though much remains to be done.
Rapid Implementation of Bikeways

The Rapid Implementation Design Guide for Bikeways in Metro Vancouver provides guidance for the planning, design, implementation, maintenance, and monitoring of bikeways, through a rapid implementation lens. The guide focuses on treatments using flexible, low-cost materials that are implemented rapidly within the existing roadway and with minimal physical construction requirements. It includes practical planning and design support for local governments, Indigenous communities, senior levels of government, and other agency staff in Metro Vancouver and beyond.

The Design Guide features case studies, lessons learned, and examples from communities within Metro Vancouver and around the world. This approach to building bikeways can enable the rapid implementation of the Major Bikeway Network, Urban Centre bikeway networks and local bikeway networks, as called for in Transport 2050.

Visualizing Rapid Implementation Bikeways in Metro Vancouver provides examples of bikeways from across the region that have been built using rapid implementation or "quick build" methods. It serves as an extension and visual tool to the Rapid Rapid Implementation Design Guide for Bikeways.

This document visually showcases examples of rapid implementation cycling projects across Metro Vancouver. The examples are meant to demonstrate a variety of approaches to inspire planners, engineers and decision makers to consider adopting these quick build methods for enhancing the cycling experiences across the region.
Cycling Wayfinding Guidelines

Providing consistent, reliable wayfinding for people cycling is an essential element for developing the Major Bikeway Network, and also an important aspect of planning the broader local bikeway network.

The TransLink Wayfinding Guidelines for Utility Cycling that were created in 2013 provide the necessary advice and designs that are required to ensure a coordinated approach for bicycle wayfinding across Metro Vancouver.

These guidelines fulfill an action in the Regional Cycling Strategy for Metro Vancouver (2011) to make the bikeway network easy to navigate and were developed through engagement with local government staff.
---
Moving Towards a Major Bikeway Network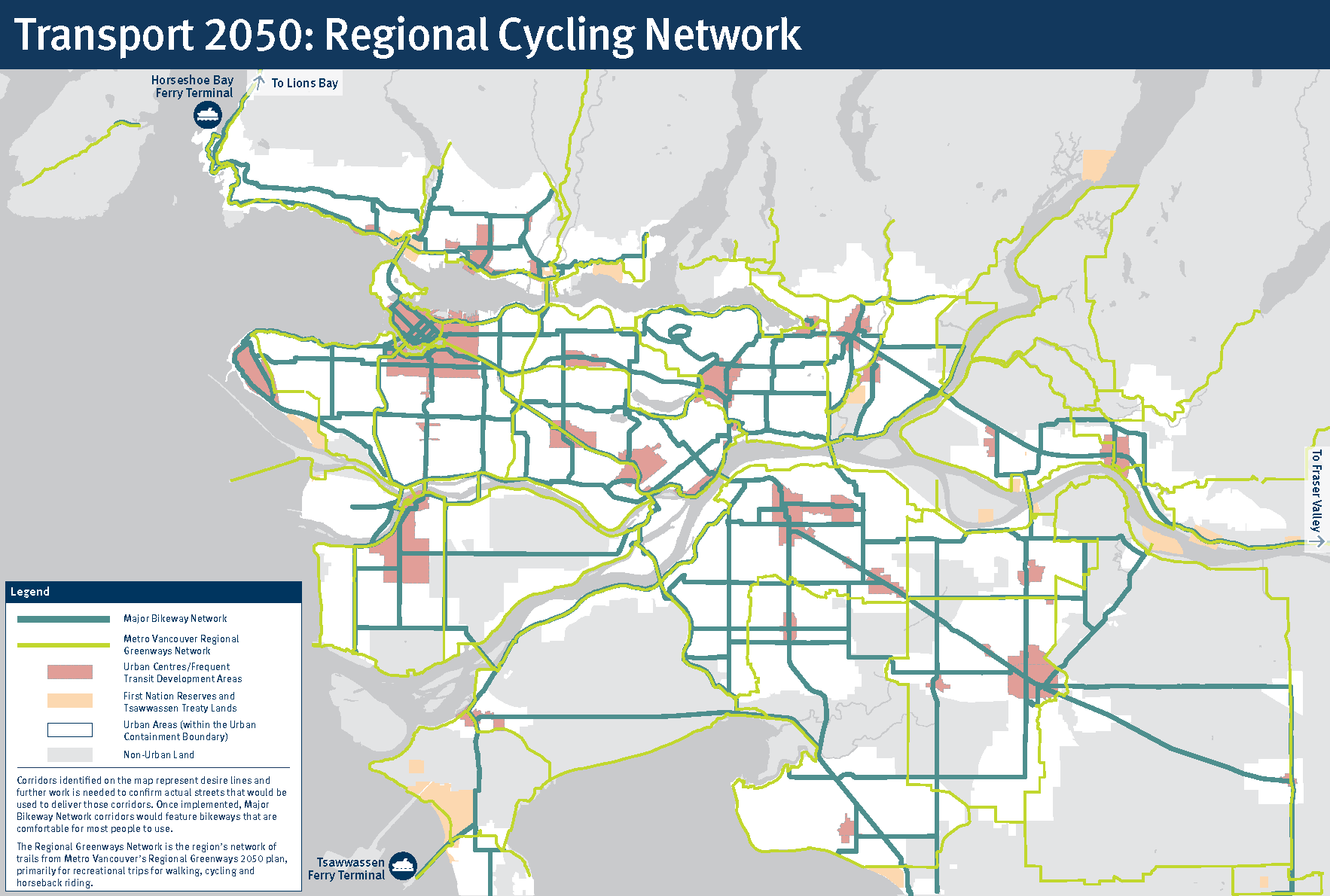 View the full Regional Cycling Network map
What is the Major Bikeway Network?

The Major Bikeway Network (MBN) is a proposed 850-kilometre network of safe and comfortable cycling facilities connecting Urban Centres and major destinations across Metro Vancouver.

The MBN is intended to make it safer, more comfortable, and more convenient to use active transportation, including e-bikes and e-scooters, for longer distance trips between Urban Centres as well as shorter trips within communities. It builds on existing regional cycling networks, with approximately 250 kilometres of MBN facilities already built as of 2021.
Developing the Major Bikeway Network

The first MBN concept was developed by TransLink in 2011 as part of the Regional Cycling Strategy. The MBN was expanded once in 2018 and again in 2022 as part of Transport 2050, TransLink's updated 30-year Regional Transportation Strategy. Transport 2050's vision includes rapidly implementing the MBN as a complete network of traffic-protected bikeways connecting Urban Centres across the region to provide active transportation and recreation options that are comfortable for most people to use.

Please see the report: Moving Towards a Major Bikeway Network for further details on the Major Bikeway Network including:

Guiding principles to consider when building out the network

Essential elements to apply when building out cycling facilities along the network

The importance of monitoring use and evaluating experience of the network

Ways to implement cycling facilities along the network: moving from concept to reality
Supporting a Regional Cycling Network

The corridors identified on the Regional Cycling Network map represent desire lines and further work is needed to confirm the actual streets used to deliver those corridors.
---
TransLink Regional Bike Monitoring Program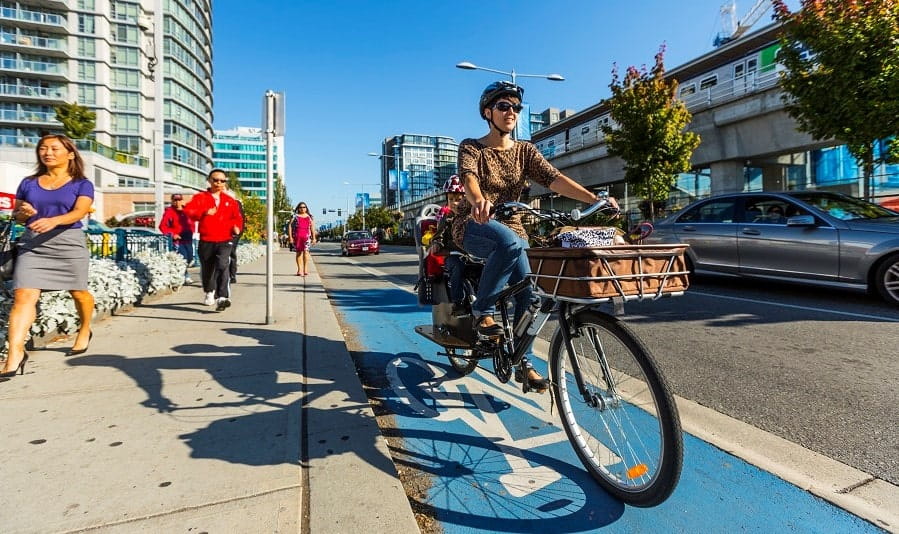 From March through May 2021, TransLink will be installing in-ground bicycle counters along cycling paths as a first step in launching Metro Vancouver's first ever Regional Bike Monitoring Program. Establishing a Regional Bike Monitoring Program is a key component of TransLink's Regional Cycling Strategy to help increase cycling levels in Metro Vancouver.
These counters will provide a systematic and reliable way for TransLink and its municipal partners to monitor and analyze regional bike traffic data. This data will help to inform future infrastructure investments and improvements, and measure success in meeting the objectives of the Regional Transportation Strategy. Improved and expanded cycling infrastructure makes it easier for more people to choose cycling as a form of transportation, which leads to healthier communities and environmental benefits.
Program features:
16 in-ground bicycle counters will be installed along key bike and multi-use pathways across nine different road jurisdictions throughout the region.

The in-ground counters will detect electromagnetic signals from passing bikes to determine the number of bikes on a pathway and their direction of travel.
Frequently Asked Questions

Why are you installing bicycle counters?

We're implementing a Regional Bicycle Monitoring Program as part of TransLink's Regional Cycling Strategy. Currently, bicycle traffic monitoring is done on an ad-hoc basis through each municipality. TransLink is working with municipal partners to develop a reliable, long-term, and consistent method of data collection and analysis, to help inform future planning work for cycling infrastructure and programs.

How do the counters work?

The bicycle counters use inductive loop technology, picking up the electromagnetic signatures of bicycle tires. Some counters can also detect the bike's direction of travel. This information is digitally transmitted to a paired software program, which can be used to analyze trends.

At some locations, counter poles are also installed to record the number of pedestrians using infrared beams.

Where will the counters be installed?

In this first round of installations, counters will be located at 16 locations along major bike routes throughout nine road jurisdictions. We've worked closely with municipalities and the Province of B.C. to determine key locations.

Approximate locations:

Burnaby

Gilmore Way Urban Trail, south of Canada Way

Coquitlam

Clarke Road at Como Lake Avenue

Langley

Maple Ridge (MoTI)

Lougheed Highway west of 216 Street

New Westminster

Moody Park between 8th Street and 10th Street

Columbia Street, North of Richmond Street

North Vancouver

Pitt Meadows (MoTI)

Lougheed Highway at Allen Way

Surrey

Bridgeview Drive north of King George Boulevard

105a Avenue East of City Parkway

Green Timbers Greenway east of 156 Street

West Vancouver (MoTI)

South end of 3rd Street, adjacent to Highway 1

Marine Drive, west of Highway 99 underpass

BC Parkway (TransLink)

BC Parkway east of Gilley Avenue

BC Parkway west of 22nd Street Station

How will TransLink use the data?

Over time, this data will help TransLink and its municipal partners plan for future infrastructure improvements and measure success towards the goals of the Regional Transportation Strategy.

How will the bike counters be operated and maintained?

The bike counters will be operated by the manufacturer, EcoCounter. They'll be responsible for device calibration, data validation, data management and reporting systems, counter repair, battery change and ongoing maintenance.

How are the counters powered?

Counters are battery powered and the batteries need to be replaced every one to two years depending on the arrangement of the counter induction loops.

Will the counter installation impact my route?

These counters are easy to install, and in-ground construction will take less than a day in most cases. Depending on the location, cycle and pedestrian traffic may need to be temporarily detoured. There will be ample signage on site if this is the case.

What are next steps for this project?

We expect to install counters at additional locations over the coming years to further expand the Regional Bike Monitoring Program.
---