Solutions for a better transportation future
TransLink Tomorrow is our commitment to continuously explore, test, and implement innovative ways to improve mobility in Metro Vancouver.
It's also our commitment to a more open and nimble approach to collaborating with industry, entrepreneurs, and academia. Working together, we can more quickly surface worthwhile new ideas and technologies that:
Enable seamless and efficient door-to-door mobility for people and goods

Promote safe, healthy, clean, and compact communities

Ensure affordable and equitable access for all
From battery-electric buses to accessible fare-gates to on-demand transit, TransLink is always looking for new and better ways to keep the region moving forward through the emerging field of New Mobility.
---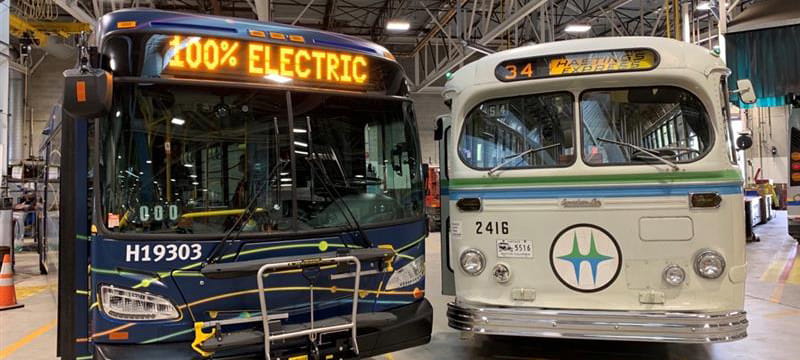 Technological advances are happening at a breathtaking pace. And key transportation-related technologies are converging leading to what we expect will be rapid changes in the transportation landscape towards greater integration, personalization, automation, connectivity, electrification, and sharing.
If we plan proactively, we can choose to harness the potential of New Mobility in support of regional objectives to dramatically reduce distances driven and increase the number of trips made by active and shared-use modes in Metro Vancouver.
With clear and forward-thinking policy direction, we can ensure that New Mobility services not only help create a more seamlessly integrated door-to-door travel experience, but that they do so in a way that also promotes safe, healthy, clean and compact communities, and affordable and equitable access for all.
Many of our existing plans, strategies, and policy documents already provide useful direction on New Mobility:
Shared Micromobility Guidelines

Metro Vancouver municipalities have expressed the need for a more unified approach to piloting requirements and implementing new forms of mobility services.

We've worked with municipal partners to develop the Micromobility Guidelines as the first step towards regional coordination to maximize the benefits of these New Mobility services. The Micromobility Guidelines have been endorsed by all the municipalities and is a living document intended to be reviewed and updated to include experiences and lessons learned.
---
Pilot and Demonstration Projects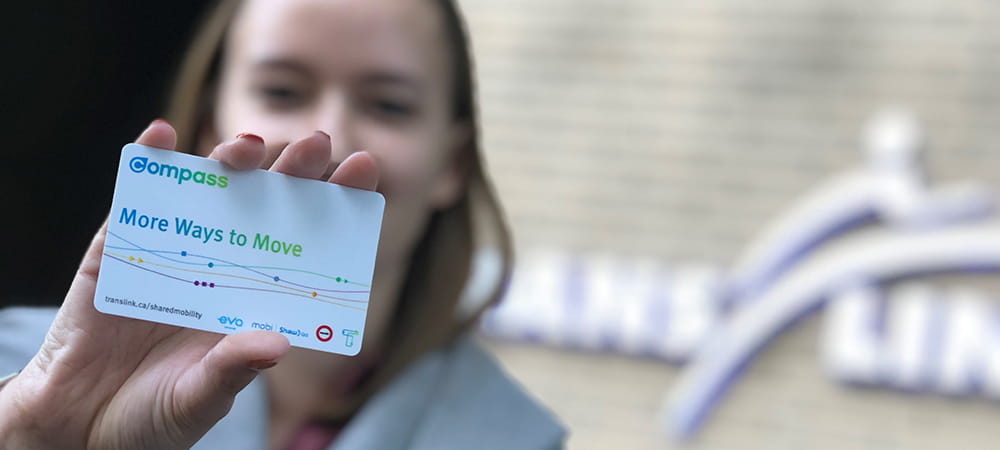 Collaborating with innovative partners to test, evaluate, and refine new ideas in real-world settings is a cost-effective way for us to learn and adapt to technological change.
TransLink is interested in collaborating with innovative partners to further develop pre-commercial ideas, offering access to our assets for real-world testing, and piloting market-ready ideas.
Where pilot and demonstration projects show promising results, we'll consider incorporating them into our regular business.
Active Pilot and Demonstration Projects

UBC Exchange Next Bus Digital Screen Pilot

Beginning December 2021 and continuing for one year, TransLink will be monitoring the success of three new models of real-time information signs at bus stops within UBC Exchange designed to improve the quality and accessibility of real-time transit information and provide an even better transit experience for customers.

There are three models included in this pilot, a pole and a plinth each with the same type of screen (36" screen), as well as a podium style centralized sign board (46" screen). The podium central sign is a hub for customers to plan their trip and locate the stop they need, while the pole and plinth provide bus stop specific information.

These screens provide Next Bus arrival information, alerts, and timely transit information and reminders with improved visibility and legibility, as well as enhanced accessibility with text-to-speech audio and Braille panels. By integrating these features into three unique sign models, we're able to evaluate how different types of technology can improve information sharing when used together in a purpose-built system.

Once the pilot has completed, we'll review the technology's performance and customer feedback which will help to guide us in making any necessary refinements to the technology and design to further improve our customers' experience. As these adjustments are made, TransLink will work to determine which areas of the transit network would benefit the most from having this new technology installed. We anticipate these screens will remain permanently at UBC Exchange following the pilot completion.

We want to hear from you! If you have feedback on this pilot, please reach out to our Customer Information team at 604.953.3333.

To learn more about TransLink's UBC Exchange Next Bus Digital Screen Pilot, visit our Maintenance and Upgrade Program - Bus Projects page.

On-Demand Bike Parking Pilot

Starting spring 2021, TransLink is piloting a new, On-Demand Bike Parking Program to provide customers with more convenient and flexible bike parking options at transit hubs throughout the region. These bike parking facilities are the first of their kind in British Columbia, with keyless entry and payment through smartphone technology.

We're piloting two types of on-demand bike parking, bike lockers and racks, to see how new technology can improve our customers' experience combining cycling with transit. These new bike parking facilities use 100 per cent solar power to support the region's sustainability goals and join a suite of bike parking options across the transit network.

On-demand bike lockers are now available at:

Moody Centre Station

Carvolth Exchange

VCC-Clark Station

22nd Street Station

Lockers will also be installed at Richmond-Brighouse Exchange, and Lonsdale Quay in 2022.

On-demand bike racks are currently available at Moody Centre Station and will be installed at Lonsdale Quay in early 2022.

To learn more about the features of on-demand bike lockers, visit our Bike Parking page. If you're interested to learn about rates and how to use the bike lockers, visit our Mobile Services page.

This pilot will monitor customer usage and response to the new service over several months. If successful, we expect to keep these lockers long-term and develop plans for rolling this technology out to even more stations in the future. We encourage customers to share feedback on their experience using our new on-demand bike parking options by contacting our Customer Information team at 604.953.3333.

Photocatalytic Oxidation Pilot

Photocatalytic oxidation. Tough name but easy explanation — clean air!

TransLink is piloting a technology called photocatalytic oxidation (PCO) to sanitize the air and surfaces on board transit vehicles. The one-month pilot will begin March 6 on a 60-foot articulated bus and two double-decker buses.

Photocatalytic oxidation is a safe technology that works by circulating low levels of hydrogen peroxide to kill pathogens like viruses. Before the pandemic, photocatalytic oxidation was most commonly used in buildings, airports and cruise ships. Companies like Microsoft, Hilton and Kennedy Space Center are already using PCO to make their spaces safer. TransLink and other North American agencies are now testing its application on transit for the first time.

TransLink's pilot will determine photocatalytic oxidation's ability to effectively sanitize surfaces on transit and will work with peer agencies to validate the technology's ability to sanitize air. Following the pilot, TransLink will analyze the data and determine if the technology meets the criteria for wider implementation.

Battery-Electric Bus Pilot

The Battery-Electric Bus Pilot is part of a pan-Canadian partnership between TransLink, the Canadian Urban Transit Research & Innovation Consortium (CUTRIC), the Government of Canada, and BC Hydro.

Over the next two-and-a-half years, we'll be testing buses (New Flyer and Nova Bus) and chargers (ABB and Siemens) from different manufacturers. These trials will allow us to collect data and obtain valuable experience, so we can scale up our battery-electric bus fleet in order to meet our 100% renewable energy by 2050 target.

See the charging station in action

Our battery-electric buses are powered with clean electricity and have zero tailpipe emissions. Compared to diesel, each battery-electric bus is expected to reduce 100 tonnes of GHG emissions per year - and won't generate any local air pollution. In addition to contributing to a cleaner environment, the buses will provide a smoother and quieter ride. We expect each bus to save up to $40,000 in fuel costs for the two-and-a-half-year project, compared to diesel.

Data and experience from this project will support transit electrification in Metro Vancouver and throughout Canada. It will support electric vehicle adoption globally by informing the development of the OPPCharge charging protocols.
Completed Pilot and Demonstration Projects

Copper Pilot Project

As part of an innovative pilot project, TransLink welcomed medical microbiologists from Vancouver Coastal Health (VCH) onboard our vehicles to test copper products on transit surfaces. The pilot tested copper's ability to destroy bacteria and viruses on high-touch surfaces.

After two years of research, VCH researchers determined copper products can kill up to 99.9% of bacteria on transit surfaces within two hours of contact.

The project is the result of a partnership between Teck Resources Limited, TransLink, the Toronto Transit Commission, Vancouver Coastal Health, Mount Sinai Hospital, the Coalition for Healthcare Acquired Infection Reduction, the VGH & UBC Hospital Foundation, and Westech Cleaning Audit Systems.

The partnership was fully funded by Teck Resources, as part of their Copper and Health Program.

Did you know?

Copper is the only solid metal touch surface registered as a public health product by Health Canada and the U.S. Environmental Protection Agency, proven to naturally eliminate up to 99.9% of bacteria.

Antimicrobial copper has been installed in more than 300 healthcare facilities in 26 countries in Europe, South America, Africa, and Asia.

Copper surfaces are also being installed in training centers for professional sports teams, airports and restaurants.

Copper surfaces are also being installed in training centers for professional sports teams, airports and restaurants.

Copper's antimicrobial properties are supported by over 200 peer-reviewed scientific studies.

TransLink was the first transit agency in North America to test copper products on vehicles and is a member of the International Copper Action Hub.

To learn more and share feedback:

Vanpool Pilot

Many employees in Metro Vancouver work in places that are difficult to access by walking, cycling, and conventional transit. In Feb. 2019, TransLink launched the Vanpool pilot in partnership with Modo to supply shared vehicles to the maintenance staff at the University of British Columbia to help provide affordable and shared-use mobility options. The pilot was originally introduced to provide commuters with cost-effective transportation to and from their workplace and to reduce the number of single occupancy vehicles on our roads.

The number of vehicles in the pilot was capped to a maximum of 10. Within the pilot phase, Vanpool operated with roughly 50 participants and 10 vehicles. As part of the pilot demonstration, vanpooling provided a realistic alternative for groups of employees (3-8 persons per vehicle) commuting from outlying municipalities to a central employer or area of employers. The Vanpool pilot provided a more affordable and social alternative to driving alone.

As of Jan. 1, 2023, the Vanpool pilot has transitioned to the program phase. TransLink has partnered with Modo and Liftango to develop and test different approaches to offering Vanpool services by leveraging existing car-share vehicles.

We're in the process of identifying suitable locations for this program. If you're a business or employee that would like to help us launch a Vanpool service at your workplace, please contact us at vanpool@translink.ca.

Shared Mobility Pilot Program

The inaugural Open Call for Innovation, which launched under the theme of "Seamless Mobility" in June 2018, resulted in TransLink partnering with Evo Car Share, Modo Co-op and Mobi by Shaw Go to help make multimodal travel easier, more convenient and seamless.

The Shared Mobility Pilot ran between Oct. 2019 and Aug. 2020. During this period, approximately 160 employees of 13 selected Vancouver-based organizations received a special Shared Mobility Compass Card. The card could be used to access transit, carshare and bikeshare services for work-related travel. At the end of each month the participating organizations received one consolidated invoice tallying all trips.

A total of 6,000 trips were completed through the duration of the pilot. The program was highly rated among participants and the results indicate a mode shift towards more sustainable modes of transportation. View the project summary report for more detailed findings.

The pilot aimed to test the user experience and technical integration of tying multimodal journeys together with a Shared Mobility Compass Card. We're using data and lessons learned from this first phase to determine our next steps, including the potential for deeper integration and wider implementation.

Room to Ride: Bus Capacity Predictions

Translink worked with Transit App to trial exclusive capacity predictions on buses for the period of August 2021 to July 2022.

Providing bus capacity predictions allowed customers to see if there is room to ride on a bus before boarding. As Metro Vancouver emerges from the pandemic, we wanted to give customers the tools to help better plan their transit trips to explore the region and reconnect with the people and places that matter the most.

Bus capacity predictions generated by Transit app are based on historical trends and Automated Passenger Counter (APC) data collected from TransLink's bus network. They were available on most routes across the region during the pilot run.

Predictions was presented as a new feature within the Transit app for Metro Vancouver riders, using icons to convey three levels of capacity:

Many seats available (more than 50 per cent seats available)

Some seats available (10 per cent to 50 per cent seats available)

Standing room only (less than 10 per cent seats)

TransLink's collaboration with Transit app was an outcome of the 2020 Open Call for Innovation, which collected ideas for improving the health, safety, and comfort of customers and employees on transit.

Carpool Campaign Pilot

As part of the inaugural Open Call for Innovation on "Seamless Mobility" TransLink collaborated with Poparide to promote an easy-to-use carpooling solution for Metro Vancouver.

The pilot aimed to test the effectiveness of a cross-marketing collaboration between TransLink and Poparide by collecting carpooling activity data and measuring uptake, with the goal of reducing congestion and travel costs for commuters.

Our partnership with Poparide took place between November 2019 and January 2020. The campaign applied multiple marketing techniques through various channels, which resulted in more than 2,000 trips posted and 500 bookings.

Transit On-Demand Pilot Program - Bowen Island

TransLink piloted Transit On-Demand services on Bowen Island from July 15 to September 15, 2019. The on-demand services supplemented the existing routes — 280, 281 and 282 — which continued to provide regular transit service during the trial.

Two additional shuttles offered Transit On-Demand services:

Weekday Evenings: Fixed pick-up from Snug Cove from 4:30 p.m. to 9:30 p.m.

Weekends: Flexible pick-up and drop-off anytime between 10 a.m. and 5:30 p.m.

Transit On-Demand customers could book trips up to two weeks in advance using the TapRide app on a smartphone or web browser, or by calling a dispatcher.

Our goal was to explore the technical feasibility and customer experience of implementing Transit On-Demand services.

Key Findings

Over the course of the pilot, the Transit On-Demand service was used by 554 unique users, with a total of 1,200 trips and approximately 2,000 boardings. Three booking options were offered, with the smartphone app being the most popular and accounting for over 76 per cent of total bookings.

The service was well-received and confirmed through the results of a post-pilot survey. Approximately 80 per cent of users gave their on-demand experience top scores, with an average score of 8.6 out of 10. 47 per cent opted to use the on-demand services over their own private cars and over 23 per cent replaced the use of fixed-route transit with on-demand services.

View the project summary report for more detailed findings.

Next Steps

We want to continue learning about how the Transit On-Demand model can improve Metro Vancouver's transportation system. As part of the learning process, customer and operator feedback is being analyzed to determine next steps regarding service delivery and technology providers. This analysis will help refine the Transit On-Demand model for further testing in suitable areas across the region.




Artificial Intelligence Bus Prediction Pilot

Customers will be able to better plan their journey on TransLink's bus network, with a new machine learning algorithm improving the accuracy of departure estimates. The system-wide implementation follows a successful pilot program which saw 13 bus routes utilize this technology.

Combining live bus location data with the machine learning algorithm, this innovative methodology improves existing estimates by considering major factors that affect bus departures. These include weather conditions and journey estimates at different times of day and night. To ensure accurate predictions for the entire transportation network, the algorithm involves over 16,000 machine learning models.

The new algorithm has been incorporated into our Next Bus website and SMS tool. Third-party applications that are already using our bus departure estimates, such as the Transit App and Google Maps, will also use the new estimation method.

Mobility Hubs

To provide customers with the flexibility to combine driving and transit, TransLink has partnered with Modo and Evo to created dedicated carsharing parking spaces at select SkyTrain Stations.

Our Park and Ride page has a full list of which stations have dedicated Modo and Evo parking.

For those that prefer cycling, we also provide three different types of bike parking at SkyTrain Stations, bus exchanges, and West Coast Express stations throughout Metro Vancouver including secure bike parkades accessible with your Compass Card.

Visit our Bike Parking page for more information.
---
We believe good ideas come from anyone and everyone – and that includes you.
That's why TransLink issues an Open Call for Innovation every year. Each Open Call invites submissions from the public and private sectors to address a transportation-related challenge that we face as a region. It's all part of our broader plan to partner with industry leaders, innovators, academics, and policymakers to collaborate on new mobility solutions that will help enhance the livability of Metro Vancouver.
For successful submissions, TransLink offers funding and collaboration to incubate, develop, pilot, and implement your idea. We'll work with you to make your good idea even better and help turn it into reality.
---
2023 Open Call for Innovation
From August 1 to September 15, 2023, TransLink is inviting entrepreneurs, businesses, inventors, and innovators to submit their proposals to help us enhance the maintenance, reliability, and performance of our transit and transportation infrastructure.
This year, our focus is on the State of Good Repair. The challenge statement is: How can TransLink revolutionize our maintenance and asset management practices to improve the reliability and performance of our transit and transportation infrastructure?
We are particularly interested in ideas related to the following areas:
Predictive maintenance: real-time monitoring systems, early fault detection algorithms, and predictive maintenance platforms that can anticipate equipment failures, optimize maintenance schedules, and extend the lifespan of our infrastructure.

Asset Performance Management: IoT technologies, sensor networks, and data analytics to monitor asset health, optimize maintenance interventions, and provide decision support tools for asset managers.

Remote Inspection and Monitoring: drones, robotics, intrusion detection systems, high-definition CCTV, and remote sensing, to enable remote inspections and monitoring of critical infrastructure components.

Sustainable Materials and Techniques: explore the use of recycled or low-carbon materials, smart coatings, energy-efficient lighting systems, and other sustainable innovations

Workforce Empowerment: proposals that leverage technology to enhance the skills and capabilities of maintenance personnel, including digital twin enabled virtual reality (VR) and augmented reality (AR) training platforms, knowledge-sharing platforms, and wearable technologies that improve efficiency on the job or changes to business practices such as mobile maintenance and repair platforms
What happens if your idea is selected?
Successful submissions will have the opportunity to receive funding and collaborate with TransLink to test and implement their ideas. We are committed to working closely with you to refine and transform your good idea into a tangible reality.
Submission period is from Aug. 1 to Sept. 15, 2023.
---
Past Calls for Innovation

2022 Transportation Decarbonization

We received 38 submissions in total, of which, Kiepe Electric's innovative idea to capture energy from SkyTrain braking and trolley-wire infrastructure has been selected. This energy could be used in different ways, including to potentially charge future electric transit vehicles. This proposal is being evaluated and this technology could be implemented in the future if it provides a benefit for the transit system.

2021 Regional Road Monitoring Innovation & Enhancing Access to the Public Transit System

In 2021, we decided to launch 2 Open Innovation Calls. For the first topic, Regional Road Monitoring Innovation, we asked for innovative solutions on how technologies, solutions, processes, and/or models that could help monitor our regional goals related to vehicle traffic. For the second topic of the 2021 Open Call for Innovation, we asked for your ideas on enhancing access to the public transit system. We sought out ideas to simplify our customers' experience when boarding transit vehicles, ways to measure and predict customer flow through stations, and any other ideas to help ease the customer experience while using our system. In short, we looked for ideas on how to make the travel experience even better.

As a result, in 2021, we received and evaluated 121 submissions and decided to partner with three companies. We look forward to sharing more information on the successful proponents in the coming months.

2020 Our Region's Recovery

As BC's economy re-starts and we begin to recover from the impacts of the COVID-19 pandemic, we need to provide safe and reliable transit solutions for our staff and customers as they return to work, to school, and to moving around the region. Through the third Open Call for Innovation, we asked for ideas on how to improve health, safety, and public trust as we welcome customers back to the public transit system in the context of COVID-19. TransLink evaluated 89 submissions and announced its partnership with Transit app to provide bus capacity predictions for its users, and with FHOSS North America, to deploy illuminated signs in select vehicles of BCRTC with the aims of increasing safety and risk awareness of its employees.

2019 Customer Services and Amenities

All transit journeys begin and end at a stop, station or exchange. They're an important part of our communities and we have an opportunity to improve this part of the customers' journey. Through the second Open Call for Innovation, we asked for ideas on how innovative technologies, solutions, processes, business models and partnerships can enhance our customers' transit experience. TransLink evaluated 45 submissions and announced its partnership with PigeonBox, a shared smart-locker service at three SkyTrain stations in Metro Vancouver.

2018 Seamless Mobility

The inaugural Open Call for Innovation focused on bringing the opportunities of seamless mobility to Metro Vancouver – how it can be achieved and how barriers can be overcome. TransLink received 90 submissions and announced a joint initiative with Modo Co-op, Mobi by ShawGo, and BCAA (Evo Car Share) in January 2019 as an outcome of this Open Call.
---
The New Mobility Lab is our new engagement portal for post-secondary institutions, researchers, and university students.
We provide stable, multi-year funding towards a coordinated program of applied research aimed at answering new mobility related questions of relevance to us and our regional partners.
The research produced by this program is presented at the annual New Mobility Research Dialogue and in the New Mobility Research Compendium.
The dialogue creates a space for researchers and TransLink to collaborate and identify new research needs, explore innovative ways to improve mobility in Metro Vancouver and advance the progress of the Regional Transportation Strategy Goals.
The compendium communicates, records and highlights research funded up to date for broader reference and tracking of the wide variety of subject matter that the proposals have addressed.
New Mobility Research Grant Program (NMRG)

This program provides research grants of up to $50,000 to well-defined projects undertaken by Canadian post-secondary researchers and their partners.

NMRG projects may range from one year to two years in duration and can span a range of disciplines, including, engineering, planning and policy, urban design, computer science, environmental and resource science, business, psychology, sociology, and economics.

The NMRG Program is now accepting applications:

All projects must relate to a new mobility theme and must have regional or local relevance.
UBC Sustainability Scholars Program

Since 2018, TransLink has engaged UBC graduate students through the UBC Sustainability Scholars program to conduct research on new mobility topics. These reports are now available:

Please check back in Fall 2020 for the outcomes of the following research projects:

Review and Analysis of Transit Agency Intergovernmental Agreements for Major Transportation Investments (2020)

Review of Climate Adaptation Planning for Transit Agencies (2020)
Finalized Reports
---
We look forward to regularly convening and participating in meetings and events related to New Mobility in order to build stronger networks and partnerships between industry, entrepreneurs, academia, and government throughout the region and beyond.
Upcoming Events

There are currently no upcoming events. Please check back later.
Past Events

Events in 2023

Motivate 2023

Over the past six years, TransLink has organized the New Mobility Forum. In 2023, we partnered with CoMotion, the premier new mobility event planning organization out of the U.S., to help make the event bigger and better than before. Organized my CoMotion in partnership with TransLink and Invest Vancouver, the event brought together start-ups, emerging innovators, public transit, and shared mobility providers, as well as policy influencers and decision makers to discuss the investment and service improvement opportunities across the mobility ecosystem.

Motivate 2023 will focus on Innovation and Investment in Next Gen Mobility, shining a spotlight on public-private partnerships and the stakeholders shaping this dynamic field, impacting the future of transportation in both Metro Vancouver and globally. The event will take place on June 27, 2023 at the Vancouver Convention Centre.

Here are TransLink CEO, Kevin Quinn's opening remarks from Motivate 2023:

More presentations and panels from Motivate 2023 can be found on CoMotion's YouTube channel.

Events in 2022

2022 New Mobility Forum

The theme for our fifth annual New Mobility Forum was electrification. The forum focused on addressing real-world problems with an emphasis on governance, public private partnerships, and improving the customer experience with electrification. Panel discussions included electrification of public transit, shared fleets, and personal vehicles.

Events in 2021

New Mobility Forum: Digital Transformation in the Transportation Sector

On September 28, 2021, TransLink hosted the fourth annual New Mobility Forum virtually. The event was themed around digital transformation in the transportation sector with approximately 200 attendees from the private sector, universities, non-profits, government, transit agencies and quasi-governmental.

The purpose of the event was to explore how digital transformation may leverage innovations in big data and communications technologies to provide seamless mobility and an exceptional customer experience. The event featured a keynote presentation from the Open Mobility Foundation (non-profit) which was followed by three-panel discussions with subject matter experts on the topics of: Digital Governance, Digital Passengers and Digital Freight - which included the following key takeaways:

Digital Governance Panel

A vision with a public purpose, public benefits, and desirable outcomes needs to be created to determine the role the data serves for the community and to provide the basis for a governance framework.

Data management strategies and legal frameworks need to be created to outline interaction, coordination, integration, and structure ensuring data privacy and security issues are considered.

Public-private partnerships can be beneficial as the public sector explores a new field and determines its role.

Digital Customer: Passengers Panel Discussion

Digital transformation with a focus on the customer can help address ongoing challenges in the transportation system –such as accessibility, affordability, and equity– by increasing flexibility, adaptability, and convenience while safeguarding the right of way and access.

The digital customer needs to be better understood and more consideration should be given to expand data collection (i.e., complete journey data (round-trip) rather than one part of the trip (origin to destination)). However, data privacy, data security, and ethics are still the main concerns in the field.

Gamification and rewards are excellent tools that should target both transit users and non-transit users. These behavioural nudges can be integrated via standardizing methodologies on impacts from different modes (e.g. carbon emissions).

Digital Customer: Freight Panel Discussion

The urban freight industry is being impacted by the introduction of new delivery models originating from the gig economy. This is observed particularly through urban 'invisible freight' where unmarked passenger vehicles, vans, and other devices (e.g. e-bikes, scooters, mopeds) operate quickly for small-size deliveries.

Further research is needed to understand the implications of the urban 'invisible freight' (e.g. vehicle availability and employment stability) to inform possible policy revisions (e.g. vehicle classification and regulations focused on vehicle content instead of vehicle weight) and adapt curbside management. The industry needs data collection and research to understand the curb space better (e.g. curb demand, last-mile delivery industry, and business models).

The long-haul freight industry will observe shifts in employment, logistics supply, and inventory management as new technologies develop –such as automation and 3D printing.

Events in 2020

New Mobility Forum: The Promise & Perils of Automated Transportation

On January 14, 2020, TransLink hosted the third annual New Mobility Forum dedicated to shaping the future of automated, connected, electric, and shared mobility in Metro Vancouver.

The event brought together private industry experts, public sector planners and decision makers, and academics to focused on the theme of "The Promise and Perils of Automated Transportation." There were over 230 attendees, 2 Mayors, 3 Board Members, 8 expert panel speakers, 2 moderators, and 9 exhibitors showcasing innovative mobility products.

The agenda included:

A keynote presentation by Jeffrey Tumlin, Executive Director of San Francisco Municipal Transportation Agency (SFMTA);

Two panel discussions on the state of development of automated vehicle technology and the potential policy impacts and implications;

A jigsaw breakout session to gather feedback from attendees to inform our work on Transport 2050; and

And an update on the Open Call for Innovation.
---