---
CMBC Maintenance and Trades Opportunities
As the largest operating company in the integrated TransLink enterprise, Coast Mountain Bus Company (CMBC) operates a diverse fleet of more than 1,600 low- and zero-emission conventional and community shuttle buses and the passenger ferry SeaBus in Metro Vancouver.
At CMBC, one of BC's Top Employers, we're committed to providing an innovative, healthy, and engaging workplace. This is reflected in our workforce of almost 5,500 employees performing over 400 unique jobs.
Our maintenance roles, including skilled trades, are an integral part of our service delivery that attracts nearly 380,000 passengers daily and connects people, businesses, and communities in the Metro Vancouver region.
---
We are hiring for multiple positions in management, skilled trades, and other maintenance roles.
Our maintenance staff keep our buses and SeaBuses moving, with shifts running 24/7 to ensure all our vehicles and vessels are in tip-top shape for our customers and the employees who operate them.
Depending on your skills, qualifications, and experience, you will likely find a good fit at CMBC. See all current job opportunities on our Careers page.
---
Your Career with Coast Mountain Bus Company
For a sense of what Maintenance work looks like at CMBC, watch the following video to go behind the scenes at one of our facilities, Fleet Overhaul, located at Burnaby Transit Centre.
---
We offer a comprehensive benefits package that supports employees through their professional and personal lives.
Benefits highlights include:
Defined BC Public Service Pension Plan (PSPP)

Extended Health including vision care, massage therapy, physiotherapy, prescription drugs with the option of family and domestic partner coverage

Dental including orthodontics

Life insurance

PPE, tool allowance, and coveralls are provided for all trades positions

Paid vacation (starting at three weeks and increasing with length of service with the company). Management positions may be eligible for additional paid time off to start.

Three-zone transit pass for you and up to two eligible family members (taxable benefit for family passes)

Paid training for company-directed training, including achieving a Class 2 Driver's Licence; tuition reimbursement available for developmental training

Family Assistance Program

Respectful Workplace Program

Unionized roles require membership in Unifor 2200
---
Requirements and Qualifications
Learn more about what kind of skills, training, and experience are required for management, skilled trades, and maintenance roles at CMBC.
Trades Roles

Each position comes with its own set of requirements; however, most roles will require a minimum of between three to five years recent related mechanical and technical experience in a heavy industrial environment or other similar background and profile.

An equivalent combination of post-secondary technical training, and experience working towards a relevant trade are also considered. Most roles will require a candidate to obtain a Class 2 Learner's Permit prior to being hired and a Class 2 BC Driver's Licence after successful completion of CMBC driver's training. Candidates cannot have more than 6 points in the last 3 years on their driving record nor any suspensions, prohibitions, or convictions in the last 5 years.

Many positions work collaboratively as part of a team, maintaining our fleet and assets together. Therefore, a demonstrated ability to work effectively as part of a team is an asset.

Candidates should be able to work in high-pressure environments with changing conditions such as working on emergency repairs or during short night maintenance windows. Excellent communication skills to be able to effectively relay technical and sometimes complex information are also beneficial skills.
Management Roles

Each position comes with its own set of requirements; however, most roles will require a minimum of six to seven years' experience in progressively responsible positions relating to vehicle or fleet maintenance, which includes managerial and supervisory experience.

Qualification in mechanical or electrical trades, or a diploma or degree in a related mechanical field.

Advanced leadership skills to provide coaching, team building, and development and performance management to manage direct and non-direct reporting staff.

The above information on trades and management positions at CMBC provide only the most general qualifications required. To learn more about requirements for a particular role, visit the individual job listing for further information.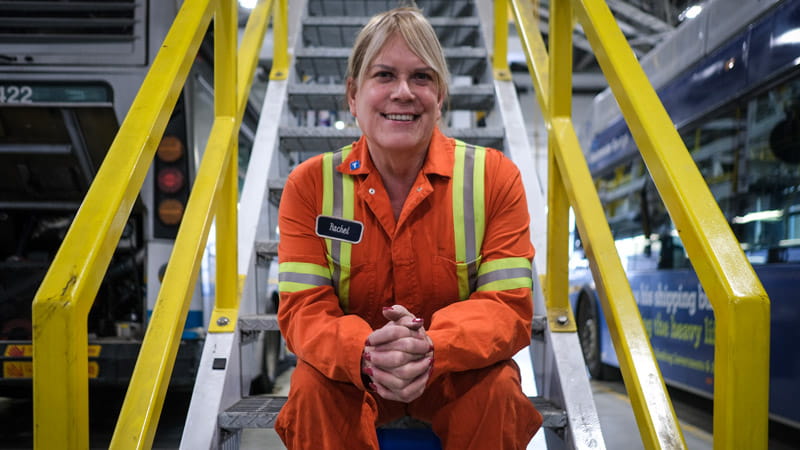 ---