Coast Mountain Bus Company
---
As the largest operating company in the integrated TransLink enterprise, Coast Mountain Bus Company (CMBC) serves customers in Metro Vancouver, the largest single transit service area in Canada. CMBC operates more than 96 per cent of the region's bus service including a fleet of clean-fuel conventional buses and zero-emission trolley buses. Passenger ferry service across Burrard Inlet via the SeaBus is also operated by CMBC.
Via contracts overseen by CMBC, West Vancouver Blue Bus and First Transit provide the remaining four per cent of bus service in the region. First Transit provides both Community Shuttle service in Langley and Bowen Island as well as the custom transit service, HandyDART.
In addition to bus service, CMBC provides several support services to the TransLink enterprise including Transit Security (separate from Transit Police), Customer Information, revenue collection, environmental services, and Bus Operator training.
---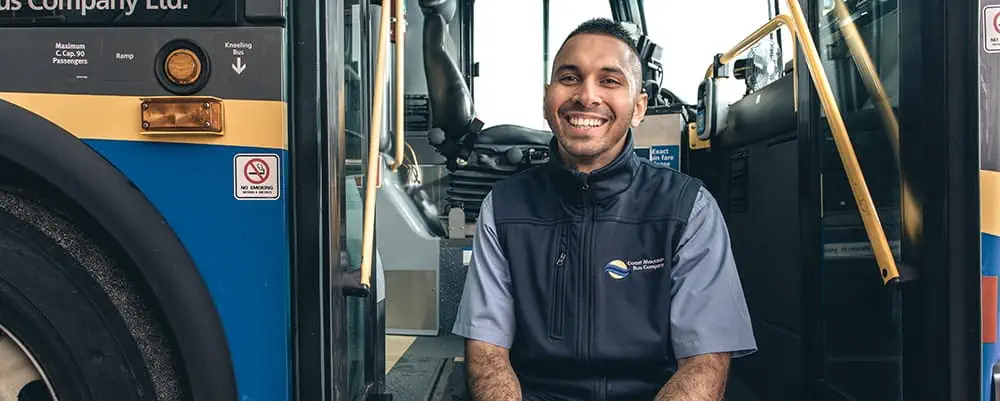 CMBC has almost 6,000 employees, a majority of whom are Bus Operators. Employees are spread across six transit centres (bus depots), two SeaBus terminals, and offices at Gateway in Surrey, Columbia Street in New Westminster, and Stadium–Chinatown in Vancouver.
CMBC employees are on the frontlines and behind-the-scenes and many are focused on planning, scheduling, designing, and delivering regular transit service each year, connecting people, businesses, and communities in the Metro Vancouver region.
---
Vancouver was incorporated as a city in 1886, and almost overnight the population exploded to 15,000 people. In April 1889, the newly formed Vancouver Electric Railway and Light Company began laying track down Granville Street.
On June 27, 1890, the entire 9.6 kms of track opened with six streetcars. The public bus system evolved from the first electric streetcar to the multi-modal transit system we have today. The bus company has operated under different names over its history including BC Electric, BC Hydro, Metro Transit, BC Transit, Coast Mountain BusLink, and finally, Coast Mountain Bus Company after the founding of TransLink in 1999.
---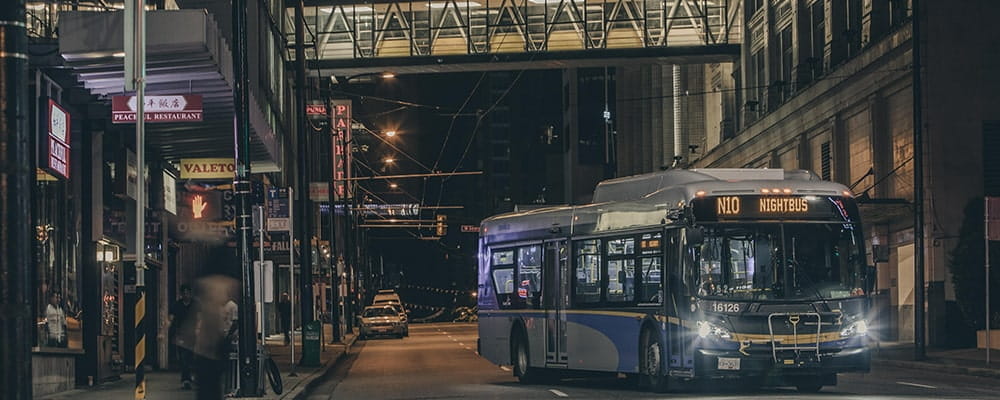 Cutting-edge technologies allow CMBC to reduce the environmental impacts of operations, improve accessibility, make the system easier to use and ensure customers reach their destinations safely and reliably.
For information about ongoing initiatives to expand and improve the fleet and infrastructure, visit the Plans and Projects section.
Fleet

We have a diverse fleet of low and zero emissions vehicles including (at Nov. 2021):

466 diesel-electric hybrid buses

401 low-emissions diesel buses

299 compressed natural gas (CNG) buses

262 electric trolley buses

163 gasoline community shuttle buses

32 double decker

4 battery-electric buses

4 SeaBus vessels

Contracted Transit Services' fleet includes:

46 conventional diesel and hybrid buses

43 gasoline community shuttle buses

349 HandyDART vehicles

Each type of vehicle requires specialized training and expertise to operate and maintain everything from hydraulic brakes to self-diagnostic onboard computers. Out on the road, CMBC's multi-skilled Road Services Teams provide a quick response to a wide range of technical issues, which ensures minimal disruption to the travelling public.
---
The Board of Directors provides general oversight to the management of CMBC with respect to strategic planning, annual budgets, performance reporting and the hiring of the President & General Manager. The Board is comprised of three directors appointed by the TransLink Board, and meets on a quarterly basis.

Board Chair
Biography

Anne is a seasoned senior executive with 30 years of leadership experience, most recently in the position of Chief Operating Officer with Pacific Blue Cross. In this capacity, Anne's primary responsibility was ensuring the efficient operations of Pacific Blue Cross, utilizing Lean methodology, focusing on the customer experience and overseeing the operations of BC Life & Casualty Company. Prior to this role, Anne held leadership positions in the area of Human Resources and Labour Relations, both at Pacific Blue Cross and Canadian Airlines.

Anne possesses a strong understanding of board governance and oversight. She holds an ICD.D certification (Institute of Corporate Directors) and in addition to CMBC, she serves on the Board of Directors for E-Comm 911, Pacific Salmon Endowment Fund Society, and the Canadian Mental Health Association North and West Vancouver Branch.

Anne has a Bachelor of Commerce degree with a major in Industrial Relations from the University of British Columbia.

Biography

Steve is the Vice-President of Customer Communications, Marketing and Public Affairs at TransLink. In this role, he is responsible for communications, marketing and advertising programs, community and public affairs, and customer experience strategy for the TransLink enterprise. Over the last year, TransLink has been the fastest rising brand in British Columbia and is leading all North American transit organizations in ridership growth.

Steve previously served 10 years as head of communications and public affairs for BC Hydro, where he delivered a complete re-brand of the organization as well as guiding it to being recognized as the Most Influential Brand and one of the Most Loved Brands in British Columbia. He was previously Deputy Chief of Staff to the Premier of British Columbia, and served as the Executive Director of the British Columbia Government Caucus. He was formerly a journalist including work as a member of the B.C. Legislative Press Gallery. Steve is a graduate of Simon Fraser University and has an MBA from the University of Victoria.
---
With direction from the CMBC Board, our senior management provides leadership to the organization, encouraging excellence and dedicated commitment from all our employees.
---