Supporting COVID-19 Immunizations
Helping those in need get to and from their COVID-19 immunization clinic.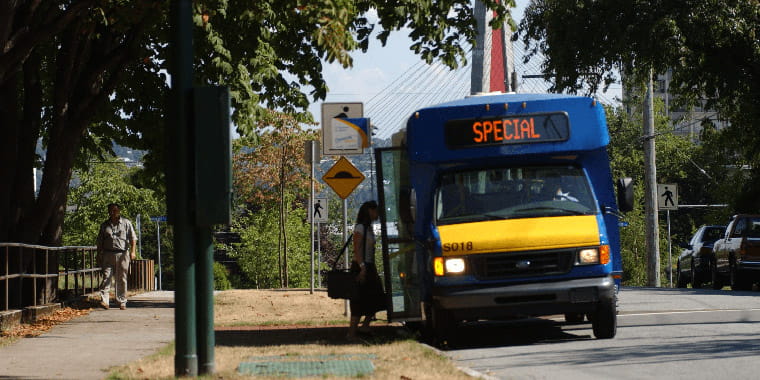 ---
The COVID-19 immunization plan is rolling out across British Columbia and Metro Vancouver.
Since the start of the pandemic, TransLink has been working hard to keep Metro Vancouver moving safely. We've also partnered with local health authorities to host COVID-19 testing facilities on our properties in Coquitlam and Surrey.
Together, with our operating companies and contracted service providers, TransLink is proud to help connect people to their COVID-19 immunization and to continue to keep Metro Vancouver moving safely.
---
Metro Vancouver Vaccination Clinics
Find vaccine clinics near convenient SkyTrain or RapidBus stops.
| | | | | | |
| --- | --- | --- | --- | --- | --- |
| | Vaccination Site | | RapidBus Stop | | SkyTrain Stop |
Group Vaccine Shuttle Program
TransLink is partnering with Fraser Health to launch the Group Vaccine Shuttle Program to help people facing transportation challenges access their COVID-19 immunization. To find out more – please visit fraserhealth.ca/bookaride
We're also continuing to work with Vancouver Coastal Health to provide transportation supports where requested.
Who can request a Group Vaccine Shuttle Bus?
The program is currently for seniors, vulnerable groups or other individuals who live in the Fraser Health region and are facing barriers around transportation, such as limited options or affordability, or for those who need assistance in getting to and from their vaccination appointment due to a mobility, visual, or cognitive impairment.
---
COVID-19 Precautions Before Boarding Transit
If you are planning on taking transit to your vaccination appointment, we have a few safety tips you should be aware of first.
Transit etiquette: Stay home when unwell, avoid touching your face, and cough/ sneeze into your elbow.

Masks are welcome on bus, SeaBus, SkyTrain, and West Coast Express services to help customers and employees feel safe, based on their individual comfort level. Masks are required on HandyDART services.

Sanitize your hands: Use sanitizer before and after riding transit.
Please visit our COVID-19 page web page to learn more information on how we're keeping you safe on transit.
---