Back-to-School with TransLink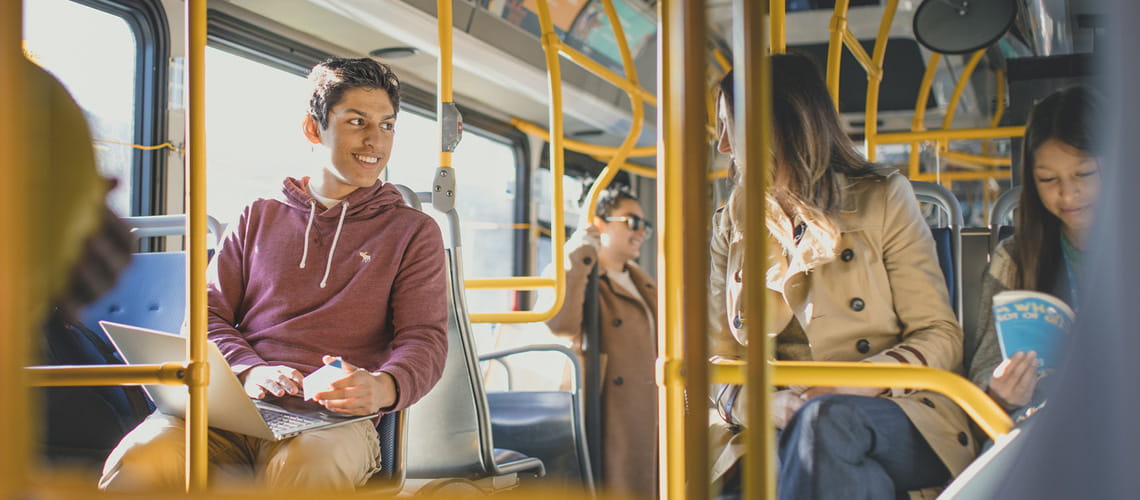 Back-to-school is one of the busiest times of year on transit. Whether you're a new or returning student, we've got some tips and resources to help get your trip on track.
By taking transit – instead of driving – you're taking one of the biggest steps to reduce your carbon footprint.
---
Let TransLink take you to school this fall
We serve all major post-secondary institutions in Metro Vancouver. Find the best transit route by selecting your school on the map and using the "Take transit here" link.
---
Visit our team at a school near you!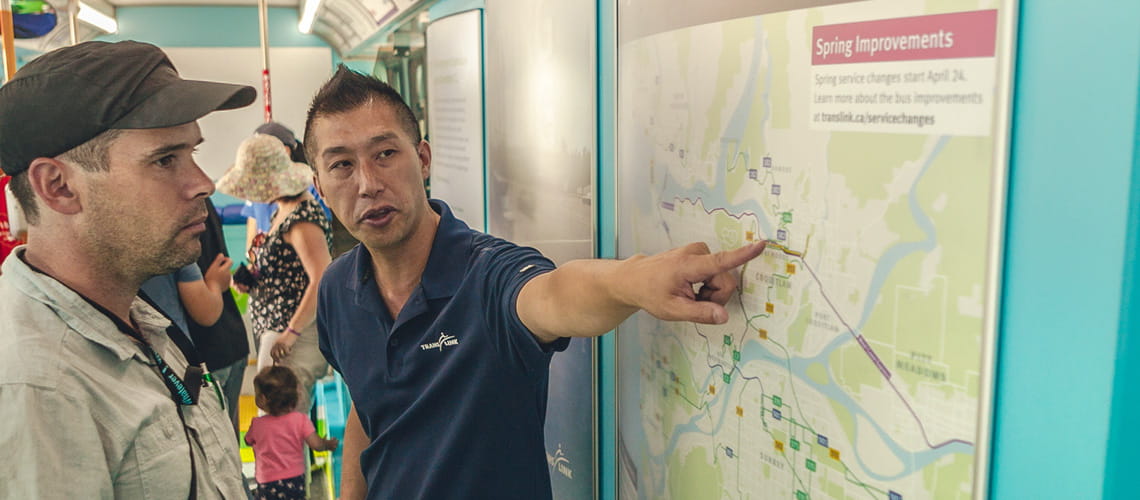 Our outreach team will be at select back-to-school orientations this fall to answer any questions you might have about transit. Drop by at one of our events listed below!
Where: Great Hall, 3700 Willingdon Ave. Burnaby
Date and Time: Thursday, Sept. 8, 10:00 a.m. to 3:00 p.m.
Where: Outside southeast entrance (or cafeteria if raining), 520 E 1st Ave, Vancouver
Date and Time: Thursday, Sept. 13, 3:30 p.m to 5:00 p.m.
---
Where: Outreach Bus outside Student Nest, 6133 University Blvd, Vancouver
Date and Time: Tuesday, Sept. 27, 11:00 a.m. to 5:00 p.m.
Where: 12666 72 Ave, Surrey
Date and Time: Tuesday, Oct. 4, 10:00 a.m. to 2:00 p.m.
---
Did you know that you might be eligible to receive a heavily discounted transit pass?
Through U-Pass BC, eligible students contribute to the program as part of their student fees. By having everyone contribute to the program, students can save $140 monthly off the cost of a three-zone pass.
Load your U-Pass BC onto your Compass Card
Link your card and request your U-Pass BC each month before you travel.
Visit the U-Pass BC Page for more information, such as participating schools and frequently asked questions.
---
Kids 12 and Under Ride Free
TransLink services are free for children 12 and under as part of a new provincial program. This change makes it easier and more affordable for families in and around Metro Vancouver. For details, please visit our Pricing and Fare Zones page.
---
As schools plan for a return to on-campus study this fall, we're ready to welcome students back to transit.
Tip #1 - Load your U-Pass
Remember to link your Compass Card and request your U-Pass BC each month before you travel.
Transit schedules are adjusted quarterly. Plan your trip to school in advance with our Trip Planner.
Tip #3 - Masks are welcome
Masks are welcome while onboard bus, SkyTrain, SeaBus, and West Coast Express services based on individual levels of comfort.
Tip #4 – Transit etiquette
Stay home when unwell, avoid touching your face, and cough/sneeze into your elbow.
Tip #6 - Active transportation
Tip #7 - Transit is for everyone
Our transit system is fully accessible to people with different types of mobility needs, enabling everyone to travel by bus, SkyTrain, SeaBus, and West Coast Express.
---
Back-to-School with the Buzzer Blog
Our social team has some back-to-school resources for students of all ages. Check them out on the Buzzer Blog!
---
Subscribe to our Newsletter
Sign up for our TransLink Monthly Updates newsletter for a chance to win monthly prizes and to stay current on projects, service changes, events, and more!
We recently re-designed our online transit schedules tool based on feedback from customers. Now you can search for any bus route, or service directly from our Schedules and Maps page.
---