Cycling in Metro Vancouver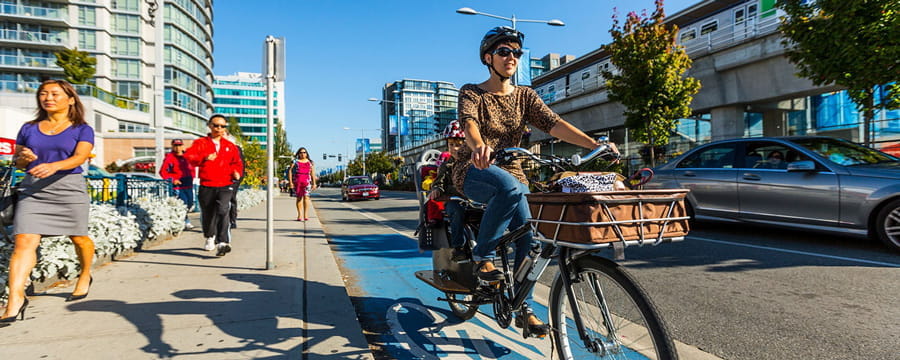 More people than ever are turning to their bicycles for travel around Metro Vancouver. Cycling can be the fastest way of getting around, especially in more urban areas. It's also healthy, good for the environment, and fun!
TransLink is committed to making cycling comfortable, safe, and convenient for everyone. We're doing this by providing funding for municipal bike routes and cycling amenities, providing cycling maps, developing an integrated regional strategy, and making it easy to connect with our transit services by bicycle.
---
Let's Ride! Is our newest initiative highlighting all of TransLink's existing and upcoming resources and programs around cycling. As the region evolves and roads become increasingly congested, we look to find ways to encourage our customers to mix cycling into their commuting routine. Our goal is to make Metro Vancouver even more cycling-friendly than ever.
Current Cycling Initiatives
TransLink offers a wide range of facilities to make cycling to and from our transit system easy and convenient for customers.
---
Metro Vancouver Cycling Maps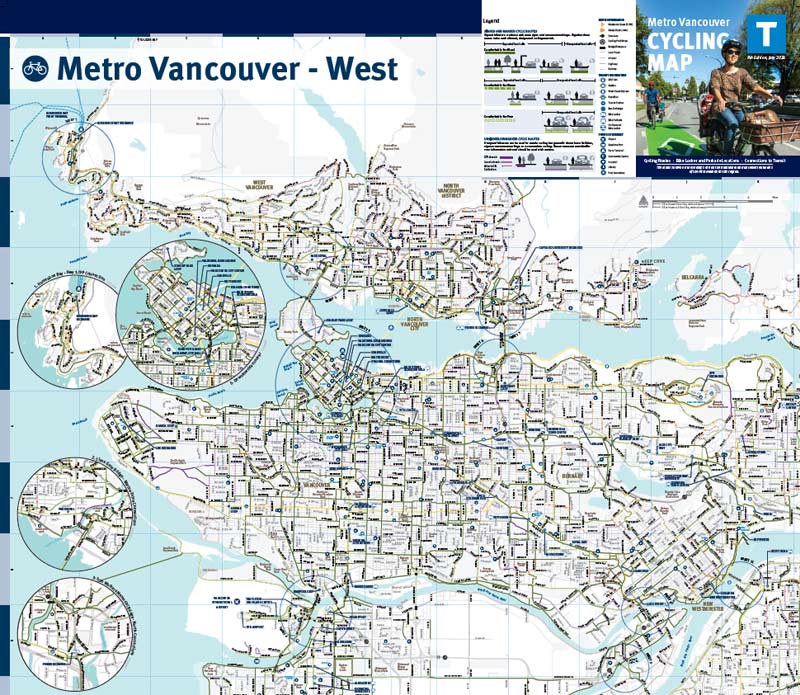 Explore the best options for you!
These cycling maps include key connections to transit hubs, locations of bike lockers and parkades, and indicate areas with steeper hills. They also show the comfort levels of each route based on how separated it is from traffic.
Providing these resources is part of TransLink's commitment to the All Ages and Abilities (AAA) cycling network, helping all cyclists navigate safely and comfortably.
Full Maps
Local Area Maps
We also contribute funding to a variety of cycling, road, and pedestrian improvements across Metro Vancouver. Learn more about these investments on our Major Road Network page.
---
Community Cycling Resources
Metro Vancouver has numerous cycling resources and groups that provide advocacy, tips and training for cycling enthusiasts.
Partners

HUB - Your Cycling Connection

HUB (formerly the Vancouver Area Cycling Coalition) is a volunteer-run non-profit society, whose members work to improve conditions for cycling in the Lower Mainland.

Visit bikehub.ca

Better Environmentally Sound Transportation

BEST strives to make our communities healthier places to live by promoting sustainable transportation and land use planning, and supporting pedestrian, cycling, and transit-oriented neighbourhoods.

Visit best.bc.ca

British Columbia Cycling Coalition

British Columbia Cycling Coalition (BCCC) represent the interests of cyclists provincially and to secure their recognition in policy and programs affecting transportational cycling.

Visit bccc.bc.ca

Pedal Energy Development Alternatives

PEDAL is a non-profit organization that develops and promotes the use of pedal-powered technology.

Visit ourcommunitybikes.org

Cycling BC

Cycling BC is the provincial governing body for the sport of cycling in British Columbia representing the full range of disciplines, including Road, Track & Cyclo-cross, Mountain Biking, and BMX.

Visit cyclingbc.net

Garage 529

Garage 529 provides a sustainable program to help reduce bike theft, encourage cycling, and overall make the region more bike friendly.

Visit project529.com

Mobi by Shaw Go

Mobi is a community-based public bike share program in Vancouver, ideal for short, one-way trips.

Visit mobibikes.ca
Training & Safety

Ride the Road

This fun, practical, and hands-on course is for anyone who can already ride a bike, and would like to get comfortable riding on city streets.

Through classroom and on-road training, you'll learn about the safest place on the road to ride, how to maneuver your bike effectively, how to communicate with other road users, safety tips, and more. You'll gain the skills and confidence you need to enjoy riding in the city!

Visit bikehub.ca

Learn2Ride

A beginner course for grades 2 to 5, HUB Learn2Ride is an introductory cycling skills and safety course.

In Learn2Ride, students are taught how to negotiate different types of road safety situations in a simulated environment free from traffic.

Visit Learn2Ride on bikehub.ca

BikeMaps.org

BikeMaps's goal is to capture cycling incidents (collisions, near misses, and road hazards) that are otherwise missed in ICBC and hospital reports. More incident reporting in Metro Vancouver will allow researchers to identify areas with cycling safety issues. These results can be used by municipalities to prioritize infrastructure investments, resulting in safer streets for cycling.

Visit bikemaps.org

Bike Sense Manual

The Bike Sense operators' manual provides information on traffic laws and riding strategies to help cyclists understand their rights, responsibilities, and how best to protect their own safety in traffic.

Visit bikesense.bc.ca

Bike Club

This is a free drop-in bicycle mechanics program aimed at getting more youth riding by removing barriers! During Youth Drop-In, young people ages 12 to 19 are invited to come by Our Community Bikes.

Visit ourcommunitybikes.org
Events

GoByBikeBC Society

Go By Bike BC Society is a non-profit society that facilitates GoByBike (formerly Bike to Work Week) and Bike to School programs.

Visit GoByBikeBC

Bike Valet

Bike Valet is convenient and secure bicycle parking offered for free to cyclists at a number of festivals and special events in Vancouver during the summer months.

Visit best.bc.ca
Other Interesting Links

Government of British Columbia – Bike BC

Cycling is a key component of the Province's strategy for encouraging healthy living and addressing climate change, in conjunction with the Climate Action Plan and the Provincial Transit Plan.

Visit Bike BC

George Massey Tunnel Bicycle Shuttle

Free shuttle service for bicycles and their riders through the George Massey Tunnel.

Visit gov.bc.ca
---
Emily Carr University Bike Parkade Artwork Partnership
As part of the "Let's Ride!" initiative, TransLink partnered with Emily Carr University Art + Design Illustration Program students to develop unique artwork for five bike parkades. The students were tasked with creating designs that represent the distinct feel of the parkade neighbourhoods, and showcase the act of cycling. You can spot these beautiful pieces of art at:
Commercial-Broadway

King Edward

Joyce-Collingwood

Main Street-Science World

Metrotown
Thank you to the students for their incredible work and effort in helping to bring these parkades to life!
---