Whether it's looking for a place to get the right movie set ambiance or advertising on the transit network, TransLink welcomes the opportunity to work with all businesses, big or small.
New Amazon Delivery Lockers
TransLink is partnering with Amazon to introduce Amazon delivery lockers across various Metro Vancouver transit hubs, making your journey even more convenient.
---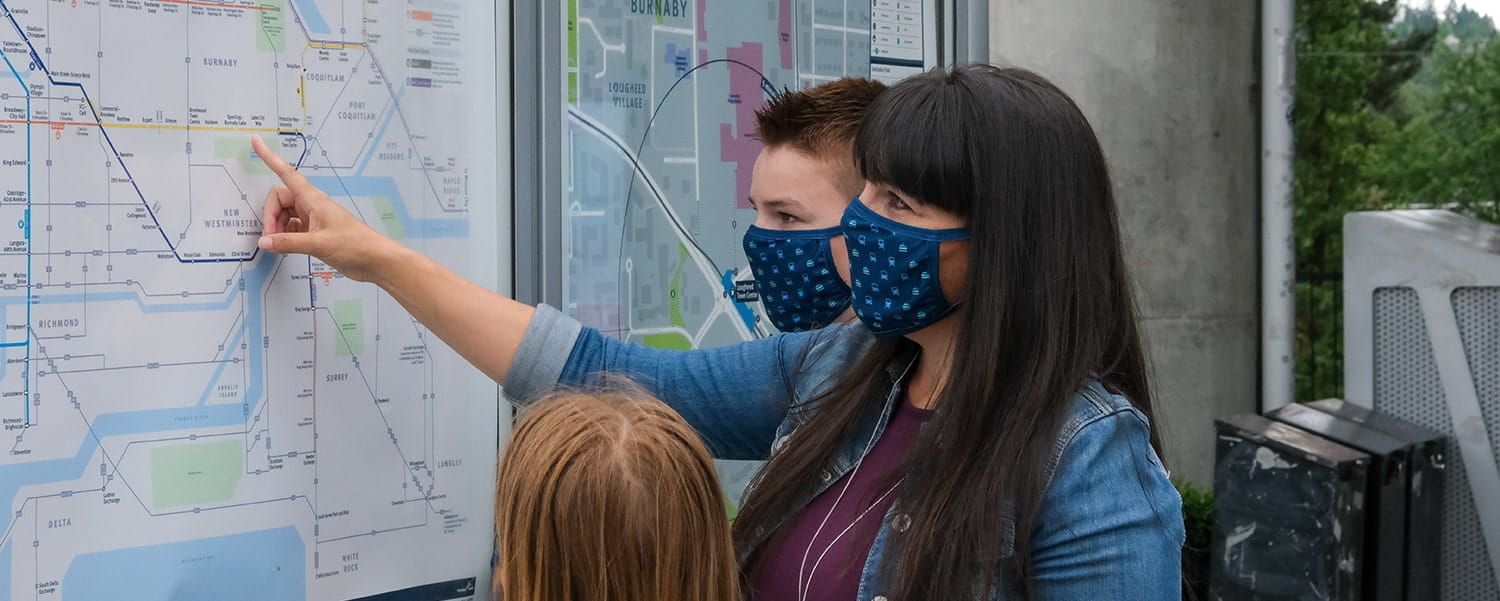 Celebrating Metro Vancouver's unique culture and world class transit network the TransLink Store offers a variety of curated merchandise from apparel and home décor to drinkware and gifts. Products feature TransLink's iconic transit modes, system maps, historical buses, destination blinds and more.
Visit the TransLink Store
---
Metro Vancouver has grown to be a popular destination for motion picture and still photography productions. TransLink is keen to support this industry by licensing its unique and iconic fleet and locations, while continuing to deliver safe and reliable transit operations to Metro Vancouver.
All instances of filming or photography on or near TransLink property or vehicles must obtain TransLink's written approval prior to the activity.
TransLink Film and Photography Guide provides details on available locations, the application and review process, and expected timelines. Please review this guide prior to submitting an application.
Requests for Filming and Photography
To ensure the safety of our riders and that system operations aren't affected, we require that all requests for filming or photography on TransLink property or vehicles be submitted per the timelines outlined in the above guide.
Information about filming near SkyTrain can be found in the Limits of Approach for SkyTrain PDF.
---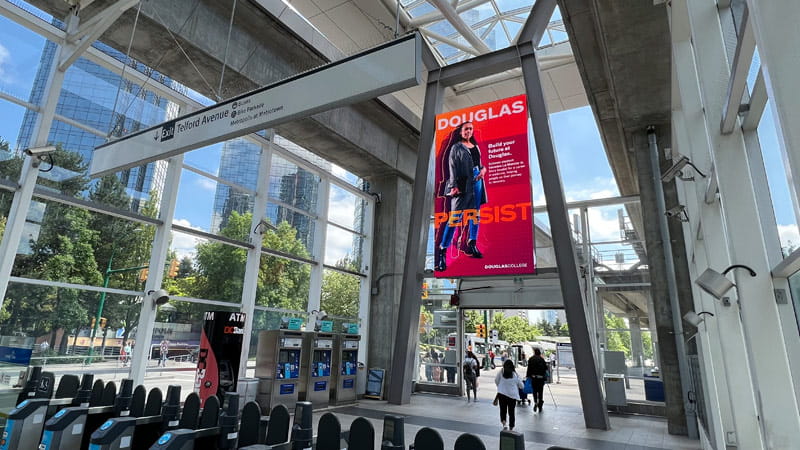 As Metro Vancouver's core provider of public transportation — bus, rail, passenger ferries, and custom transit — TransLink offers advertisers extraordinary visibility throughout the region.
Our fleet and facilities offer a variety of advertising media, including digital screens and kiosks, static signage, platform posters, billboards, product sampling, website, Wi-Fi, and text messaging services.
We are guided by our Advertising Policy, which is administered by TransLink management and subject to review by the Board of Directors.
For more information, contact commercialprograms@translink.ca
Ads on Transit

Advertising opportunities are available on both interiors and exteriors of TransLink buses, SkyTrain cars, and SeaBus vessels. In addition, we offer the following advertising options in our stations:

Platform poster panels

Platform digital ads

Digital customer information kiosk ads

Station floor murals and decals

Station wall murals

Vertical interior poster

Product service sampling

Newspaper corrals

For more information, please contact:

Lamar Transit Advertising
Scott MacPhail
604.444.4900
smacphail@lamar.com
lamar.com/bccanada
Billboards

TransLink offers large format billboard advertising, managed by Pattison Outdoor Advertising.

To inquire about rates and the availability of advertising space, please contact:

Pattison Outdoor Advertising
Paul Lee
604.235.2729
plee@pattisonoutdoor.com
Next Bus SMS

Next Bus SMS is available throughout TransLink's bus network, including over 8,300 stops and 242 routes. The service also offers geotargeting capability to its advertisers.

Advertising opportunities on TransLink's Next Bus SMS system are available through:

Ivrnet Next Bus real-time SMS
1.877.822.4140
nextextsales@ivrnet.com
nextext.ivrnet.com
Tunnel Ads

TransLink is transforming your SkyTrain experience, bringing new meaning to the term tunnel vision. Thanks to an innovative partnership with Vancouver-based adtrackmedia, we are the first in North America to launch new technology that plays full-motion videos to SkyTrain cars travelling through the Dunsmuir tunnel.

For more information please contact:

Tunnel Advertising

adtrackmedia
604.362.0383
info@adtrackmedia.com
adtrackmedia.com
---
Commercial Licensing Opportunities
TransLink's brands, locations, and services are a very present and recognizable part of the metro Vancouver region. TransLink is committed to preserving and protecting the value of its brands through security of Official Marks, Trademarks, Copyrights, Patents, and other forms of Intellectual Property both registered and unregistered.
TransLink offers licensing opportunities for a variety of different commercial uses including:
Merchandise Licensing

Real Estate Marketing

Photography and Film Material Use

Transit Map Reproduction and Custom Maps
Use of TransLink intellectual property is guided by our Advertising Policy, which is administered by TransLink management and subject to review by the Board of Directors.
Interested in licensing? For more information on commercial opportunities or to report suspected unauthorized use of TransLink intellectual property, contact us at commercialprograms@translink.ca.
Amazon Delivery Lockers

TransLink and Amazon are partnering to introduce Amazon delivery lockers across various Metro Vancouver transit hubs, making your journey even more convenient.

Amazon lockers let customers pick up their Amazon packages on their journey, at a transit hub instead of to their homes or post offices, eliminating the risk of a missed delivery.

Over the coming months, customers will be able to use lockers at the following locations, with more on the way soon:

Bridgeport SkyTrain Station

Carvolth Exchange

Newton Exchange

South Surrey Park and Ride

During the checkout process on the Amazon website or app, customers can select the "deliver to a shared locker near me" option to have their packages delivered to the locker of their choice.

Once customers arrive at the locker location, they can use their smartphone to activate the locker door to receive their package.

Learn more:
---
Telecommunications Programs
WiFi

TransLink and Shaw Communications Inc. have teamed up to deliver free WiFi to transit customers across Metro Vancouver.

TransLink WiFi is now available at select stations, bus exchanges and onboard some buses and trains. We plan to increase the number of buses, trains, stations and bus exchanges supporting TransLink WiFi incrementally until completion in 2026.

TransLink WiFi is currently available at:

Carvolth Bus Exchange

Edmonds SkyTrain Station

For assistance or to report a technical issue, contact the TransLink Customer Information team at 604-953-3333 or via Twitter @TransLink. Technical issues may require maintenance, so please be prepared to provide the customer service representative with the bus or train number, route, time and nature of the issue.

If you have any additional queries regarding working with TransLink WiFi, please complete the New Business Opportunities Inquiry Form below.
Wireless

TransLink's wireless program provides a unique opportunity for telecommunications companies to install wireless technology on TransLink's property or assets. In doing so, wireless providers can expand their capacity to meet growing demand throughout Metro Vancouver.

Wireless technology can be installed on SkyTrain rooftops, guideways, tunnels, or at over 38 stations throughout our SkyTrain network, which spans 60 kilometres throughout seven different municipalities. Other assets of interest include light poles at stations, bus loops, trolley poles, buses, SeaBus vessels, and other transit centres or terminals.

Wireless Inquiry Form

Is your organization interested in wireless installations on TransLink property? If so, please fill out the Wireless Inquiry Form.
Fibre

TransLink operates a fibre optic internet program, which offers licensed use of dark fibre to organizations in Metro Vancouver looking to increase their internet bandwidth capacity and data transfer speeds.

Companies can use the fibre to function as a backbone circuit to connect isolated cell sites, or as a secure and reliable redundant path.

TransLink's dark fibre, which is installed within the SkyTrain guideway and can break out at each SkyTrain station, is unique in its offering due the geographical reach. The dark fibre spans 26 kilometres along the Expo Line from Waterfront Station in downtown Vancouver to King George Station in Surrey and 11 kilometres along the Evergreen Extension from Lougheed Town Centre Station to Lafarge Lake–Douglas Station in Coquitlam.

Fibre Map Legend

Active

Under
Construction

Future
Plans




Fibre Inquiry Form

Is your organization interested in a dark fibre path along the SkyTrain route? If so, fill out the Fibre Inquiry Form.
---
TransLink aims to ensure that bus loops and station plazas are safe, clean, and functional spaces. TransLink's Newspaper Box Program will not only help maintain a consistent aesthetic, but also provide a functional amenity to transit users and pedestrians.
The following newspaper publications are currently available across a variety of TransLink properties:
Certified Folder Display

Sing Tao Daily

Ming Pao Daily News

NextHome and Condo

Employment News

Home and Décor
If your publication is interested in placing newspaper boxes at TransLink locations, please contact TransLink's Commercial Programs & Partnerships department at commercialprograms@translink.ca.
---
New Commercial Opportunities
We want to hear from you! If you have a creative idea on how we can work together to improve our customers' experience, please fill out the partnership form below.
---
If you are a retail vendor interested in setting up shop at one of our SkyTrain stations or transit exchanges, please visit our Retail Opportunities page.
If you are a supplier interested in supporting the delivery of our services or construction of upcoming projects, please visit our Bidding Opportunities page.
---