We're making it easier for employees to travel and keep employers on the move.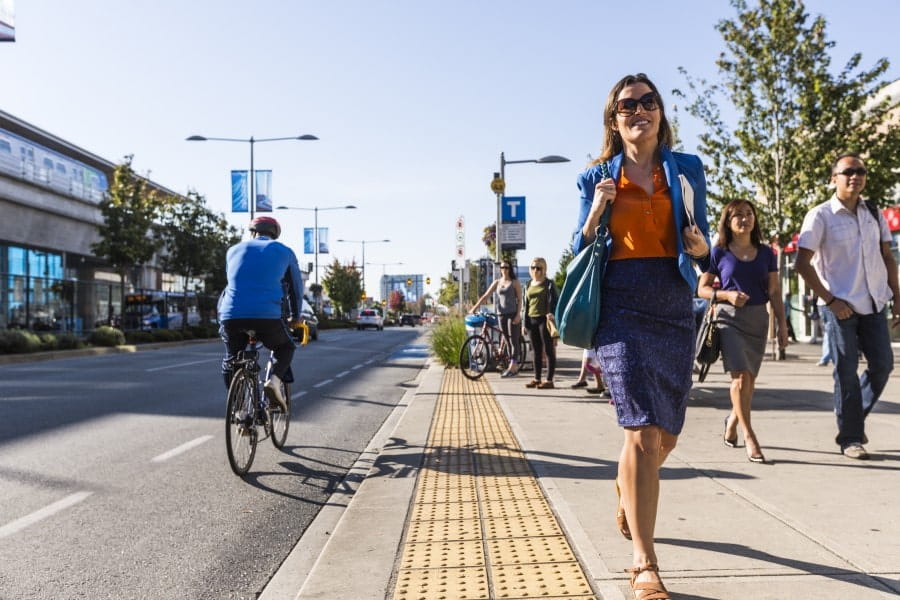 Providing transit passes and sustainable travel solutions for employees has been shown to help employers decrease overhead costs like parking while supporting environmental, health, economic and equity-enhancing corporate objectives.
For more information about this program, read the contents on this page or download the TravelSmart for Business Offerings.
Sign up for Employee Transit Passes
---
Contact Us
Contact travelsmart@translink.ca to discuss how we can work together to help your organization meet your goals.
---
Why choose public transit?
Manage and decrease demand for parking

Improve recruitment and retention of staff

Achieve your corporate social responsibility goals
---
TravelSmart for Business Offerings
Our TravelSmart for Business program provides your employees with flexibility to get where they need to go safely, reliably and affordably:
Our TravelSmart Lite pay-as-you-go pass is perfect for flexible commuters who travel less than three days a week, while our TravelSmart Plus Monthly commuter pass is great value for employees required to be on-site more than 3 days a week.
Compass Cards for your employees can be loaded with stored value up to $175 for TravelSmart Lite, and for TravelSmart Plus, adult or concession monthly passes or a West Coast Express monthly pass.
Your organization chooses how much you want to contribute to your employees. Starting at $10 per employee/ month for Lite, to as little as 10% and up to 100% for Plus. You choose the duration, from a single month to ongoing auto-loaded passes, and update your subscription only when there are employee or pass-type changes.
Employee Transit Choices


Staff Pass Lite
Staff Pass Plus
Summary
Provides employees with stored value on a Compass Card with a pay-as-you-go model.
Provides employees with unlimited trips every month with their Compass Card.
Ideal for:
Employees travelling 2 to 3 days a week.
Employees travelling over 3 days a week.
Pricing Options
Choice of how much stored value is added to the Compass Card.
Choice of monthly pass and contribution amount (e.x. 20% of a 1-zone pass).
Our prices vary by zone (distance)*


1-Zone trip: $2.45
2-Zone trip: $3.55
3- Zone trip: $4.60

Employees commuting 2 to 3 times a week would spend:


1-Zone trip: $48 to $72 per month
2-Zone trip: $68 to $102 per month
3- Zone trip: $92 to $138 per month

Employees commuting more than 3 times a week would spend:


1-Zone pass: $100.25 per month
2-Zone pass: $134.00 per month
3- Zone pass: $181.05 per month
* These are the prices for conventional transit on our standard fare. Let us know if your employees would be interested in the West Coast Express or Concession fares (for those under 18, and 65+) and we'll happily crunch those numbers.
---

TravelSmart works closely with our valued community and mobility partners to promote behaviour change initiatives to help support your business goals. Check out some of their great employer offers below.
More Information

TravelSmart is Simply Smart

More than ever, businesses and government organizations are realizing the importance of a flexible commute on employee retention.

By supporting a diverse range of sustainable and equitable commuting options for your employees - such as transit, cycling, remote work and carshare you'll support affordability and enhance your workplace culture.

Help your organization to be a more productive, profitable and healthy place to work while also supporting sustainable modes of travel that address the growing Climate Emergency.

TravelSmart Toolkits

Is your worksite facing travel challenges? Check out our self-help guides to help build out your TravelSmart program.
---
Frequently Asked Questions
General

What are the benefits of TravelSmart for Business?

The program reduces the administrative burden of providing transit passes to employees. The system works on an advanced payroll system so there is no need for employees to expense their own transit commuting costs. Administrators will also have the flexibility to change pass types and the subsidy amount they choose online.

Does TransLink fund any portion of the Compass passes?

At this time, TransLink does not subsidize any portion of the Compass passes. Participating businesses will be contacted if a discount is applied in future.

What is the recommended subsidy amount for employers to fund transit passes?

Many employers cover 100% of the cost of transit passes for their employees. Research has shown that a subsidy of 50% or more has a significant impact on encouraging transit use and employee uptake.

Why should employers purchase transit passes when employees are working remotely?

There are many reasons employees need to travel. Offering transit passes allows employees a more affordable option for their life outside of work.
TravelSmart for Business Offerings

What are the payment options and schedules to load passes for my employees?

Once signed-up to TravelSmart for Business, employers can conveniently select and change the pass types for each employer on the Compass for Business website.

Invoices are sent to employers on the 20th of each month

Payment is due by the 25th of each month and the passes/stored value are automatically loaded from the 27th of each month when employees tap their Compass cards.

The cut-off date for changes to take effect on the first of the following month, is the 15th of every month. If you would like to make any more changes after the 15th simply contact the Compass Operations team directly at compassservices@translink.ca

Does the Stored Value balance on an employee's Compass Card ever expire?

No, Stored Value on a Compass card never expires.

What happens if an employee's Stored Value balance is used up mid-way through the month?

If the Stored Value is used by mid-month, an employee needs to load more Stored Value on their card or set up the threshold AutoLoad feature via their account at compasscard.ca.

Do employees need to purchase their own Compass Cards?

Employers are welcome to choose the option that works best for them and their employees. It's recommended that employees purchase their own Compass Cards but it is not required. Employees can also use their own Compass Cards if they have one. If employees are using their own Compass Cards, TransLink will need the serial numbers of those Compass Cards to load passes and stored value.

What is the minimum and maximum subsidy amount for TravelSmart Lite and Plus?

The maximum stored value contribution is $175 per employee per month, and for Monthly passes, the full value of passes. The minimum employer contribution for StaffPass Plus is 10% of the value of passes. For StaffPass Lite, the minimum is $10 per employee per month.

Can you combine the stored value and monthly pass option for employees?

Yes, employers can combine the two options.

Example: An employer could subsidize 100% of an employees' 1-Zone Monthly pass while the employer or employee could fund an additional stored value amount to cover the cost of trips outside Zone 1 (e.g. 2-Zone and 3-Zone trips). However, if an employee regularly takes 2-Zone or 3-Zone trips, they should purchase the correct monthly pass to get the best value.

What pass types are recommended?

TransLink recommends offering transit passes to all employees (including new employees) and allowing them to choose the pass type that best suits their lifestyle, as employees will be more likely to incorporate transit trips beyond commuting into their daily routines. Depending on your budget, employers can adjust the stored value amount and the portion of monthly passes funded. Our TravelSmart for Business team is happy to consult with you further to meet the needs of your organization.

Can employers purchase West Coast Express passes?

Yes, employers can subsidize West Coast Express passes. For a full list of fare prices, fare estimates, and West Coast Express fare types, visit the TransLink Pricing and Fare Zones page.
---
Sign Up for Employee Transit Passes
---