---
Whether you're new to transit, looking for travel solutions for your organization or want to incorporate active travel into your lifestyle, TravelSmart is here to help.
TravelSmart empowers better travel choices with sustainable and flexible travel solutions. We provide access to a wide range of tools and resources with the goal of helping Metro Vancouver businesses and individuals become more informed about their travel.
Who we work with:
Individuals and local businesses to encourage sustainable modes including walking, cycling, transit, carpooling, and more.

Our local government partners and planning and infrastructure project teams to ensure customers are aware of new and existing services and how they can best use them.

Community and non-profit groups to reach seniors, newcomers, businesses, and school groups.
For an overview of our programs, start with our TravelChoices Mini Guide. If you're looking to dive deeper into commute incentives and sustainable travel options, explore our TravelSmart toolkits.
TravelSmart Toolkits
Healthy, safe and reliable ways of getting around impact the environment, livability and wellness, both corporately and personally.
These toolkits are designed to expand travel options and flexibility, providing tips and solutions on everything from transit, walking, cycling and carpooling, to parking management. Explore the variety of travel solutions below:
---
TransLink for Organizations
Transportation continues to be one of the biggest challenges facing businesses in our region today. High drive-alone rates cause congestion that reduces employees' commutes and productivity and the speed of goods arriving at their destination.
Our TransLink for Organizations program helps organizations in Metro Vancouver evaluate and improve sustainable travel options for employees, clients, and customers arriving at their workplace. TransLink takes a flexible approach to commuting.
We're always looking for ways to help businesses and their employees overcome transportation challenges and individual barriers, meet corporate objectives, and measure success of programs.
Learn more about TransLink for Organizations
---
TravelSmart for Newcomers
Sustainable transportation is key in helping newcomers settle into their new home successfully. Our TravelSmart for Newcomers program works with individuals, settlement service agencies, and community groups to support our newcomers with resources on how to use public transit and other modes of sustainable transportation.
We provide:
Online transit tools: Trip Planner, Compass Card vending machine simulator, wayfinding exercises

Safety, security, and etiquette tips: Transit Police, text reporting services

Print resources: how to get around Metro Vancouver, arriving at YVR Airport, Compass Card information
Addressing language barriers
We work with settlement service providers, interpreters provided by partnering agencies, and other community partners to offer travel training resources in other languages.
Settlement Services Providers
We offer settlement service workers and language school educators with the transportation information they need to help newcomers settle. We provide the tools to support newcomers as they confidently navigate the various modes of transportation throughout Metro Vancouver.
---
Seniors are living longer and are more active than ever before.
Working with Senior Centres and advocacy groups throughout the region, we provide seniors with information on the wide array of transportation options available.
We provide:
Safety, security, and etiquette tips

Take away resources, materials, and incentives to promote sustainable transportation

Train the Trainer sessions for community partners with a focus on trip planning, safety, and etiquette tips
---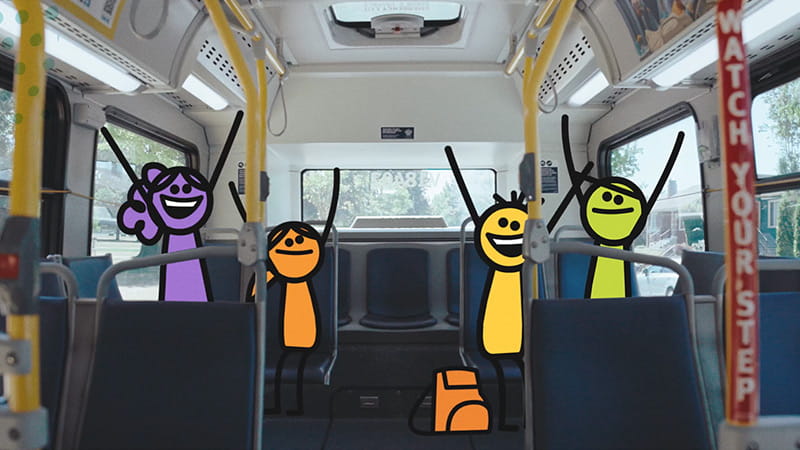 We support schools, municipalities, and community partners as they engage students and parents to consider incorporating more walking, cycling, and other modes of sustainable and active transportation in their lives.
There are many benefits of safe and active modes of travel, including health, environmental, and financial benefits, as shown in our Active Kids are Healthy Kids infographic. Our current work includes the development of a Youth Travel Strategy to promote safe and active travel to schools throughout Metro Vancouver.
Learn how you can support and empower students to become safe, confident, and independent travelers using the resources below.
Programs to Support a Healthy and Safe School Community

We work closely with regional partners, municipalities, and school communities to ensure the most up to date resources are developed and shared. We recommend you visit your local municipal website to see what unique programs are offered in your neighbourhood.
Travelling as a Group on Transit

Our Group Travel section has information on how to purchase fares in advance and how to order bulk tickets.
Resources for Educators, Parents, and Kids
---
The Compass for Developments program is a one-time bulk purchase option for developers, property managers, or any organization that wishes to provide transit fares as a Transportation Demand Management (TDM) measure for their tenants.
Whether you are new to sustainable transportation principles, interested in applying these principles to a new context, or looking to partner on programs that are development ready, learn more about how we can provide resources and support to help you with your project.
Visit the Compass for Developments page
---
We work with corporate and government partners to ensure that the residents, visitors, and businesses understand the travel options available to them. Whether you're planning a community event, providing services to new British Columbians, or searching for a solution to help your employees get to and from work, we can help.
Community Partnership
TransLink is committed to supporting and investing in community programs that fit with our Vision, Mission, and Values, while contributing to the social and environmental well-being of the communities we operate in.
---
Community Sponsorship and Partnership Form
Service Partners

TravelSmart works with the following service partners to deliver our programs throughout the region:
Municipalities

We work with local Metro Vancouver governments to implement transportation demand management programs tailored to each community.
Community and Non-Profit Organizations

TravelSmart has formed partnerships with organizations and community groups to promote demand management initiatives through events, businesses and campaigns. This includes the Vancouver Marathon, Children's & Women's Health Centre of BC, Vancouver Art Gallery, BC Lions & the Grey Cup Festival, FIFA Women's World Cup, Car Free Days, Bar Watch, Tourism Vancouver, Vancouver Coastal Health, the 2010 Vancouver Olympic Games, ICBC, Downtown Vancouver Business Improvement Association, and more.
Shuttle Services

Whether you're going to the Abbotsford International Airport or to Gloucester Industrial Estates, you can now leave the car at home and take the YXX shuttle, a new express service operated by Ace Charters Vancouver with direct connections to King George SkyTrain Station, Gloucester Estates, and Abbotsford International Airport.

With six round trips per day at $10 per one-way trip, there has never been a better reason to leave the car at home and skip the traffic on Highway 1. Best of all, if you are a Gloucester employee, you may be eligible for special introductory pricing and monthly pass options. Please visit abbotsfordshuttles.ca for more information.
---