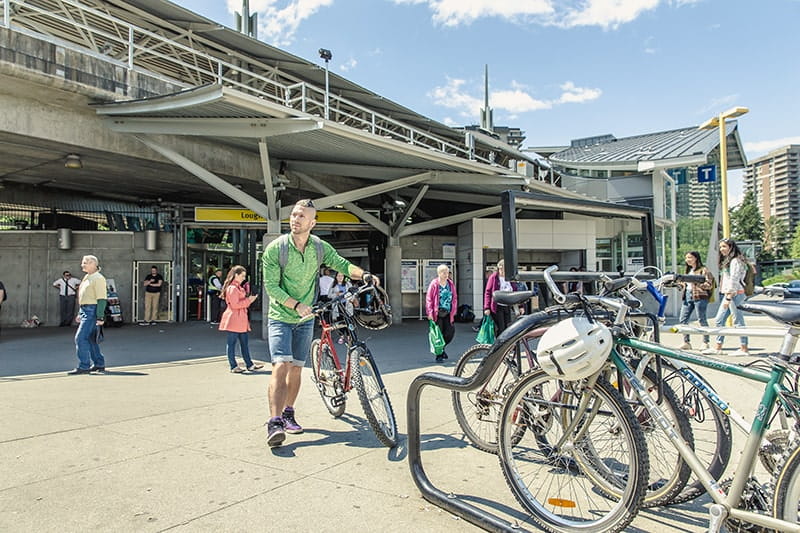 You can take your bike on almost all transit services, including bus, SkyTrain, SeaBus, and West Coast Express, with some restrictions. More information on our bike parkades and other short-term storage options, is on our Bike Parking page.
---
Getting from point A to B is easier with a bike in the mix. Cycling can be the fastest way of getting to and from key transit hubs. It's also healthy, good for the environment, and fun! Learn how to integrate cycling into your trips around Metro Vancouver.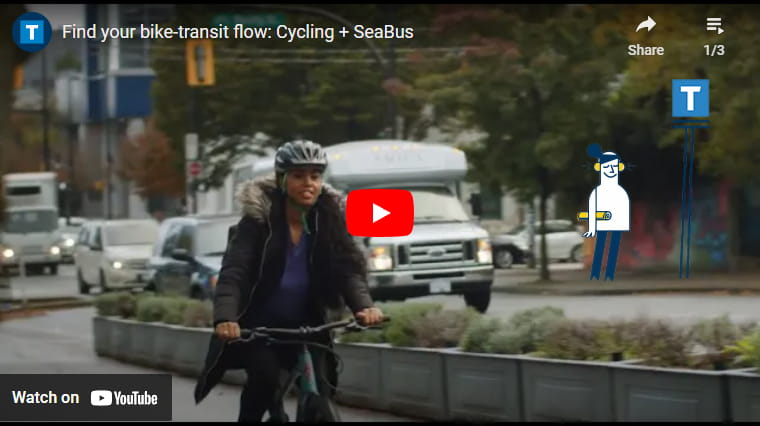 ---
Our fleet is completely bike accessible. Bikes are accepted at all times across our services (except under certain conditions on the SkyTrain).
Electric bikes are permitted on SkyTrain, SeaBus, and West Coast Express services.

Folding bikes are allowed on SkyTrain, SeaBus, and West Coast Express services.

We do not allow seated motorbike-type scooters (electric or gas-powered) or bike trailers on board any service.

Electric foldable scooters are permitted on board all transit vehicles, at the discretion of transit operators based on customer safety. We ask that you fold and store your e-scooter while using transit to ensure the safety of all customers.

Riders are responsible for their bike at all times, including loading and unloading bikes from racks. TransLink is not responsible for any damage to you or your bike caused by loading or unloading bikes.

Customers should consult with their local participating municipality and the Government of British Columbia's website for more information on the pilot project and where you can safely ride your e-scooter.

All bikes must be clean and have no sharp protrusions that might cause damage or injury.
Service-specific rules about bringing your bike apply — please review the rules for the service you are using.
---
Summer 2023 Bike Bus Program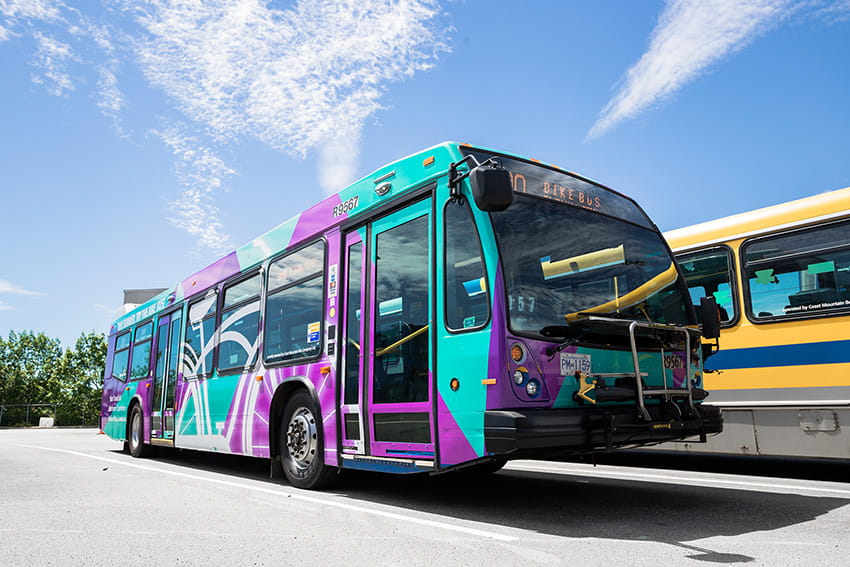 The 2023 Bike Bus operated from June 30 to Sept. 4, 2023. We launched this program in 2022 to improve connections for our customers to one of the most popular Metro Vancouver cycling routes. The retrofitted Bike Buses serving this route have seven interior bicycle racks, bringing the total bike capacity aboard to nine, from the standard two our conventional buses are equipped with.
The extra room meant more cyclists could reliably reach the Tsawwassen Ferry Terminal from Bridgeport Station via the George Massey Tunnel by taking transit.
The Bike Bus followed the existing 620 route from Bridgeport Station to the Tsawwassen Ferry Terminal, with separate loading and unloading bays at Bridgeport Station and Ladner Exchange. The buses are displayed as 900 Bike Bus to Bridgeport Station or Tsawwassen Ferry Terminal, depending on the route and are hard to miss, thanks to their colourful exteriors.
To ensure boarding, Bike Bus customers were encouraged to arrive at least 20 minutes in advance of scheduled service during peak periods.
This program is part of our Customer Experience Action Plan. One of the plan's top priorities is making transit easier to use by identifying better options for active transportation. The Bike Bus more easily integrated bike and transit travel during one of the busiest times of the year for cyclists.
Bike Bus Route
How do I use the Bike Bus?
Bike Bus Details

Where does the Bike Bus operate?

Bridgeport Station to/ from Tsawwassen Ferry Terminal

How long is the program in place for?

June 30 to Sept. 4, 2023, on Fridays, weekends, and holidays with hourly departures from 8 a.m. to 11 p.m., to align with popular ferry sailings.

What do I need to know about using the Bike Bus?

Passengers without bicycles are encouraged to use the 620 rather than the Bike Bus to ensure our cycling customers have enough space.

Passengers will board at the front of the Bike Bus.

Bike racks are located in the middle of the bus, with seating room for 18 on the bus.

For safety purposes, all passengers must be seated and are not permitted to stand.

Interior Bike Bus racks will not accommodate children's or BMX bikes but these bikes can still be secured in the exterior racks.

The Bike Bus cannot accommodate mobility devices. Customers who use a mobility device are encouraged to take the existing 620 bus.

Is the Bike Bus a new permanent service?

The 900 Bike Bus is currently funded for summer 2023. If the project is successful, it could become a permanent seasonal route to help link Metro Vancouver's cycling community with BC Ferries, through a reliable and convenient transit option.

Are electric bikes permitted on the Bike Bus?

Electric bikes are permitted on the Bike Bus. However, there are a few conditions:

Weigh less than 75 lbs.

Wheels fit properly in bike rack

Include a lithium battery

The customer removes the battery and brings it onboard the bus

Electric scooters are not allowed on the Bike Bus since they don't fit on the bike racks properly

Maximum and Minimum Bike Wheel Sizes

Acceptable Wheel Size Dimensions

Dimension/Weight
Veloporter (Exterior Rack)
Spinlock (Interior Rack)
Max. Weight
55 lbs.
75 lbs.
Max. Tire Width
3"
2.75"
Wheel Diameter (Min/Max)
16" to 29"
26" to 29"
Max. Total Length
78"
78"
Additional FAQs

How is the Bike Bus different from others?

The 900 Bike Bus is a conventional 40-foot low-floor bus retrofitted with interior bike racks. There is seating available for 18 passengers on the bus (standees are not permitted, for safety reasons). The interior is equipped with Sportworks SpinLock racks; the exterior is equipped with a Sportworks dual bike rack, which is a standard on all CMBC buses.

Do riders need to lock up their bikes inside the Bike Bus?

No, there is no need for riders to lock their bikes inside the bus. Bike will always be in view to customers; no standees are permitted aboard the bus. The bikes are held in securely by the rack mechanism, which was not designed to work with locks. Additionally, having bikes locked up would slow load and unload times considerably.

How many bikes can the Bike Bus carry?

The 900 Bike Bus can carry up to nine bikes. The retrofitted bus has interior racks with capacity to hold seven bikes, in addition to the standard two exterior bike racks.

How do people get bikes on the Bike Bus?

The buses are equipped with the standard wheelchair ramp at the front for loading.

Does the Bike Bus follow the same route as the 620?

The route is similar but slightly different to the 620. The 900 Bike Bus stops are Bridgeport Station, Highway 99 at Steveston Highway, Ladner Exchange, Highway 17 at 52nd St., Highway 17 at Tsawwassen Dr., and Tsawwassen Ferry Terminal. The 900 Bike Bus will use Bay 13 at Bridgeport Station (620 is at Bay 12), Bay 3 at Ladner Exchange (620 is at Bay 1 and 2), and Bay 2 at Tsawwassen Ferry Terminal (shared with 620 as it is the only bay).

Why was this route chosen?

We've heard from customers travelling with bikes that more bike-carrying capacity to the Tsawwassen Ferry Terminal was needed to keep up with demand, and ensure cyclists aren't left behind when trying to board a bus. The 620 ranks second in our transit system for bike rack deployments. Cycling from Tsawwassen is along a busy highway and involves either going through the George Massey Tunnel by bus, shuttle, or car (you can't bike through it) or over the Alex Fraser Bridge, which can be too far for many cycling commuters. The Horseshoe Bay Ferry Terminal is more accessible for cyclists along Marine Dr. and cyclists can cross over the Lions Gate Bridge and Ironworkers Memorial (Second Narrows) Bridge.

Can you reserve a spot on the Bike Bus?

Service will be based on a first come, first served basis; we anticipate high demand for the Bike Bus. As the Bike Bus has carrying capacity for 9 total bikes, we cannot always guarantee boarding. However, the bike capacity on the 620 route will still be available. Each bus on the 620 can accommodate two bikes. We're recommending customers build extra time into their journey and make themselves aware of all travel options to and from ferry services.

Will e-bikes, scooters, cargo bikes, kids bike trailers, recumbents, etc. fit on board in the spots?

The existing policy on e-bikes still applies to the 900 Bike Bus – the same bikes permitted outside the bus will be permitted inside. Bikes with non-standard dimensions would very likely not fit inside the bus (i.e.: trailers, tandem, cargo, etc.). If bikes fit on the existing outside rack, they would be acceptable to bring inside the bus (excluding childrens' and BMX bikes as they do not meet the minimum size requirements of the interior racks).

Once the ferry trip is complete for cyclists, will they have trouble accessing BC Transit service at their destination?

Cyclists are well supported for safe travel on the south Island, with ease of wayfinding and purpose-built separated bike paths when arriving at Swartz Bay Ferry Terminal. Cyclists can find signs to join the Lochside Regional Trail, taking a scenic ride through Sidney and reaching downtown Victoria via the famous Galloping Goose Trail and crossing the Selkirk Trestle over the Gorge Waterway. This bike journey provides ample opportunity for refreshment and bathroom breaks along the way. There are also more specific separated and protected bike routes between Swartz Bay, downtown Victoria, and the wider Capital Regional District.

Are there plans to expand this program and provide more Bike Buses in the future?

We will be evaluating the outcome of the bike bus throughout the summer and afterwards. The Bike Bus is currently only funded for summer 2023. If the Bike Bus is successful there is potential to make it a permanent seasonal route.

Why can't I bring my bike inside of other buses if the front rack is full?

The bike racks used in the bike bus are purpose-designed to hold bikes securely and prevent them from shifting in the event of sudden braking or turning. A bike carried loosely within a bus does not meet the regulations around load securement and passenger safety.

Will my kid's bike or BMX fit on the Bike Bus?

Childrens and BMX bikes do not fit on the interior racks – they are not secured safely enough and can only be used on the exterior racks. Bike wheels must be between 26" to 29" to be secured in the interior bike racks.
---
Our Biking to Transit Partners
Cycling is great for you and the environment. We work with a number of local partners to encourage you to #BiketoTransit as part of your journey, including:
Biking to an event? Find out if BEST's Bicycle Valet is present and park your bike worry-free.
---