July 19, 2022 - Media Release
TransLink adding extra service for Celebration of Light
Increased service and reroutes in place for fireworks on July 23, 27, and 30.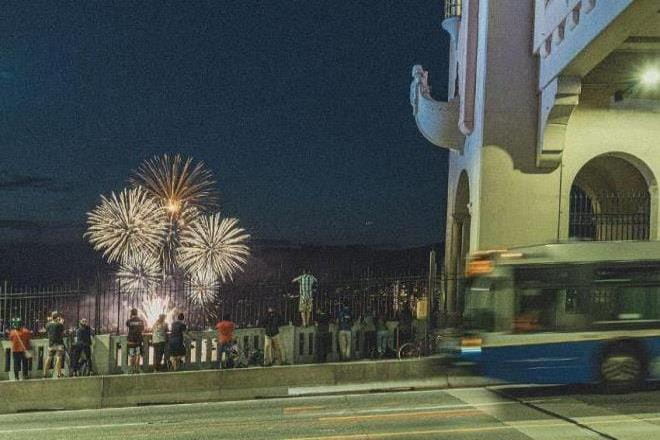 NEW WESTMINSTER, B.C. – TransLink is boosting transit service on Celebration of Light evenings to ensure everyone gets a safe, convenient ride to and from the events.
"It's great to see the fireworks back again after a three-year pause due to the pandemic and we are encouraging everyone to leave their cars at home and instead hop on transit, walk, or cycle to catch the shows hassle-free," says TransLink CEO Kevin Quinn.
The following changes will be in effect July 23, 27, and 30:
SkyTrain will be operating on peak service levels (trains every 2-3 mins) leading up to and following the fireworks.

Bikes will not be permitted on SkyTrain after 10:30 p.m. Passengers can board with bikes again after the crowds clear.

Some downtown SkyTrain stations will have modified access to entrances to keep crowds moving smoothly. Check translink.ca/alerts for station access information.

SeaBus sailings will extend to 15-minute service from 9:15 p.m. until 11:15 p.m.

Extra bus service will be in place to meet demand in various locations, particularly in downtown Vancouver. Routes 2,5,6 and 23 will be rerouted due to street closures. For a full list, visit translink.ca/alerts.

West Coast Express will operate a special train on Saturday, July 30.

The train will leave Mission at 7:00 p.m., arriving at Waterfront at 8:15 p.m.

The return train begins boarding at Waterfront at 11:00 p.m., departing at midnight.
TransLink encourages customers to build extra time in their commute and plan ahead by topping up their Compass Cards to avoid lineups at Compass Vending Machines. Tap to Pay is a convenient option for people without Compass Cards. Just tap your contactless Visa, Mastercard or American Express credit card, or a device with an Apple Pay, Google Pay or Samsung Pay wallet.
Extra Transit Police and Transit Security will be on hand to help customers get to and from the events safely.
For transit service information on the Celebration of Light nights, plan your journey with our Trip Planner, sign up for Transit Alerts, follow TransLink on Twitter @TransLink or call Customer Service at 604-953-3333.
More information:
Transit Alerts
Trip Planner
Media contact:
TransLink Media Relations
E: media@translink.ca
---