July 4, 2022 - Media Release
Capstan Station Construction Moves to Next Phase
UPDATE (July 13, 2022): Regular service has resumed on the Canada Line, as this phase of Capstan Station construction work completed earlier than anticipated. We thank our customers for their patience.
Temporary track closures on Canada Line to allow for late night work
NEW WESTMINSTER, B.C. – As construction of the new Capstan Station continues, service on a portion of the Canada Line will end early for five consecutive nights, allowing crews to safely install critical pieces of the station's structure.
Service will end approximately three hours earlier than normal on the Richmond–Brighouse section of the Canada Line from July 10 to 14. The temporary service changes are necessary to ensure the safety of workers and the public. Crews will be using large cranes to install vertical columns on both sides of the track. The cranes cannot be used safely above the track while trains are in operation.
These temporary closures will affect customers travelling to and from Bridgeport, Aberdeen, Lansdowne, and Richmond–Brighouse stations.
A bus bridge will be available between Bridgeport and Richmond–Brighouse stations to provide customers with alternative service. The bus bridge will stop at each Richmond–Brighouse section station (Bridgeport, Aberdeen, Lansdowne, and Richmond–Brighouse). Bus bridge frequency will be up to every 10 minutes during service impacts.
Canada Line Impacts (July 10 – 14)

Stations
Service Impacts
Bridgeport – Richmond–Brighouse
SkyTrain services ends at 10:30 p.m. Bus bridges will be available.
Bridgeport – Waterfront Bridgeport – YVR–Airport
No impact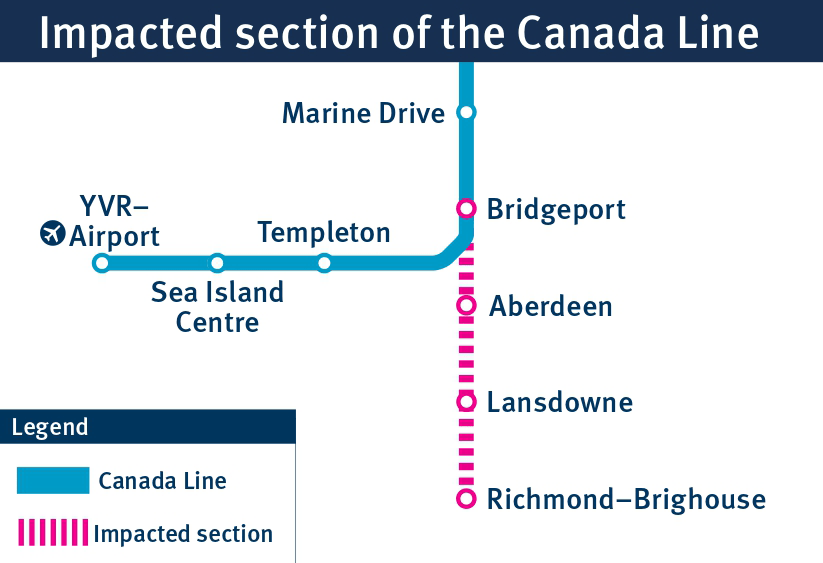 More Information:
Capstan Station webpage
Capstan Station renderings walkthrough video
Media contact:
TransLink Media Relations
E: media@translink.ca
---