July 5, 2021 - Media Release
TransLink launches Reconnect Campaign to encourage summer transit use
The summer campaign focuses on boosting ridership around the region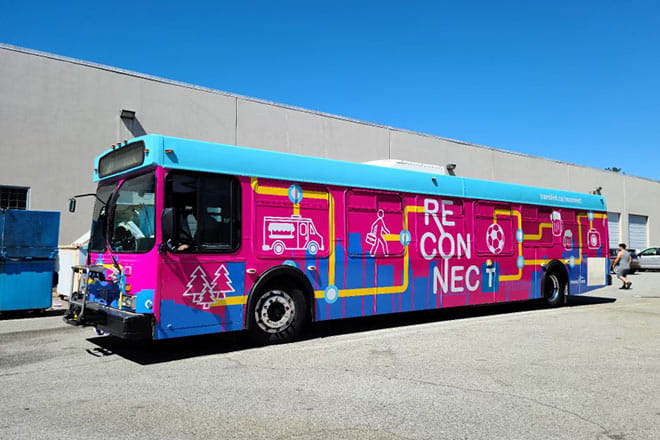 NEW WESTMINSTER, B.C. – TransLink today launched a new campaign to boost transit ridership. The Reconnect Campaign will encourage customers to use transit to explore Metro Vancouver this summer. TransLink will partner with Destination Vancouver to offer discounts at hundreds of local sightseeing tours, attractions and activities.
TransLink has also boosted transit service to popular locations around the region, added an interactive map on its website to help customers plan trips, and will tour a Reconnect Bus in bright new colours to celebrate the return of fairs and festivals.
"With restrictions easing, now is the time to get out and use transit to rediscover our cities and reconnect with the people and places we love," says Steve Vanagas, TransLink Vice President of Communications, Marketing and Public Affairs. "This summer's campaign is the first of our efforts to encourage our customers to rediscover their transit system – it's affordable, it's convenient and it will connect you and your family and friends to everywhere you might want to visit in our region."
Starting today, customers can use the promo code 'LOVETRANSIT' through Viator to redeem 25 per cent off hundreds of local tours, sightseeing and adventure destinations such as such as FlyOver Canada, Capilano Suspension Bridge, Vancouver Mysteries and Sea Vancouver Waterfront Sightseeing Adventures.
"We are pleased to be partnering with TransLink to help both residents and visitors rediscover their love for our region's exceptional attractions and sightseeing activities," says Royce Chwin, President & CEO of Destination Vancouver. "Summer is a crucial season for the many local tourism businesses that make up our visitor economy and we hope this initiative will encourage people to support them when they need it most."
Customers can use TransLink's Reconnect interactive map to plan their trip to the various discounted adventures. The map shows the fastest way to get to the region's top summer destinations on transit.
As part of the campaign, customers will be able to spot the TransLink Reconnect Bus at several popular locations this summer. The Reconnect Bus will showcase what's new and improved on transit and highlight the many ways we are keeping the system safe, including how ventilation works on our vehicles. Customers can track the location of the bus through our @TransLinkNews Twitter account.
To help customers get the most out of their summer, TransLink has boosted bus service to popular outdoor locations. Service frequency has increased to warm weather destinations such as Stanley Park, White Pine Beach, Buntzen Lake, Rocky Point Park and Lions Bay.
Transit has been a safe and reliable way to get around our region throughout the pandemic. TransLink continues to work closely with provincial health officials to ensure our Safe Operating Action Plan reflects current public health advice. TransLink will continue to add more initiatives to the Reconnect Campaign throughout the year to further welcome and encourage customers back to transit.
More information:
Media contact:
---