Managing the Transit Network
---
We regularly review and adjust our transit services as the region's needs evolve. Doing so enables us to better serve our customers throughout Metro Vancouver. We're continually working to serve more people, provide new connections, and reduce overcrowding within our current resources.
Managing the transit network involves developing policies, guidelines, and performance indicators for transit service. We apply this guidance in developing, evaluating, and implementing transit service changes.
---
Network Design Objectives
TransLink manages and invests in the regional transit network with the assumption that public transit offers a wide range of benefits to the people who live in Metro Vancouver
To achieve these benefits, we follow three simple objectives when designing and managing the transit network:
Maximize ridership

Encourage long-term ridership growth

Provide access to transit service across the region
All three objectives are important, but sometimes trade-offs must be made. Making these decisions is where we ask for input and guidance from our partners and the public.
Maximize Ridership

Maximizing ridership involves meeting existing demand for transit service. Services designed to build ridership tend to target areas that have many people working or living in proximity, such as a downtown core, an urban centre, or along a well-developed corridor.

We maximize ridership by:

Providing reliable and predictable service.

Providing more and/or better service where there is already high ridership or overcrowding.

Providing service where there is anticipated to be high ridership, typically where there is some mix of:

higher residential or commercial density

major activity centres

pedestrian networks that make walking easy and pleasant

measures that discourage driving, such as limited or expensive parking

Using existing transit infrastructure as efficiently as possible, such as transit priority measures, rapid transit lines, and bus exchanges.

Improving the way people make transit connections so they can reach more destinations in less time.
Encourage Ridership Growth

Encouraging long-term ridership growth involves building capacity to meet future demand for transit service. We make long-term strategic investments that will gradually grow ridership by supporting transit-oriented development.

We encourage long-term ridership growth by:

Providing transit service to major new development areas where we expect strong ridership growth.

Providing frequent, all-day service along key corridors to encourage development of communities whose design makes good use of transit resources.

Informing developers and municipalities about the likely service and mobility outcomes of various land use and development options.

Limiting service expansion in areas where transit services are unlikely to be efficient or productive, such as remote or hard to serve areas, or where population is unlikely to grow.
Provide Regional Access

Providing access to transit service across the region involves maximizing the transit network coverage and ensuring a basic level of service is available to most people for most kinds of trips. Part of our mandate is to serve the needs of people who depend on transit due to age, disability, or other limitations. Given limited financial resources, we must make difficult decisions about how to meet our mandate, while also providing service where demand is greatest, and we can expect high ridership. In some places, we simply can't provide public transit in a reasonably efficient way. Instead, people in these areas may have to rely on other modes of transportation.

TransLink provides access to transit service across the region by:

Providing basic, low-frequency transit service in areas of lower density where possible.

Ensuring our services are fully accessible to people of all ages and abilities.
---
The way we address our Network Design Objectives varies depending on the individual context, including the local street network, topography and transit ridership. Ridership is influenced, among other factors, by land use, street connectivity, and proximity to major activities centres. These considerations inform how we design the transit network to best serve customers across the region.
When considering how to design the transit network to best serve customers across the region, we design with key themes in mind: network integration, versatility, efficiency and productivity and partnerships and collaboration.
Network Integration

For the best mobility, locate where transit service is most frequent.

Transit ridership grows the most in places where more customers live and where there are more destinations that they want to reach. Because of this, denser, mixed-use developments with walkable streets can support higher levels of transit service. TransLink works with our municipal partners and other stakeholders to ensure the coordination of land use and transportation planning so that development can be served with more frequent transit service.
Versatility

Specialized transit is less effective transit.

We try to design services that are versatile to enable freedom of movement for a diverse range of people and trips.
Efficiency & Productivity

Efficient transit allows us to provide more transit.

We work to serve as many customers as possible with the budget we have. We do this by matching service with the times and places that customers want to use the system.
Partnerships & Collaboration

For the best mobility, locate where transit service is most frequent.

Transit ridership doesn't grow simply because we add more service. Development affects ridership demand and supports higher levels of transit service. We work with our municipal partners and other stakeholders to ensure the coordination of land use and transportation planning so that development patterns support an efficient and productive transit network.
---
Transit Service Guidelines
We use our Transit Services Guidelines to support decision-making related to adding, adjusting, or eliminating transit service. The Transit Service Guidelines bring clarity and consistency to that process to meet changing customer needs. They are founded on the principle of being: accountable, balanced, and collaborative.
Accountable: Has clear expectations for performance, demand, service quality, and customer expectations.
Balanced: Considers customers first, along with the needs of local communities, while ensuring the efficient and appropriate use of resources.
Collaborative: Builds upon partnerships with the public, local government partners, and stakeholders to identify and address issues and opportunities proactively and collaboratively.
The guidelines are designed to provide flexibility in response to customer needs and community expectations in an accountable, equitable, and efficient manner. They also communicate expectations for service delivery to partner agencies and local governments, as well as to TransLink's customers and the public.
The guidelines typically define minimum thresholds, which are often exceeded when applied to actual service. They apply to conventional transit services, which include bus, ferry (SeaBus), and rail (SkyTrain, Canada Line, and West Coast Express).
Read the Transit Service Guidelines
---
2020 Transit Service Performance Review: COVID-19 Snapshot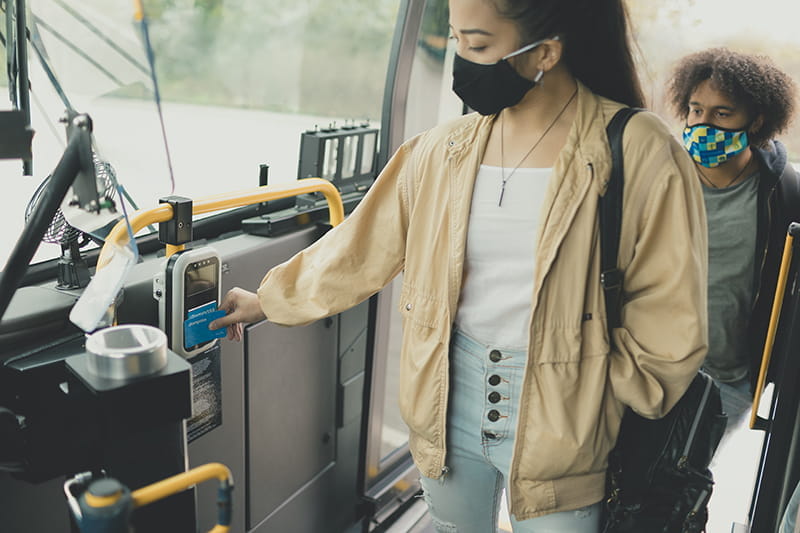 The Transit Service Performance Review (TSPR) is published annually and provides a comprehensive review of ridership trends across all modes of our transit system.
The TSPR's findings help guide our decision making and inform network adjustments, to ensure our services best meet the needs of our customers.
Given the significant impact of the COVID-19 pandemic on transit ridership in 2020, our TSPR looks a little different this year. Due to fluctuations in ridership, public health restrictions to non-essential travel, and working from home, there was no "average" day in 2020.
This year's TSPR focuses on an eight-week period from September to November 2020, providing a snapshot of ridership trends during the most stable period of the pandemic.
Although ridership declined due to the pandemic, the TSPR illustrates that TransLink provided a vital service for our region in 2020, delivering 621,000 journeys every weekday.
Changes in ridership patterns also illustrate the importance of transit for essential workers and highlight how TransLink tailored its service levels to prioritize routes with the most customers.
Key findings from the 2020 TSPR:
85% of our bus ridership continues to be carried on routes that provide frequent service throughout the day and during peak periods.

8 of the top 10 busiest bus routes by boardings in 2019 were still among the top 10 routes by boardings.

Routes that primarily serve industrial areas were at nearly 70% of 2019 ridership volumes, illustrating that frontline workers were still travelling to and from work.

The Southeast sub-region (Surrey, Langley, North Delta, and White Rock) has saw the highest return of bus ridership, with volumes at 55% of 2019 levels, compared to 44% for the overall system.

HandyDART customers made almost as many health and medical-related trips in 2020 as they did in 2019. While overall HandyDART ridership was down to 37% of 2019 volumes, HandyDART customers made 100% of dialysis appointment trips, 78% of cancer appointment trips, and 57% of medical appointment trips.

TransLink's ridership levels are consistent with, or above, larger North American metro areas. In September 2020, we had nearly 17 million system-wide boardings, which was more than transit systems in the metro areas of cities such as Boston, Chicago, and Washington, D.C.
Read the report online
Download the PDF
---
2020 TSPR - CSV Downloads

When you download this data, you are agreeing to TransLink's data license. Please note that bus CSV files do not contain discontinued routes.

Bus Data

SkyTrain & West Coast Express Data

HandyDART Data

Some HandyDART data is included in the 2020 TSPR published report. Further HandyDART data will be available in the forthcoming 2020 HandyDART Service Performance Review.
2019 TSPR

In 2019, our region reached a record of 452.9 million boardings, while ridership grew 3.6 per cent systemwide. This was largely the result of smart planning, strong municipal collaboration, significant service investments, and a sustained focus on improving customer experience. This is a success story for our entire region.

Highlights of our success in 2019 include ridership growth on all modes of transit:

Bus boardings increased by 3.8%

SeaBus boardings increased by 1.2%

SkyTrain boardings increased by 3.2%

West Coast Express boardings increased by 4.9%

HandyDART boardings increased by 5.7%

Links & Documents

Report Definitions

CSV Downloads

When you download this data, you are agreeing to TransLink's data license. Please note that bus CSV files do not contain discontinued routes.

Bus & SeaBus Data

SkyTrain & West Coast Express Data

HandyDART Data
TSPR Archive

2018 Transit Service Performance Review

2017 Transit Service Performance Review

2016 Transit Service Performance Review

2015 Transit Service Performance Review

2014 Transit Service Performance Review

2013 Bus Service Performance Review

2012 Bus Service Performance Review

2011 Bus Service Performance Review
---
2020 HandyDART Service Performance Review

The 2020 HandyDART Service Performance Review (HDSPR) is TransLink's second standalone review of HandyDART service, following the inaugural report in 2019. The report presents trends on HandyDART customer experience and service performance in a one-stop shop.
The 2020 HDSPR examines many of the same metrics as the inaugural report, with a focus on the impacts of COVID-19 on trends.
Highlights include:
Additional measures such as improved vehicle ventilation, personal protective equipment for drivers, disinfecting, and physical distancing on board were taken to enhance safety during the pandemic.

620,000 HandyDART trips were delivered in 2020, down 55% from 2019.

In January and February, ridership was greater than 2019, but by mid-March, the impacts of COVID-19 were felt in Metro Vancouver and demand dropped significantly.

In the summer months there was a gradual recovery in ridership, but the impacts of evolving public health orders continued to result in reduced demand.

The HandyDART system received a total of 880,000 trip requests.

An historic high of 94% of trips were reported as early or on-time.

Customer ratings for both HandyDART and Supplemental Taxi were high on the following measures:

Service overall

On-time performance

Ease of booking
With the growing and aging demographic in Metro Vancouver, demand for HandyDART is expected to increase in the coming years, especially as the COVID-19 recovery continues. This annual review of the HandyDART service will support transparency and help ensure service quality and customer service performance continue to meet the expectations of HandyDART's diverse customer base.
Read the report
2019 HandyDART Service Performance Review

The 2019 HandyDART Service Performance Review is the first standalone review of HandyDART service. This review is sharing the information that advises HandyDART transit planning and investment.

Highlights of the Review include that in 2019, HandyDART delivered trips to 1.56 million customers with high ratings:

Customer ratings for both HandyDART and for Supplemental Taxi were high on the following measures:

Availability: 8.6/10

On-time, reliable: 8.0/10

Ease of booking a trip: 8.5/10

Cleanliness and good repair of the vehicles: 9.3/10

This review is a benchmark for future HandyDART Service Performance Reviews, providing criteria to measure the growth and improvement of the service.

While the data in the report is not reflective of HandyDART today, we expect demand to continue to grow as the population of the region ages. We're looking at ways to modernize the service and improve the customer experience, beginning in 2021.

Read the report
---
The Transit Network Review process is part of our ongoing management of the bus network. Reviewing and adjusting the network allows us to best serve customers by relieving overcrowding, increasing the span of service on existing routes and providing new services to communities across Metro Vancouver.
Consultation for the 2019 Transit Network Review took place in April and October 2019. Read the 2019 Transit Network Review Final Report for details.
Due to the financial impacts that TransLink has incurred as a result of the COVID-19 pandemic, some bus and rail service projects that were approved under Phase Two of the Mayors' 10-Year Vision are currently paused. These projects, and other proposed transit network changes, will need to be considered under a new Investment Plan. Work on a new Investment Plan is currently underway.
---
Mobility pricing refers to the suite of fees for using everyday transportation services. These include tools like transit fares, bridge tolls, road usage charges, and fees for any other services involved in the movement of people and goods.
Mobility Pricing Independent Commission

The Mobility Pricing Independent Commission was a group of 14 Metro Vancouver representatives from a variety of organization across the region. They were selected and tasked by the TransLink Board of Directors and the Mayors' Council on Regional Transportation to evaluate and make recommendations on how to develop and implement a regional road usage charging policy and system, and assess the implications for pricing of other types of transport and mobility.

Between July 2017 and May 2018, the Mobility Pricing Independent Commission led the It's Time project, an extensive research and engagement project that studied ways to reduce congestion, promote fairness, and support continued investment in transportation. This included engagement with more than 17,000 Metro Vancouver residents through:

Online engagement;

In-person meetings with nearly 200 stakeholders and elected officials; and

Three workshops with a 15-member user advisory panel representative of Metro Vancouver's diverse population and geography.
Findings

In May 2018, the Commission shared their findings with the Mayors' Council and TransLink Board of Directors in a joint meeting. In the report a set of principles to follow were identified when designing mobility pricing in Metro Vancouver. Two concepts which were explored were also shared in the report:

A regional congestion point charge with charge points at, or close to, some or all of the regionally important crossings, complemented by further point charges at locations within the Burrard Peninsula; and,

A distance-based charge with two or more zones with varying charge rates throughout Metro Vancouver.

Both concepts show promising results, and they will require more analysis, including further study of the potential for decongestion charging to coordinate with transit fares and other forms of mobility pricing. The Commission is also recommending further assessment of affordability and equity impacts, an assessment of available technology for distance-based charging, and a study of impacts for business, particularly transport-intensive businesses.
Related Documents

Mobility Pricing - FAQs

Mobility Pricing - Media Documents

Mobility Pricing - Final Reports

Mobility Pricing - Technical Reports

Mobility Pricing - Phase 1 Reports

Moblity Pricing - Meeting Minutes
---