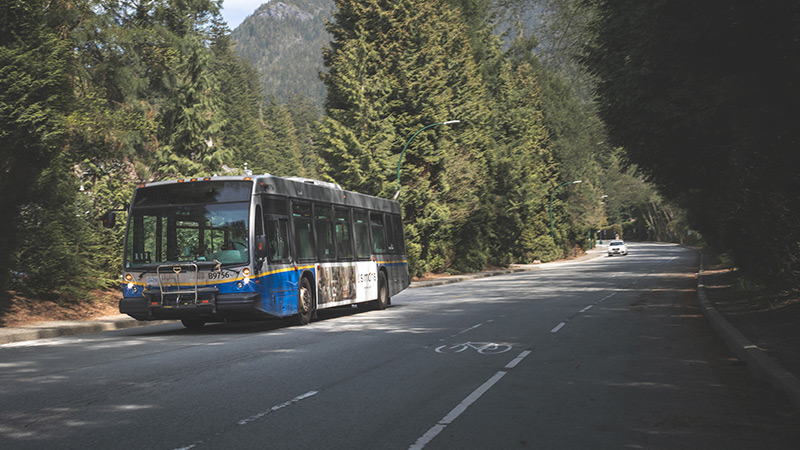 A charter refers to the private hire of a TransLink bus for a specific purpose. TransLink offers charter services for various occasions, including but not limited to corporate events, school trips, tours, and private gatherings.
Rates
Community Shuttle bus: $350 per hour plus GST, 4-hour minimum.

Conventional 40' or 60' bus: $400 per hour plus GST, 4-hour minimum.
Rates subject to change.
Capacity
Use this as a guide to determine how many buses you need to request.
Community Shuttle bus: 20 seats, max passenger load of 20 (no standing)

Conventional 40' bus: 36 seats, max passenger load of 77

Conventional 60' bus: 48 seats, max passenger load of 120
Capacity may vary based on bus model
Application Process
To request a charter with TransLink, please complete our Charter Request Form, providing all necessary details, including the date, duration, pick-up and drop-off locations, and any specific requirements. Submit the form for review. Please note that all charter requests are subject to TransLink's approval and discretion.
Charter Agreement
Once your charter request is approved, a Charter Agreement must be completed and agreed upon by both parties. This agreement will outline the specific terms, conditions, and responsibilities of the chartering party and TransLink.
Reservation
To ensure availability, it is recommended that you reserve your charter a minimum of three weeks in advance of the charter date. Please plan accordingly and submit your Charter Request Form within this timeframe.
Accessibility Requirements
TransLink is committed to providing accessible transportation services. If you have specific accessibility requirements for your charter, such as wheelchair accessibility or other accommodations, please include them in your Charter Request Form. We will make every effort to accommodate your needs, subject to vehicle availability and applicable accessibility regulations.
Please carefully review the Terms & Conditions before submitting your charter request. Once approved, both parties will complete the Charter Agreement to ensure a clear understanding of the terms and obligations. For inquiries or assistance, please contact our Charter Services team at [contact information].
Terms & Conditions

Chartering of a vehicle must be contracted by an individual aged 18 or older.

Vehicle rentals are subject to availability.

TransLink reserves the right to cancel any charter service without notice and shall not be responsible for resulting losses.

Payment must be received at least five (5) working days before the date of service.

Cancellations made after 11:00 am on the last business day prior to the service date will incur a $400 cancellation charge.

Any changes to your initial request may be subject to a $400 processing fee.

Additional mileage, time, or vehicles beyond the agreed terms will be charged at regular rates.

The chartering party is liable for any damage or excessive uncleanliness caused by passengers.

Operators do not cover entrance or parking fees for parks or picnic areas and cannot park in restricted areas.

Loading and unloading personal possessions and equipment are the responsibility of the chartering party.

Unauthorized signage or objects on the interior or exterior of the vehicle are prohibited.

Smoking and consumption of alcoholic beverages are prohibited on all vehicles.

A damage fee of $500 will be charged for any significant damage or excessive uncleanliness of the vehicle.

These terms and conditions are subject to change without notice.
Thank you for considering TransLink Charter Services. We are dedicated to providing reliable and convenient transportation for your needs.
---
---