British Columbia Rapid Transit Company
---
British Columbia Rapid Transit Company Ltd. (BCRTC), on behalf of TransLink, maintains and operates two of the three SkyTrain lines in Metro Vancouver — the Expo Line and the Millennium Line — as well as the West Coast Express commuter rail service.
BCRTC also manages the agreement with InTransitBC for the operation and maintenance of the Canada Line.
The Expo and Millennium SkyTrain Lines connect Downtown Vancouver with the cities of Burnaby, New Westminster, Coquitlam, Port Moody, and Surrey. The Canada Line connects Downtown Vancouver to the Vancouver International Airport (YVR) and the city of Richmond.
---
Both SkyTrain lines operate out of BCRTC's Operations and Maintenance Centre in Burnaby. BCRTC has more than 1,100 dedicated staff who work in the areas of administration, engineering, elevator and escalator maintenance, field and train operations, scheduling, vehicle maintenance, and wayside (station and guideway) maintenance.
---
Read the quick facts about the Expo and Millennium Lines:
---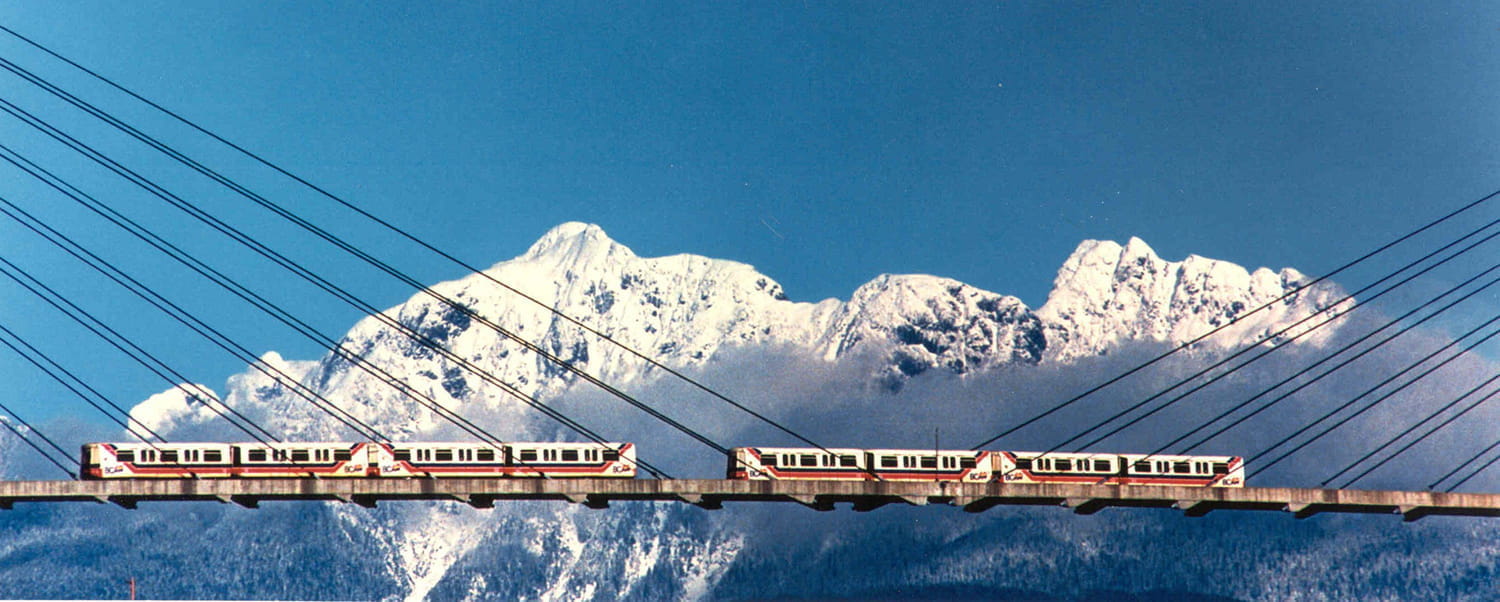 SkyTrain first opened on December 11, 1985 for eight days of free service prior to officially starting revenue service in January 1986 as a showcase of Expo '86, with its first line, the appropriately named Expo Line. The Millennium Line joined the service starting in January 2002 with two stations. Now, it has 17 stations connecting key hubs in the area. Our latest addition to SkyTrain was the Evergreen Extension of the Millennium Line which opened in 2016, adding six stations and connecting the cities of Coquitlam and Port Moody to the network.
As an essential part of the transit system within Metro Vancouver, SkyTrain is growing and will serve more communities soon. The Broadway Subway is a 5.7km extension of the existing Millennium Line past its current terminus at VCC-Clark reaching as far west as Arbutus. Work on the extension is due to begin in fall 2020, with completion scheduled for 2025 bringing six extra stations to the line.
---
SkyTrain represents a modern family of automated rapid transit systems also known as Advanced Rapid Transit (ART). The system takes conventional rapid transit principles (such as from subway systems) and mixes these with new applications such as the Linear Induction Motor (LIM).
Line Geography

The Expo and Millennium Lines run mostly on an elevated guideway, with approximately 8 km of the guideway in-cut or at-grade.
Automatic Train Control

SkyTrain uses the Thales (formerly Alcatel) SelTrac communications based moving block system to provide the functions of automatic train operation, protection, and regulation through the following three-tier hierarchy:

Vehicle On-Board Control (VOBC): a dual processor computer on the train that controls propulsion, braking, direction and door operation, and monitors speed and critical faults.

Vehicle Control Centre (VCC): the computer group located at the BCRTC Operations and Maintenance Centre that controls track switches and the safe distance between trains through a radio frequency inductive loop cable that is fixed between the running rails. SkyTrain has five VCC territories (Expo Line West, Expo Line East, Millennium Line, Evergreen extension and the OMC yard). Each territory is controlled by its own set of three IBM micro-computers running in synchronization to ensure consistency of safety-critical actions and to provide redundancy in case of failure.

System Management Centre (SMC): the supervisory level that performs system-wide schedule regulation of trains and provides the primary interface for SkyTrain Control Operators in routing and monitoring trains.
SkyTrain Car Specifications

The average SkyTrain car operates more than 180,000 kms per year – equivalent to 12 hours a day, every day. The initial fleet of 150 Mark 1 cars has averaged more than 4 million kilometres per vehicle since we launched service in 1986, with several more years of useful service life remaining.

Mark 1 (MKI): Built in Kingston, Ontario, by Urban Transportation Development Corporation (UTDC), the MKI car is comparable in dimensions to a bus: 12.7 metres (41 feet) in length and 2.5 metres (8.1 feet) in width. The MKI cars have a normal capacity of about 80 passengers per vehicle. Cars are permanently joined together and can be run as two-, four-, or six-car trains.

Mark 2 (MKII): The Millennium Line introduced a new SkyTrain vehicle, the MKII. 60 new MKII train cars were delivered from 2002 to 2003, with much of the vehicle assembly taking place at the former Bombardier assembly plant in Burnaby.

With an overall length of 17.1 m, the MKII's are 35% longer than their MKI counterparts and can carry about 60% more passengers. The MKII's operate as two-car and four-car trains.

New MKIIs: In 2009, an additional 48 MKII cars, built by Bombardier, were added to the fleet, increasing peak hour capacity by about 30%. The new MKIIs have 34 seats and increased standing and wheelchair, stroller, and scooter capacity.

Mark 3 (MKIII): Bombardier designed the newest generation of SkyTrain vehicles, which were introduced into the rapid transit system in 2016. Together with deliveries of this train model between 2018 – 2020, there are now 84 of these train cars operating on the system.

The MKIII trains are all four car units and offer a complete walk through interior from the front to back of the trains. These trains are just over 68m in length.
---

Board Chair
Biography

Steven Hunt is a positive and highly experienced business leader from the Engineering Consulting and Construction sectors with over 35 years developing and implementing successful business strategies, including 12 years as a CEO. Extensive experience as Project Executive dealing with all aspects of risk and opportunity. Developed track record of international business relations having lived and worked in Canada, the USA, and South America.

Experience spans work with transportation, ports & marine, water & wastewater, mining, oil & gas, and forest industry. Executive-level experience in all phases of Design-Build and PPP for transportation projects, including ports, bridges, and transit systems.

As a business leader develops strategy, creates compelling vision, and builds teams aligned to vision. Fosters collaborative business partnerships. Recognized for coalescing teams around a compelling vision for change.

As an Independent Director, works with Boards and Management to foster good governance in the interests of all stakeholders. Active on corporate and industry boards since 2004. Obtained Chartered Director designation through the Director's College of McMaster University 2018.

Biography

Fred Cummings is a former senior transportation executive with 39 years of experience overseeing the execution of large-scale, multidisciplinary infrastructure projects including Public-Private Partnerships and other Alternative Delivery programs. He has been responsible for the planning, development, implementation and operation of many major transit, highway, and water system projects in British Columbia and has assisted both private and public sector clients and agencies in the planning, design and construction of large-scale capital projects.

Prior to joining Hatch as Vice President and Regional Director of Infrastructure, and subsequently Global Director of Transit, Fred was the Vice-President of Infrastructure Management and Engineering for TransLink, where he was responsible for the programming and delivery of TransLink's $4 Billion+ (at that time) capital program. As President and General Manager of BCRTC, he managed the operations and maintenance of Metro Vancouver's SkyTrain and West Coast Express and was responsible for managing the Canada Line Concession Agreement. Fred had direct accountability for the $1 Billion Golden Ears Bridge Project (delivered as a P3 in 2009) and represented TransLink on the $1.9 Billion Canada Line Rapid Transit Project's Board of Directors.

More recently, Fred served on the Evergreen Line SkyTrain Extension Project's Board, was a Commissioner with the Capital Regional District's Core Area Wastewater Treatment Program in Victoria, was a Director on the Transportation Association of Canada (TAC) Board of Directors, was a Board Director with the Association of Canadian Engineering Consultants – BC and is currently a Board Director on the City of Calgary Green Line LRT project and the BC Hydro Site C Project Assurance Board. Fred was recently confirmed as a Technical Referee on the City of Edmonton's Valley Line West LRT Project where he will assist the contractor and owner resolve technical disputes.

Biography

Christine is a Chartered Professional Accountant with over 15 years in executive and senior level financial positions. Prior to being appointed as Chief Financial Officer she was the Vice-President, Financial Services at TransLink and was responsible for leading financial planning & reporting, accounting services, treasury, capital asset management, compass operations, enterprise risk and sustainability functions. Christine also worked at Coast Mountain Bus Company for 5 years, leaving the role of Vice-President Finance, Corporate & Shared Services to join TransLink.

Christine represents TransLink on the board of Transportation Property & Casualty Company Inc., Fraser River Marine Transportation Ltd., and Pacific Vehicle Technology Ltd.

She is also active in the community and currently serves on the board of the New Westminster Police Department and G&F Financial Group and previously was on the board of the New Westminster Victims Assistance Association.
---