Transit-Friendly Employer Certification
Solve real business problems and make a positive impact on the climate.
Transit-Friendly Employer is a new certification program offered by TransLink. It recognizes leading organizations for making employee travel easy, affordable, and climate friendly.
Participating employers provide at least a 50% transit subsidy for their employees (with employees responsible for the remainder).
Need a retention and recruitment perk? With affordability being one of the largest concerns in the region, Transit-Friendly Employers are providing a valuable benefit.
Want to make it easier for your employees to travel? Cut complexity and congestion by providing an affordable transit pass.
Do the right thing. People look to employers to lead on climate action and social responsibility. Enhance your corporate brand and publicly demonstrate your commitment to climate action.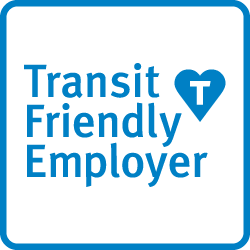 Recognition: With a marketable certification, employers can differentiate themselves by proudly displaying their Transit-Friendly Employer stamp. They'll also be recognized through TransLink's communications channels as leading the way to a more sustainable future.
To become a Transit-Friendly Employer, you must first enroll in our transit pass program TransLink for Organizations.
Sign up to TransLink for Organizations
---
Demonstrate corporate social responsibility and act on climate

Improve recruitment and retention

Meet your sustainability goals

Gain valuable data to understand your workforce

Reduce parking costs
More travel options at a reduced cost

Improve health and wellness

Reduce personal climate impact
Less traffic and congestion

Address the climate emergency

A healthier environment for everyone
---
Get certified and join a growing coalition of committed sustainability leaders.
---
What Employers are Saying
"The transit-friendly employer program has been a way for us to invest in our people."
Jonathan Schmidt, SoC Design Engineering Manager
"Being able to provide that subsidy helps to reduce their costs of getting into work, helps us to recruit new team members, and of course, it helps to reduce our impact on the environment."
Katrina Shum, Head of Sustainability
"At YVR, we feel a sense of urgency, with respect to getting affordable transit and climate friendly transit into the hands of our many, many employees."
Tamara Vrooman, President and CEO
Provincial Health Services Authority
"A program like this absolutely helps us attract and retain people."
Dr. David Byres, President and CEO
---
Reasons to Act: By the Numbers
Differentiate your business
Today's workforce expects companies to lean on climate action and social responsibility. 61% of corporate leaders believe that sustainability leads to market differentiation and improved financial performance. (source: USGBC)
Attract and retain talent
Labour shortages across Canada and the world are turning recruiting and retention into a competitive battleground. In Canada, 25% of employees cite their commute as a major reason for moving jobs.
Encourage sustainable commuting
By choosing to take transit instead of driving – you're taking one of the biggest steps to reducing your carbon footprint. A trip on a hybrid-diesel bus reduces GHGs by 56% compared to driving a gasoline car. A trip on an electric-trolley bus or SkyTrain reduces GHGs by over 99% compared to driving a gasoline car.
Address the climate emergency
At 35%, transportation is the largest single source of GHGs in the region. Employee commuting can significantly add to business operational greenhouse gas inventories. We all need to do our part: based on our surveys, around 66% of organizations in the region have a corporate climate policy. TransLink is also leading the way: we are targeting net-zero GHG emissions by 2050, so that everyone in the region has an option to travel without contributing to climate change.
Sign up to TransLink for Organizations
---
To be eligible for certification, your organization must meet these requirements:
Employer provides a transit subsidy of at least 50%* (with the employee responsible for the remainder).

For large employers (200+ employees): 10% of staff must register (minimum six month time commitment)

For small employers: 25% of staff must sign up
* - annual audit applies
---
We can get you up in running in a few easy steps:
Initial consultation: Sign Up for TransLink for Organizations – we'll learn about your needs and work towards a tailored transportation solution.

Onboarding and payment: once you're set up, we'll invoice you monthly.

Launch support: We'll provide marketing materials to support the roll-out.

Ongoing optimization: You can adjust your preferences online at any time.
Once certification requirements are met, you'll receive a digital badge so you can tell the world you're a Transit-Friendly Employer! We'll also recognize you through TransLink's communications channels.
---
---