---
---
---
Enter the Tap in to Win Sweepstakes from August 17 to October 31 for a chance to win prizes every week!
Enter the Tap in to Win Sweepstakes
Why?
Because choosing sustainable modes of transportation is a convenient and rewarding way to move around the region. By tapping in to win, we're saying thanks for choosing transit.
---
How to Play
Every trip you take each week will give you a chance to win amazing prizes and enter you into the grand prize draw. You can earn up to two entries per day. Must be 18 years or older and a resident of British Columbia. View the full Sweepstakes Terms and Conditions below and for no purchase necessary entry.
---
Enter the TransLink Sweepstakes
Sweepstakes Terms and Conditions
The personal information requested on the registration page and captured through your transit trip entries is collected by TransLink for the management of its marketing, communications, and promotions programs, including administration of the TransLink Tap in to Win Sweepstakes. This is done in accordance with s. 26(c) of the
Freedom of Information and Protection of Privacy Act
. Please direct any questions about this collection to the TransLink Privacy Officer at 400-287 Nelson's Court, New Westminster, BC, V3L 0E7 or
privacy@translink.ca
. This site is protected by reCAPTCHA and the Google
Privacy Policy
and
Terms of Service
apply.
---
Prizes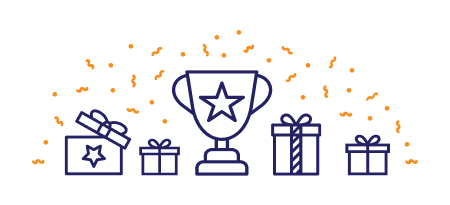 There are so many amazing prizes to be won, including a grand prize of 5 YEARS OF FREE TRANSIT!
5 years of free transit: your key to exploring everything Metro Vancouver has to offer!
*5-years of 3-zone monthly transit passes (Note: West Coast Express not included)
With 64 prizes up for grabs there are opportunities to win every week! Prizes include: 30 Compass monthly passes, 10 transit merchandise packages, 10 Stay & Play Packages (hotels, restaurant gift cards and attractions), two Electric Bikes, two Electric Scooters, bike and car sharing memberships, passes to local attractions, and prize packages for the Vancouver Giants, BC Lions, and Whitecaps.
---
This Week's Prize Package
---
This week, you could win a Tasty Tour Weekend in Langley. Including a 1-night stay at the Sandman Signature Hotel & Suites in Langley, a Chew on This Tasty Tours gift card for two, a $250 gift card to Food by Fanta, plus a $200 VISA gift card!
---
---
Frequently Asked Questions
Please read the Sweepstakes Terms and Conditions for full contest details and rules.
Who can enter

Who can enter the Sweepstakes?

To be eligible for the Contest, an individual must be (a) a legal resident of the Province of British Columbia, and (b) 18 years of age or older.  

Employees of the South Coast British Columbia Transportation Authority ("TransLink"), its subsidiaries and its contractors, as well as family members of such employees, and household members who reside at the same address as such employees are not eligible for the Contest. 
Timing

When does the contest start and end?

The contest will open on August 17, 2023, at 11:00 a.m. Pacific Standard Time (PST) and will close on October 31, 2023, at 11:59 p.m. PST.
How to enter

How do I enter the Sweepstakes?

Go to translink.ca/tapintowin and enter your first name, email address, Compass Card number and CVN (Security Code), accept the Sweepstakes terms and conditions, and optionally check off to receive marketing communications, weekly summary, and click "Register to the Sweepstakes".

If you have an Android device you can use NFC technology to automatically fill out your card number and CVN on the registration form. Click the "Enter your Compass Card number via NFC" on the form and tap your Compass Card on your phone when prompted.

Once you have submitted, go to your email, and verify that your email address is correct.  

You are now entered into the contest! Once registered, every trip, up to two trips per day, enters you into weekly prize draws and the grand prize draw.

How do I enter the Sweepstakes without purchasing a Compass Card?

To participate, entrants may download and print an entry form at the Contest Site and mail the completed entry form, including the entrant's name, email address, and photo number to: TransLink Head Office, Attention: Marketing, 400 – 287 Nelson's Court, New Westminster, BC V3L 0E7 (the "Mail-in Entry").

You must read and accept these Contest rules and comply with the entry requirements of these Contest rules. Entrants will earn one Mail-In Entry per entry form submitted by mail. Mail-In Entries must be postmarked during the Contest Period and received by TransLink by the date and time set out below for each Prize draw in order to be included in such Prize draw. Each Mail-In Entry must be mailed in separately.

All entries received after the cutoff date and time for a particular draw, regardless of method of submission, will be disqualified from such draw. 

Do I need to have a registered card on compasscard.ca to enter the Sweepstakes?

No, you only need a valid Compass Card, registered or unregistered. A valid Compass Card is one that is not hot listed (stolen or lost) or cancelled.  

What if I don't have my Compass Card number or CVN (Security Code)?

If you have a Compass key, ring, or mini from the TransLink Customer Service Centre, you would have received their Compass Card number and CVN (Security Code) to be able to register their product online. For support, please call the Compass Customer service to get your number and/or CVN (Security Code) at 604-398-2042.

Why do I need to confirm my registration with my email address?

We need to ensure we meet all anti-spam regulations, that you've entered your email correctly and that we have a way to contact you if you are the winner.  

Why isn't the link in my confirmation email working?

If you're seeing the "Oops, please try again…" error message, you may have registered multiple times, which means you should receive multiple confirmation emails. When confirming your account, please ensure you're using the most recent confirmation email and link.

Do you track where I am travelling?

No, your personal data is not connected to your travel history. We are not tracking where trips are taken or where the taps happen. We are only collecting taps to track complete trips/journeys.  
Earning entries using a Compass Card

Do I earn entries every time I tap my card?

No, you will earn an entry for each complete trip you take, up to two trips per day, regardless of the number of transfers until October 31, 2023.

If you have a Compass Card or Compass Ticket, you can transfer across all modes of transit (bus, SeaBus, and SkyTrain) on a single fare for up to 90 minutes, or up to 120 minutes for West Coast Express services. Your travel time begins when you first tap your Compass Card, Compass Ticket, or contactless payment to enter a fare-paid zone. For more information visit the Transferring and AddFare page. 

What is a trip/journey?

A trip or journey is when a user completes a transit trip using a valid Compass card. Regardless of the number of transfers you take, you'll earn an additional entry. You can earn up to two entries per day.

How do I earn additional entries into the contest?

Once you have registered for the contest, trips are automatically tracked when you tap your Compass Card. You can earn up to two entries per day.

Do my trips enter me in to win all the prizes?

After you register for the Sweepstakes, every week that you take trips and earn entries enters you into the weekly prize draw. For example, if you take two trips the week of August 21, you earn two entries into the August weekly prize draw.  You cannot earn more than two entries per day.

You will be eligible to win only one prize each week in the weekly prize draws.  All eligible entrants, including winners of a Weekly Prize Draw, shall be eligible to win the Grand Prize. 

The odds of being selected as a potential winner are dependent upon the number of eligible entries received by TransLink during the applicable time period specified for each draw.  
Prize Draws

When are the prize draws?

See Sweepstakes Terms and Conditions for full prize details.

Weeks defined as Sunday through Saturday. Last eligibility for weekly draw would be October 28. Any entries between October 28 and 31 will be for grand prize only.

If I win, how do I claim my prize?

TransLink or TransLink's representative will contact prize winners to coordinate the provision of the prizes within three days of a prize draw once such winners have been successfully contacted and notified of their prize and fulfilled the requirements set out in these Contest rules.
---