February 2, 2023 - Media Release
TransLink begins battery-electric bus fleet expansion
TransLink launches the world debut of the LFSe+ battery-electric bus from Nova Bus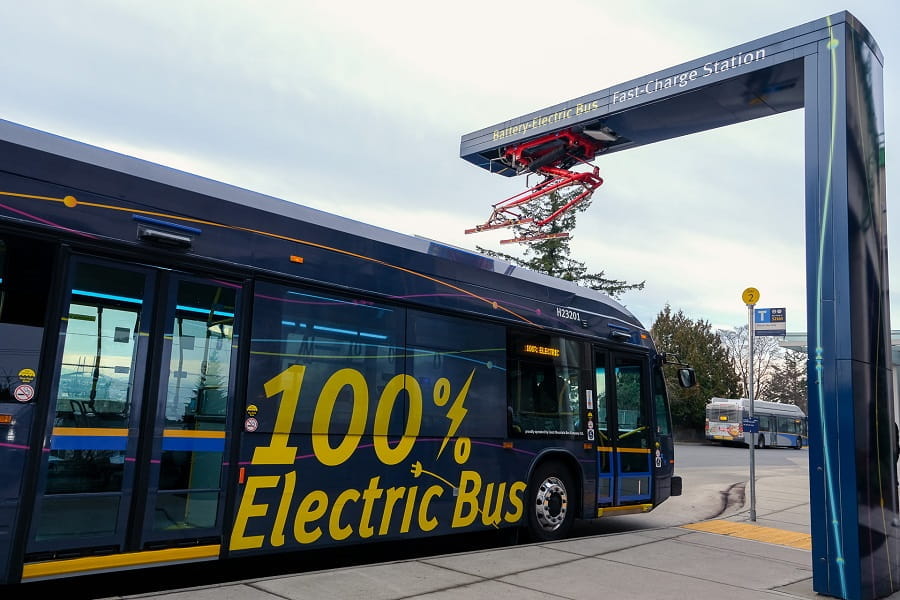 NEW WESTMINSTER, BC – TransLink is taking another step in electrifying its bus fleet, with the introduction of a new type of battery-electric bus today.
The new Nova LFSe+ Electric bus is the first of 15 new buses that will more than quadruple TransLink's battery-electric bus fleet from 4 to 19 over the next year. These buses will fully electrify Route 100 (22nd Street Station / Marpole Loop).
The new Nova LFSe+ Electric bus:
Can travel 150 kilometres on a single charge

Can be topped up by on-route overhead chargers in approximately five minutes

Will save TransLink around $40,000 in fuel costs annually per bus

Will reduce greenhouse gas emissions by over 1,000 tonnes annually once all 15 buses are in operation
This expansion is a critical step towards achieving climate targets outlined in TransLink's Climate Action Strategy and Transport 2050: 10-Year Priorities. Some of these targets include adding more than 400 new battery-electric buses by 2030, transitioning to a zero-emission bus fleet by 2040, and having net-zero greenhouse gas emissions in all operations by 2050.
Over the coming months, TransLink will order more battery-electric buses as well as the necessary charging infrastructure to support them on more routes.
This $16 million investment towards 15 new battery-electric buses has come from the Canada Community–Building Fund, which is administered in British Columbia by the Union of B.C. Municipalities. The Government of Canada and the Government of British Columbia have committed to supporting the future electrification of TransLink's fleet through significant investments in TransLink's 2022 Investment Plan.
Quick facts:
TransLink's battery-electric buses, trolleybuses, and SkyTrains are all fully-electric vehicles.

More than half of TransLink's bus fleet uses technology cleaner than diesel– including fully-electric buses, hybrid diesel-electric buses, and renewable natural gas-fuelled buses.

With 262 fully-electric trolleybuses, TransLink has the second largest fleet of trolleybuses in Canada and the US.
Quotes:
The Honourable Harjit S. Sajjan, Minister of International Development and Minister responsible for the Pacific Economic Development Agency of Canada –
"This investment in cleaner transportation enables residents across the Lower Mainland to enjoy a greener community. For many Vancouver South families, this means more access to and from work and school as the 100 number bus is a key part of our neighbourhood. Greener modes of transportation will be key to Canada reaching net-zero by 2050. Working with municipalities, our government will continue to invest in projects like this that have a daily impact in communities."
Parm Bains, Member of Parliament for Steveston – Richmond East, on behalf of the Honourable Dominic LeBlanc, Minister of Intergovernmental Affairs, Infrastructure and Communities –
"The Canada Community-Building Fund has been helping communities address their infrastructure priorities for nearly 20 years. The expansion of TransLink's battery-electric bus fleet is an example of the positive benefits these investments provide. Our Government is proud to support projects that contribute to our emissions goals, and will continue to deliver CCBF funds across B.C. to help build cleaner and more sustainable communities."
Kevin Quinn, CEO, TransLink –
"Electrifying our bus fleet and moving to renewable fuels are the fastest ways TransLink can reduce GHG emissions to help combat climate change. Taking transit is already one of the best ways people can reduce their carbon footprint, but through electrification and the actions outlined in our Climate Action Strategy, we're working to reduce our impact on the climate to zero."
The Honourable Rob Fleming, Minister of Transportation and Infrastructure and Minister responsible for TransLink, Government of British Columbia –
"Battery-electric buses are an important part of the future of public transportation. TransLink's battery-electric bus fleet will provide more sustainable transit options and will help reach our government's emissions reductions targets set out in the CleanBC Roadmap to 2030."
Brad West, Chair, Mayors' Council on Regional Transportation –
"I'm excited to see this expansion to TransLink's battery-electric bus fleet that will save more than 1,000 tonnes of GHG emissions every year. The Mayors' Council is supportive of electrifying TransLink's fleet to help fight climate change and create a brighter future."
More information:
TransLink Sustainability webpage
TransLink Climate Action Strategy
TransLink Climate Action Plan
Media downloads:
Media can download photos and video b-roll of the new bus here
Media contact:
TransLink Media Relations
E: media@translink.ca
---