December 13, 2022 - Media Release
TransLink launches Compass Mini-Train
New Compass product available on December 14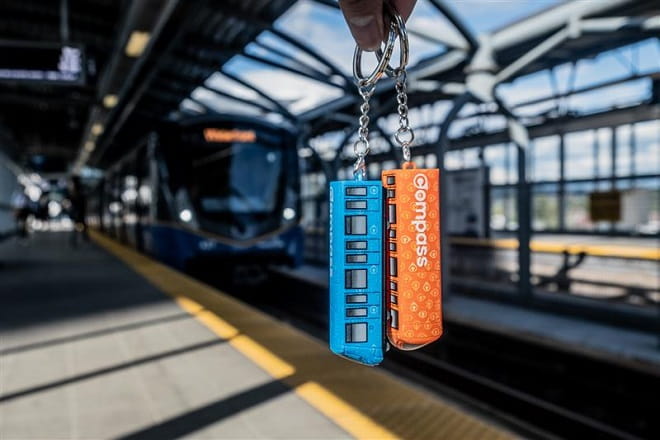 NEW WESTMINSTER, BC – Tapping with Compass has never been more convenient or fun, with TransLink introducing the Compass Mini-Train as another way to pay for transit in Metro Vancouver.
"The Compass Mini-Train is a new and exciting addition to the Compass product lineup," says TransLink CEO Kevin Quinn. "Compass Wristbands and Minis have been very successful and I'm sure customers will appreciate the fun and quirky design of the new Compass Mini-Train."
The Compass Mini-Train is a small model SkyTrain which can attach to a keyring, and works like the Compass Card and Compass Wristband. The Compass Mini-Train is unique to other Compass offerings however, in that it lights up when tapped.
TransLink is releasing 3,000 blue adult Mini-Trains and 2,000 orange concession Mini-Trains starting December 14. Sales will be limited to 4 Mini-Trains per person. Just like any other Compass product, there is a $6 refundable deposit when purchasing your Mini-Train.
Customers can use their Compass Mini-Train to tap in and out when travelling on transit and reload online, at a Compass Vending Machine, by phone, or in person.
Visit the TransLink Customer Service Centre inside Waterfront Station (Monday - Friday 9:00 a.m. to 5:00 p.m.) to pick up a Compass Mini-Train while supplies last.
More Info:
Compass Card webpage
Media Downloads:
Media can download photos of the Compass Mini-Train here
Media contact:
TransLink Media Relations
E: media@translink.ca
---