---
Helping you reconnect with the people and places you love.
---
Shop the Line this holiday season and let TransLink help you find the perfect gift!
---
You may have missed all the new services we're providing. We've got new, faster service with RapidBus, new Transit App predictions to see how full your bus is, a new SeaBus and more!
We launched four new RapidBus routes in January 2020 bringing you 20% faster bus service and much more.
Transit app now includes capacity predictions, so you know when there's room to ride.
We've launched new resources and bike routes to better connect cycling and transit.
The new SeaBus, the Burrard Chinook, launched this summer adding more service across the Burrard Inlet.
We're ready to welcome you back to school and work, with additional services ready to get you there.
Next train screens have been added to all SkyTrain platforms and station entrances letting you know when to anticipate your next train.
---
Your safety remains our top priority. Read more about our safety measures below.
---
If you ever have any safety-related concerns, please reach out and let us know. Understanding where, when and what concerns our customers have helps us determine what actions we can take.
Please visit our Safety and Security page for additional safety tips.
---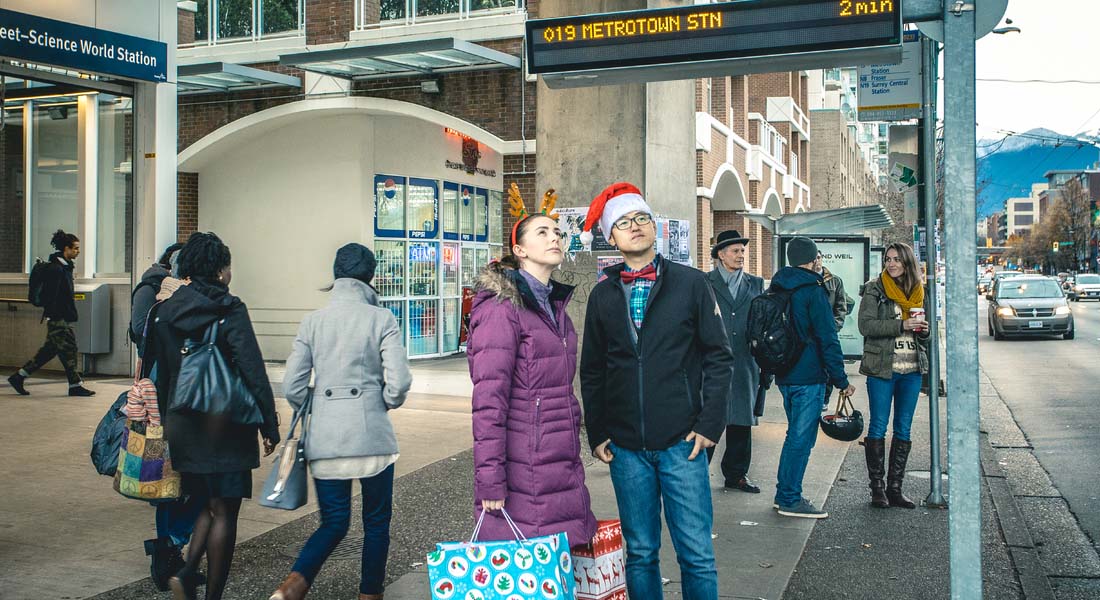 From unique artisan studios on Granville Island to designer fashions you can't find anywhere else but on Main Street, TransLink can help you find the perfect gift this holiday season.
Leave the biggest hassle of holiday shopping at home. Shop the Line this season and you'll be comfortably and effortlessly delivered by TransLink to the biggest and most festive shopping centres in Metro Vancouver. Forget winter driving, forget parking–just remember to bring your "nice" list!
Stroll under the twinkling lights on Robson Street. Or get in a visit with Santa and his elves at the mall. When you Shop the Line this season, you can bring the whole family together on transit for a fun day full of holiday magic.
Visit the Shopping category in our Local Attractions Map to see the most popular shopping centres conveniently served by transit.
Browse shopping centres
---
Check out the local attractions, our most popular bus routes, the frequent transit network, and the season's best shopping locations!
---
Subscribe to E-Newsletter
Sign up for TransLink E-Newsletters and stay current on projects, service changes, events, and more!
---