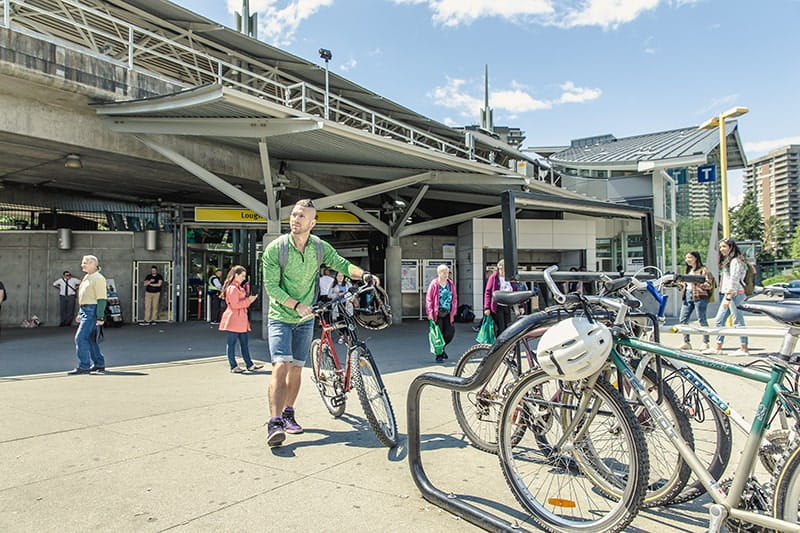 You can take your bike on almost all transit services, including bus, SkyTrain, SeaBus, and West Coast Express, with some restrictions. More information on our bike parkades and other short-term storage options, is on our Bike Parking page.
---
Our fleet is completely bike accessible. Bikes are accepted at all times across our services (except under certain conditions on the SkyTrain).
All bikes must be clean and have no sharp protrusions that might cause damage or injury.

Electric bikes are permitted on SkyTrain, SeaBus, and West Coast Express services.

We do not allow electric or gas-powered scooters or bike trailers on board any service.

Folding bikes are allowed on SkyTrain, SeaBus, and West Coast Express services.

Riders are responsible for their bike at all times, including loading and unloading bikes from racks. TransLink is not responsible for any damage to you or your bike caused by loading or unloading bikes.
Service-specific rules about bringing your bike apply — please review the rules for the service you are using.
---
Our Biking to Transit Partners
Cycling is great for you and the environment. We work with a number of local partners to encourage you to #BiketoTransit as part of your journey, including:
Use promo code biketotransit to redeem 50% off a 24 hour Mobi Bike pass and get cycling!
Biking to an event? Find out if BEST's Bicycle Valet is present and park your bike worry-free.
---