---
The Busker Program is an integral part of TransLink's commitment to making transit a unique experience for customers, and to reflect the vibrancy of the music and art scene of our region. Since 1986, the program has provided low-barrier opportunities for musicians to generate income while entertaining large crowds of commuters at key locations throughout the transit system including Waterfront, Burrard and Canada Line stations. The program has featured thousands of artists, and has been an important platform for professional buskers, as well as emerging turn professional musicians.
---
Calling all Musicians for 2023
TransLink is currently seeking musicians of all genres for its Busker Program. Whether you're new to busking or a grizzled veteran of the stage, join our community of buskers and bring magic to Metro Vancouver with your music!
Application deadline: Nov. 8, 2022 at 11:59 p.m.
Musicians of all levels of professional experience are invited to apply. Musicians must be 19+ years of age.
As a TransLink Busker you will receive:
Opportunities to showcase your music to a large and diverse public, at 10 of the busiest TransLink stations in Metro Vancouver

Opportunity to sell recorded music

A 24-month TransLink Busker License

Artist profiling and promotion
Application Process
Your audition package must contain the following three items, and be sent as one package in a singular email. TransLink will not accept incomplete submissions.
Email subject line: 2023 Busker Audition [State "Your first and last name"]

Bio or a detailed list of your performance background and experience (no more than a page)

A 3-minute video of your performance that showcases your talent and ability.
Apply for the Busker Program
Ready to apply? Email your application package to our busker program now.
---
Any program inquiries can be directed to busker@translink.ca.
Video Submission Requirements

Videos must either be sent as an email attachment or as a link to an uploaded video on a platform such as YouTube, Vimeo or your website.

Maximum file size for video email attachments is 20 MB – 25 MB, depending on your email server.

To meet security requirements, TransLink does NOT accept Dropbox, WeTransfer or other free file sharing transfers.

TransLink is not responsible for lost or not-received submissions. Submissions must be submitted in the format described above, and must be complete, to be considered. TransLink will send a "Thank -you for your submission" response to confirm we have received your package.

Submission materials will be used for adjudication by the jury composed of TransLink staff and external music professionals.
Selection Process

If selected, applicants will:

Submit a Police Information Check – Vulnerable Sector Check (PIC-VS)

Enter into a musician's license agreement with TransLink

Attend the Annual Busker Orientation Meeting in December, where the Program will be explained in more detail

Purchase a TransLink Busker License ($75.00 valid for 12 months)

Police Information Check and payment of License fee are only required upon successful acceptance into the program.

Selection criteria:

A jury of five members composed of TransLink staff and Vancouver-based music professionals will evaluate submissions for acceptance into the program. Selection criteria include:

Musical ability

Stage presence

Entertainment value and audience appeal

Suitability of music to the transit and public environment
Your personal information is collected, used, and disclosed by TransLink as necessary for the purpose of managing the TransLink Busker Program and is in accordance with Part 3 of BC's Freedom of Information and Protection of Privacy Act. If you have any questions about your personal information, please refer to Privacy Policy or email privacy@translink.ca.
---
Art Moves Music and Performance Residency Series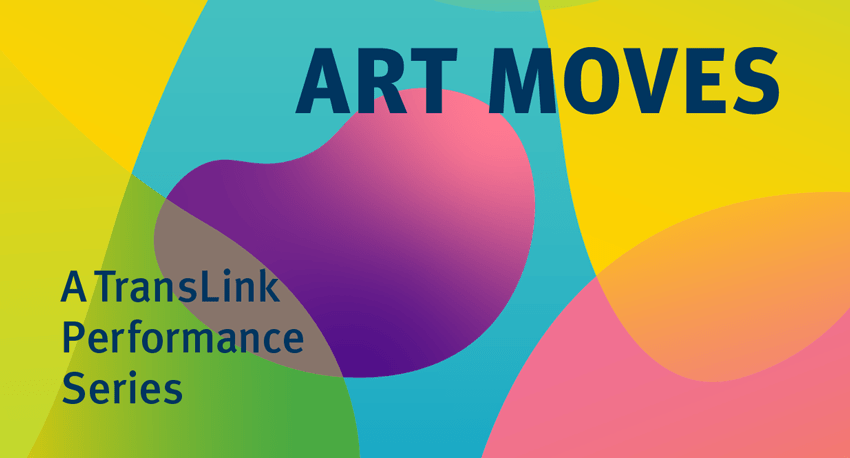 Art Moves is our new and exciting music and performance residency series bringing vibrancy to the transit system. The program features a diverse roster of local, world-class musicians and performance artists scheduled to appear throughout the year in various locations. Reflecting our region's deep diversity, Art Moves showcases a line-up of multi-disciplinary talent that includes musicians, dancers, live painters, spoken word artists, magicians and more.
Visit our Art Moves program page to learn more about what it's like to perform on our transit system.
---
Our Busker Newsletter list is the best way to recieve future updates on the program.
Have any questions about the busker program? Our program coordinators can be reached through email.
---